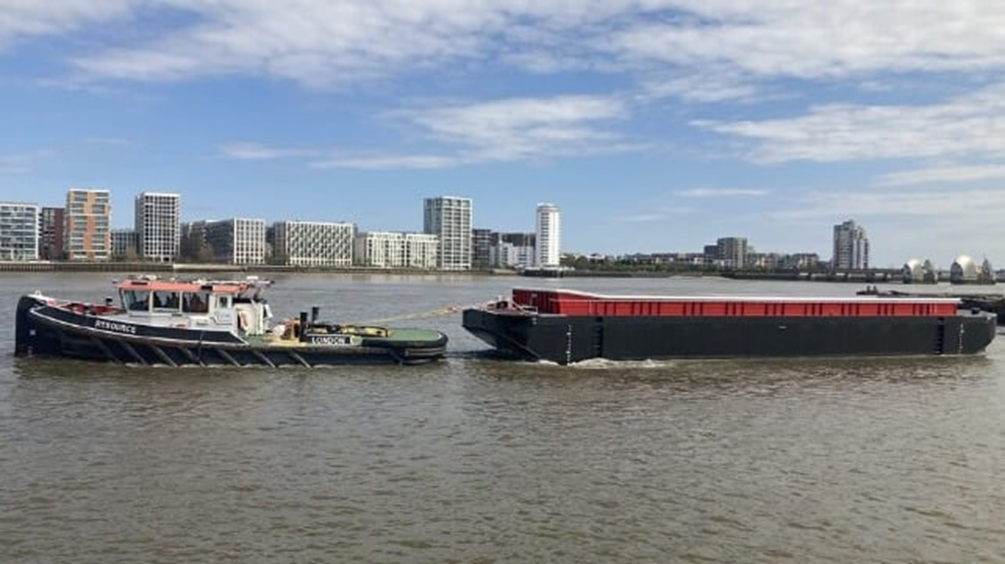 Harland & Wolff, one of the most storied names in the history of shipbuilding, delivered its first newbuild in 20 years as the company continues its efforts to rebuild its operations and create a new role in the defense and renewable energy sectors. The Belfast shipyard, which had sat dormant for years, was acquired in 2019 and since then the company has added three other facilities including another well-known shipyard Appledore to the operation.
Once the builder of some of the world's most famous ships, including the ill-fated Titanic, Harland & Wolff, the current project is small in scale but was an important step in the recommissioning of the facilities and beginning to train the new workforce. The last ship delivered from Belfast was the Anvil Point completed in 2003 as part of a public-private partnership that saw six ro-ros built for commercial service but to be available as auxiliary support to the Royal Navy in time of need. Two of the vessels, each of which was 14,200 dwt, were built in Belfast with the other four in Germany.
The current contract is with Cory Group, a waste management and recycling company that operates tugs and barges on the Thames. The shipyard is building a total of 23 barges as part of Cory's expansion. The first of the barges was launched from Harland & Wolff's Belfast shipyard and taken by sea to Cory's lighterage site on the banks of the River Thames. It will join Cory's existing fleet of tugs and barges, and will be used to transport recyclable and non-recyclable waste.
Cory placed an initial order of 12 barges with Harland & Wolff in June 2022 and later extended the contract by a further 11 barges. The total value of the contract is £18.1 million ($22.5 million). The company is developing the Riverside 2 Energy from Waste (EfW) facility due to be operational by 2026 expanding its existing operations.
"We are at an exciting period of growth, as construction of our new facility is now underway. As well as investing in developing this vital piece of UK infrastructure, we want to ensure that our supply chain supports UK industries such as shipbuilding so Harland & Wolff was a natural partner for us," said Fran Comerford-Cole, Director of Logistics at Cory. "We are delighted to have received this first barge, which will be deployed into our fleet on the Thames in the coming weeks."
Executives at Harland & Wolff pointed out the role this contact plays in their effort to expand the capabilities of the shipyard. They have recommissioned the fabrication hall and purchased new equipment.
"It's great to see the first vessel built in the yard since we acquired the yard in December 2019 completed and delivered. This is the first of 23 barges to be successfully delivered and we look forward to continuing to work with Cory across both Belfast and Methil," said John Wood, CEO of Harland & Wolff. "This contract is enabling us to build up the necessary workforce and skills we will require when we start to deliver on the three Fleet Solid Support (FSS) Warship contract, with high-quality local employment and apprenticeships."
The company's Belfast yard is one of Europe's largest heavy engineering facilities, with deep water access, two of Europe's largest drydocks, and fabrication halls. The company also acquired what is now Harland & Wolff (Appledore) in August 2020, and expects to also use that yard for future opportunities in shipbuilding and repair.
Work on the barges is the first step toward the full restoration of large-scale shipbuilding in Belfast and Appledore. Late last year Harland & Wolff was part of a consortium with Navantia UK that won a government contract that includes building three naval support ships. The full contract runs for seven years and is valued at approximately $1.9 billion. Harland & Wolff expects to be responsible for delivery work worth between approximately $850 and $960 million.
The company further expanded its capabilities by acquiring in February 2021 the assets of two Scottish-based yards along the east and west coasts. Now known as Harland & Wolff (Methil) and Harland & Wolff (Arnish), these facilities will focus on fabrication work within the renewable, energy, and defense sectors.
Source – THE MARITIME EXECUTIVE