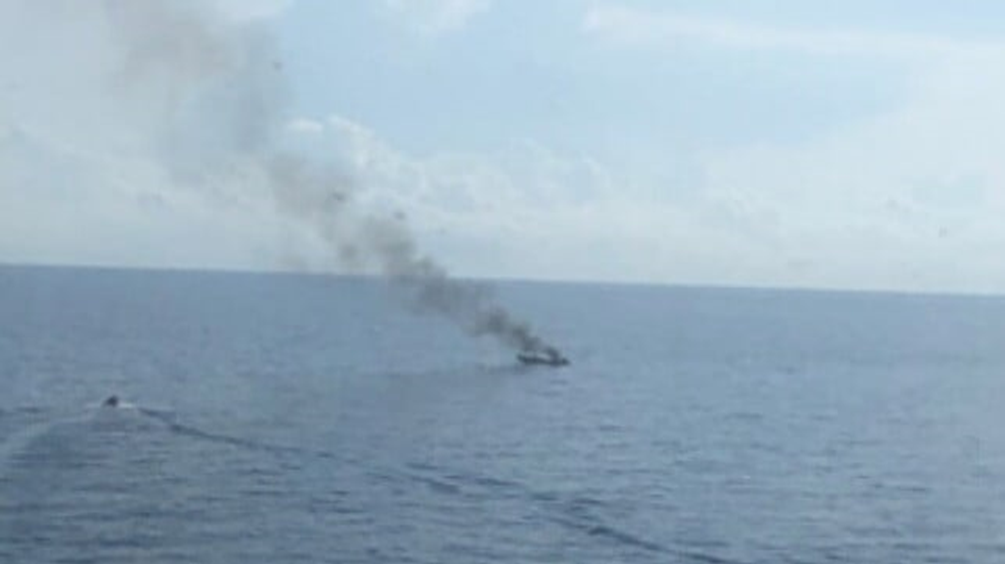 Three boaters are lucky to be alive, reporting that they were in the water earlier this week in the Caribbean after their small boat caught fire. They had to abandon their boat due to an engine explosion.
MOL Chemical Tankers, however, is reporting that an officer on watch aboard their tanker Nordic Ann spotted the smoke from the fire around 7:30 a.m. on April 24. The 14,732 dwt chemical tanker registered in Denmark had departed Montego Bay, Jamaica the prior day and was making its way to Houston when it happened on the boaters in distress.
The officer of the watch saw the smoke and then spotted the drifting boat on fire as the tanker grew closer. The master of the Nordic Ann was informed of the situation and ordered the vessel to slow and approach the scene to investigate. It was then that they discovered that there were three people in the water in distress.
Around the same time, a containership also approached the scene and the Nordic Ann reports that it established communication with the second vessel and they coordinated a Man Over Board rescue action. Rescue boats from both vessels were lowered and proceeded for the survivors.
The MOB crew from the Nordic Ann recovered one of the three people, while the containership's crew was able to rescue the other two individuals. The Nordic Ann's crew reports that the three people had suffered minor burns, cuts, and bruises, but were overall found to be in general good condition. The survivors were taken onboard, given first aid and hydration, and a change of clothing.
After communicating with the local authorities at the Cuba MRCC, the decision was made to place the three survivors aboard the containership (the name of the vessel was not included in the report). They proceeded with the ship for repatriation from Puerto Mariel, Cuba.
The Nordic Ann reports the rescue was completed by approximately 10:00 am local time and the tanker resumed course to Houston.
Source – THE MARITIME EXECUTIVE