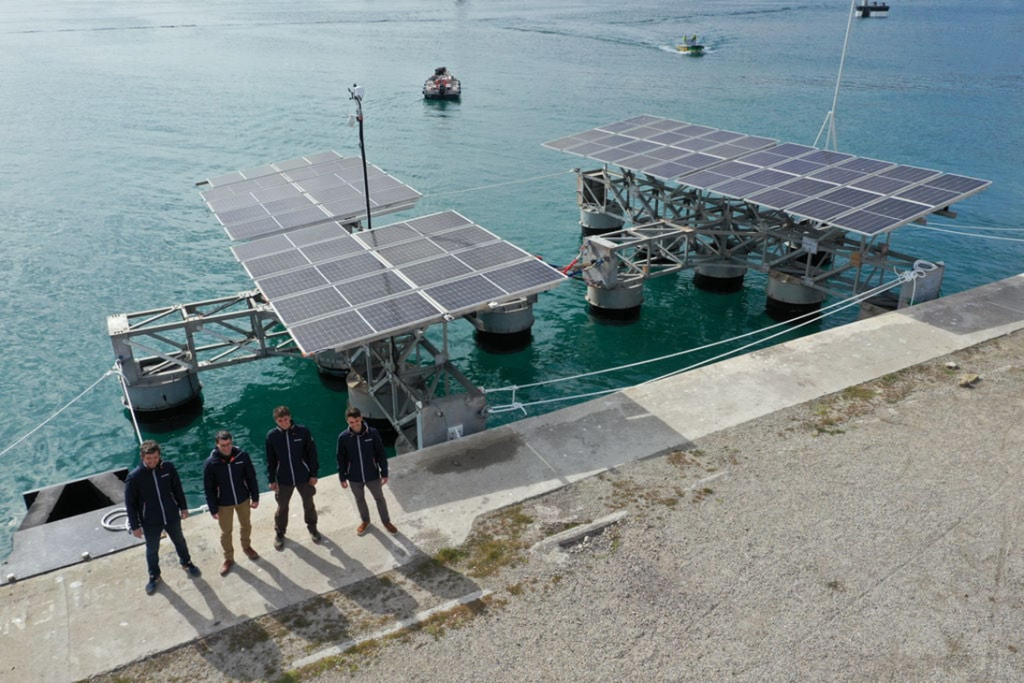 French start-up SolarinBlue has deployed two offshore floating solar units in the Mediterranean sea as part of the Sun'Sète project, which aims to supply clean electricity to one of the 10 biggest French ports.
SolarinBlue, designer of floating solar solutions specially designed for the maritime environment, launched the first units of the Sun'Sète project in mid-March 2023.
The demonstrator is installed in the commercial port, located 1.5 km from the coast, on the site of a former offshore oil unloading station.
The Sun'Sète project involves several successive stages, the first of which consists of the installation of two floating units and then the project will grow to 25 units in its final version for a total installed power of 300kWp and a surface area of half a hectare.
According to the available information, SolarinBlue plans to complete the installation of the remaining units by the end of 2023.
The estimated production will then be 400MWh/year and will be transported by a subsea cable to supply renewable electricity to the infrastructures of the Port of Sète, which is one of the top 10 of all French industrial ports.
SolarinBlue's technology features lightweight, eco-friendly design that is 90% recyclable thanks to a treated steel frame and recyclable High Density Polyethylene (HDPE) floats, according to the company.
The large air draft and maximum buoyancy of the floating structures protect the panels and maximize their durability. The panels never come into contact with the waves, and the floating structure is able to withstands 12-meter high waves and 200 km/h winds, SolarinBlue claims.
Over the next two years, SolarinBlue team will study the marine behavior of the floats, the photovoltaic production and will also carry out maintenance operations on the demonstrator.
These studies will confirm the potential of its offshore floating solar proprietary technology and prepare for its large-scale development, SolarinBlue said.
Source – https://www.offshore-energy.biz by Amir Garanovic