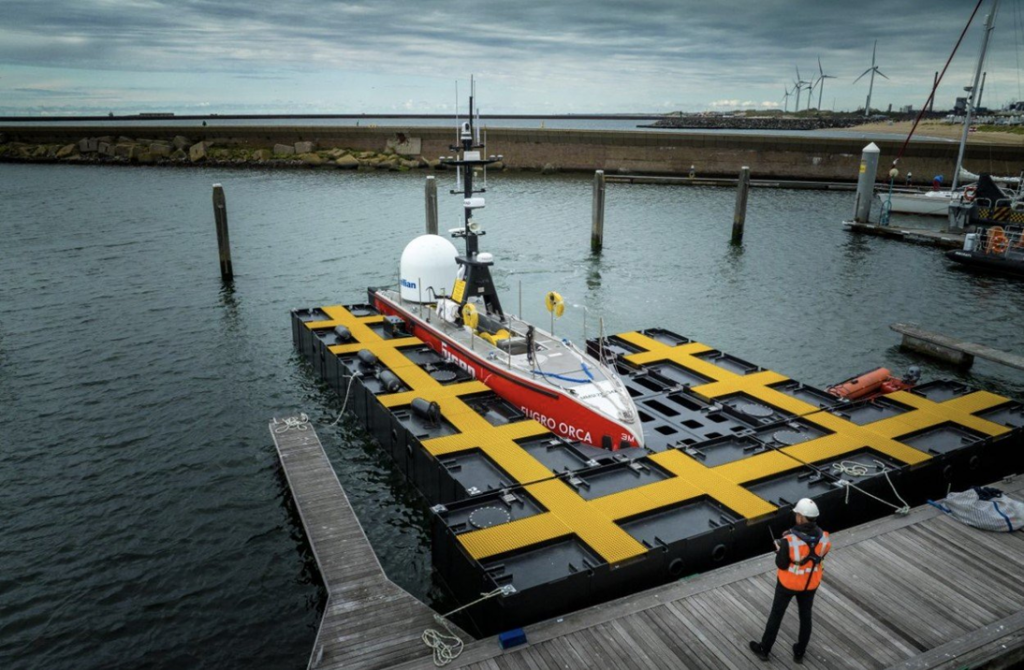 The Netherlands-headquartered Fugro has commenced another batch of trials for its Robodock platform for uncrewed vessels and drones.
Following tests completed last year, Fugro is now gearing up for the second phase of trials testing Fugro Robodock with its 12-meter Blue Essence uncrewed surface vessel (USV), built by SEA-KIT International and equipped with Fugro's integrated Blue Volta eROV.
The Dutch company stated that the trial, underway in the Netherlands, sets out to further improve its USV operations including autonomous berthing and refueling operations.
Fugro Robodock was developed in a consortium with RC Dock Engineering, O7 Designers, NIOZ Royal Netherlands Institute for Sea Research and the Netherlands Enterprise Agency (RVO).
The platform enables various uncrewed vessels and drones to carry out inspection and maintenance tasks above and below the sea surface and serves as a recharge station for drones. It also provides communication with the shore and a place for monitoring safety and the environment around a wind farm.
Fugro was granted €3.3 million for the project by RVO back in 2021.
Fugro recently received full navigation licensing from the UAE Ministry of Energy and Infrastructure for its Blue Essence USV. The licensing represents the first registration of an over-the-horizon USV in the UAE, making Blue Essence the first vessel in its class to meet multiple independent maritime authorities' operational standards.
Prior to this, Fugro secured approval from the UK's Maritime and Coastguard Agency (MCA) to operate the Blue Essence with an eROV in UK waters.
Source – https://www.offshore-energy.biz by Nadja Skopljak