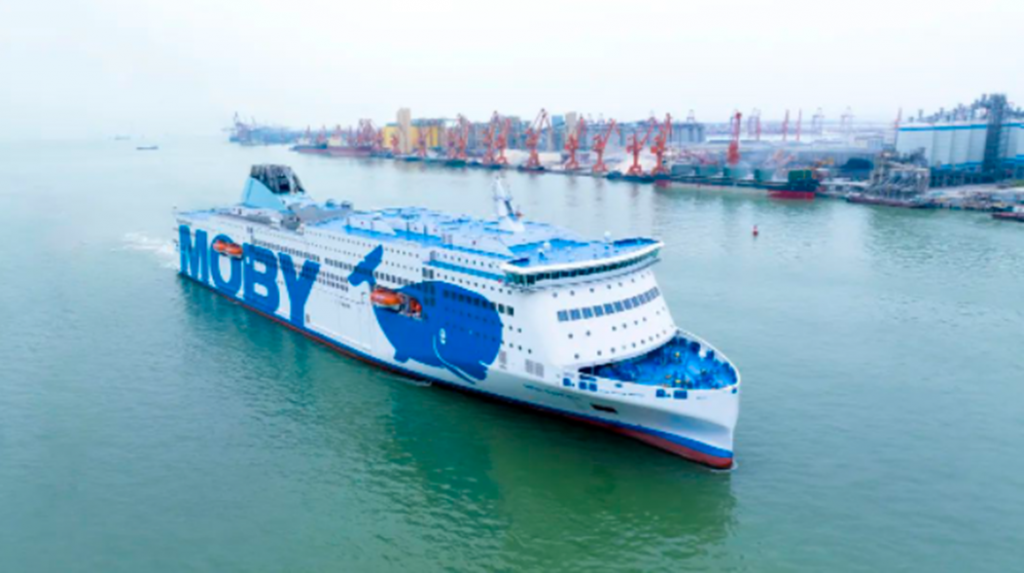 LNG-ready luxury ro-ro passenger ship Moby Fantasy embarked on a maiden voyage following its delivery from China State Shipbuilding Corporation's Guangzhou Shipbuilding International.
The 2,500-passenger and 3,800-meter lane vessel was built for MOBY Line Shipping Company and departed from Nansha, Guangzhou on April 14.
The ship will operate between Genoa, Olbia, and Livorno, providing services along the Mediterranean coast as Moby Line's new flagship.
Measuring 237 meters in length and 33 meters in width, Moby Fantasy features 13 decks, 533 guest rooms, and the capacity to transport nearly 800 cars. With a service speed of around 23.5 knots, this China-built luxury ro-ro passenger ship can accommodate up to 2,500 passengers.
GSI said that the vessel has an advanced vehicle loading system, enabling efficient loading and unloading of cargo. Additionally, the vessel is equipped with a hybrid scrubber system.
The shipbuilder further added that the vessel is fitted with an engine system with incredibly low power consumption, allowing for high-speed sailing of up to 25 knots with minimal fuel consumption.
The ship's design also includes a liquefied natural gas (LNG) propulsion interface, providing the owner with the option to switch to LNG as the ship's primary fuel in the future.
Source – https://www.offshore-energy.biz by Jasmina Ovcina Mandra