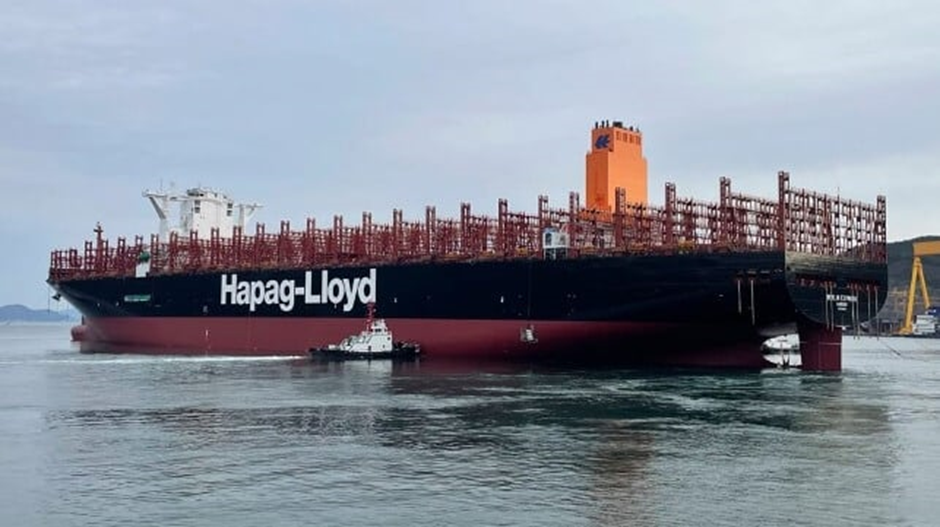 Two years after the order was placed, the first of Hapag-Lloyd's new ultra-large container vessels was recently floated. The ship is the first of a new class of vessels for the carrier which will both be dual-fuel operating on LNG and the largest ships in the Hapag fleet.
Hapag posted pictures on social media of the float of the first of the 12 containerships on order from South Korea's Daewoo Shipbuilding and Marine Engineering. No date was included for the event when the 1,300-foot behemoth was moved from the floating drydock in which it was built and repositioned to the outfitting berth. It has been previously reported that the vessel, which apparently was renamed from earlier reports of Hamburg Express to the name Berlin Express displayed on her hull, was scheduled for delivery in April 2023. She would be assuming the name from a smaller (7,179 TEU), 20-year-old boxship currently sailing as Berlin Express for Hapag.
The new vessel is part of the emerging class ULCVs due to become the leaders on the Asia to Europe routes. When the vessel was ordered in December 2020, Hapag reported it will have a capacity of 23,500 TEU, larger than the line's A 18 Class, which has a capacity of just under 20,000 TEU. Built in 2015, that class of ship each measure 1,312 feet in length and 199,700 dwt.
Hapag's new class is reported to be 230,000 dwt. The vessel will also be 1,312 feet long with a 200-foot beam. The first order for six ships, placed at the end of 2020, was valued at approximately $1 billion and Hapag six months later exercised an option for an additional six vessels also reported to cost approximately $1 billion.
The keel of the vessel was laid in the DSME drydock in September 2022. DSME reported last year that the vessels marked another milestone with the first-ever installation of a high manganese steel LNG fuel tank on a dual-fuel containership. The first of the tanks, which are unique as square Type-B LNG tanks made of high manganese steel, was fitted last fall into the hull of Hapag's new containership. The vessels will be powered by MAN high-pressure type engines with a maximum power of 58.270 kW at 76.5 revolutions per minute.
THE Alliance network recently announced its 2023 deployment plans highlighting the introduction of these ships on its Europe-Far East routes. The last of Hapag's new ships is due for delivery by the end of 2024 and they will be competing with the new ultra-large vessels (24,000 TEU) coming from the Chinese shipyards for MSC, OOCL, and Evergreen.
Source – THE MARITIME EXECUTIVE