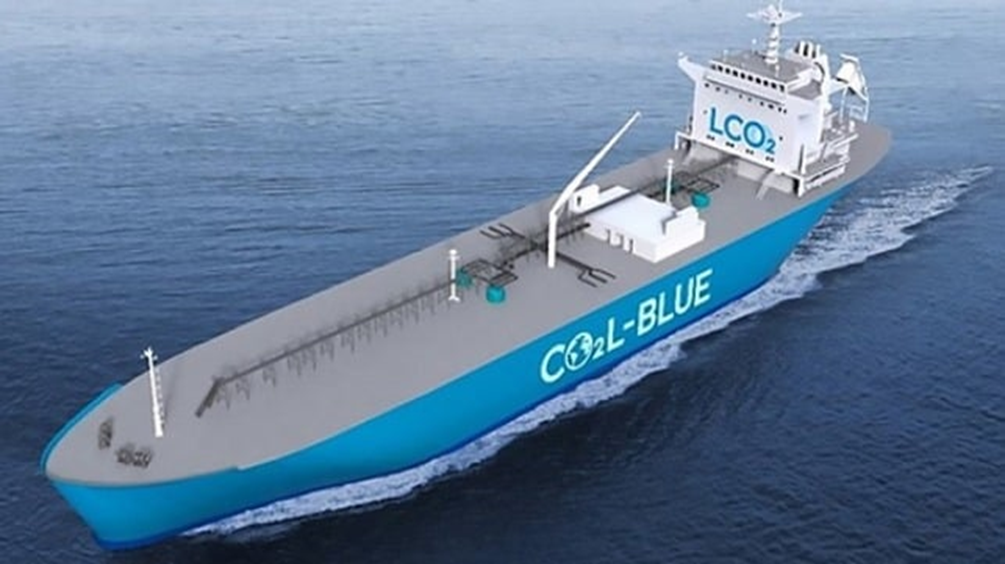 A partnership of Japanese companies is taking the next step in developing the commercial shipbuilding market for CO2 carriers. Led by Mitsubishi Shipbuilding and Nihon Shipyard Co., the joint project will pursue the development of an ocean-going liquified CO2 (LCO2) carrier. Nihon Shipyard says it aims to complete the construction of the vessel in 2027 as the start of a new commercial market.
The companies note that demand for LCO2 carriers is expected to grow in the future as a means to transport large volumes of CO2 safely for Carbon Capture and Storage projects. Following the lead of the EU region, they expect that CCS projects in Asia will be accelerated by the promotion of national governments, and are looking to develop the leadership in the sector for Japanese shipbuilding.
This project will take advantage of the knowledge and advanced gas handling technology that Mitsubishi Shipbuilding has acquired in designing and constructing liquified gas carriers, both LPG and LNG, as well as its shipbuilding experience for various types of vessels. Nihon Shipyard, a Tokyo-based joint venture for ship design and sales between Imabari Shipbuilding Co. and Japan Marine United Corporation is also focusing on advanced technology capabilities. Nihon Shipyard, in anticipation of future regulations restricting CO2 emissions, is proactively working toward the commercialization of LNG and ammonia-fueled ships. As its next initiative, the company is considering the potential for LCO2 carriers, aiming to further solidify its leading position in the industry.
Mitsubishi Shipbuilding is actively pursuing the development of LCO2 carriers and the commercialization of LCO2 shipping. Two years ago, in August 2021, Mitsubishi announced a project with France's TotalEnergies to explore the opportunities for large tonnage liquid CO2 carriers. Separately, Mitsui O.S.K. Lines and Mitsubishi Shipbuilding also completed a concept study exploring multiple hull forms for liquefied CO2 carriers.
The shipyard is already working on what is likely to be the world's first LCO2 carrier in operation, a vessel that is being built as part of a demonstration project organized and supported by Japan's New Energy and Industrial Technology Development Organization (NEDO). The hull for the vessel was launched from a Mitsubishi shipyard in March 2023. The vessel, which has a cargo tank capacity of 1,450 cubic meters, is scheduled for delivery by late 2023 to begin testing and demonstration trips.
The keel for the first commercial vessel designed to transport CO2 as part of CCS operation was laid in April at the Dalian Shipbuilding Industry Co. (DSIC) yard in Dalian, China. The fabrication of the ships started in November 2022 with the first steel cut, and two of the ships are expected to enter service in 2024 for Northern Lights, a partnership between Equinor, Shell, and TotalEnergies, that is developing CCS west of Bergen, Norway. Northern Lights' vessels will be 426 feet in length with a cargo capacity of 7,500 cubic meters of LCO2. Japan's "K" Line will operate the vessels.
Believing that it will be an emerging niche for the shipping industry, multiple projects are underway all focusing on the transport of LCO2 in large quantities. The South Korean shipyards are also looking to develop leadership in the sector focusing on the designs for larger gas carriers and based on their experience in LNG and LPG. Lloyd's Register in September 2022 awarded design approval to South Korean shipbuilder Hyundai Heavy Industries for the development of the world's first 40,000 cubic meter liquefied carbon dioxide carrier. The vessel would be 784 feet in length with seven IMO Type C cargo tanks that use a new steel design to increase capacity. Korea Shipbuilding & Offshore Engineering also reported it has developed a design for a 74,000 cubic meter vessel which would be the world's largest.
Source – THE MARITIME EXECUTIVE