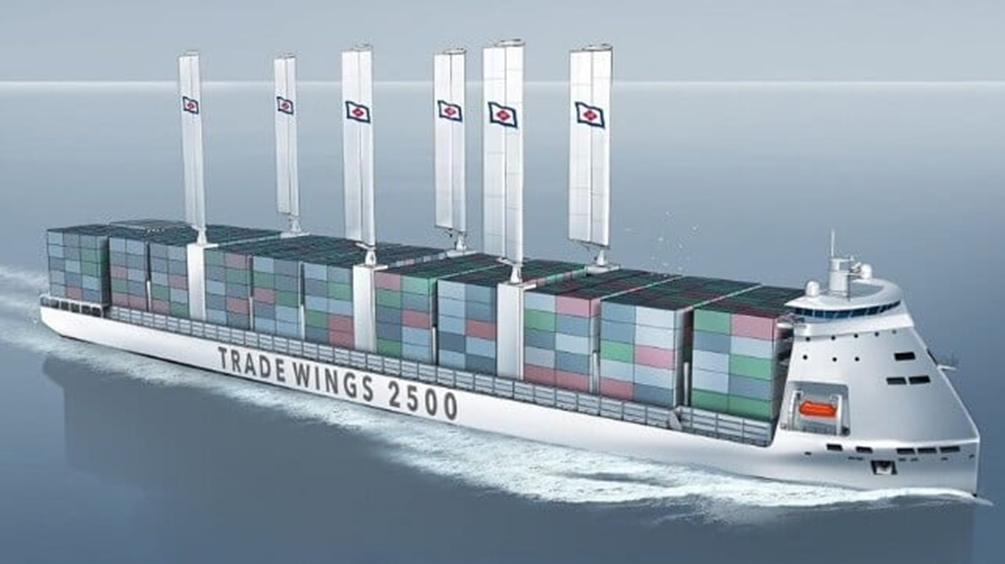 French freight forwarder LD Freight Solutions, a subsidiary of Louis Dreyfus Armateurs, is working with the design team of the Trade Winds 2,500 to develop the designs for a short-sea or feeder wind-assisted containership. They will be working with French design firm VPLP Design and the consultants from Alwena Shipping to refine the designs to meet the freight forwarder's expectations as they also develop and pursue selected logistics solutions for the vessel.
The design for the hybrid propulsion ship that incorporates six wing sails and a diesel-electric propulsion system was initially developed by VPLP and Alwena in partnership with China's design group SDARI and France's AYRO group which is developing zero-emission systems. The team was awarded an Approval in Principle from Bureau Veritas in May 2021.
According to the design team, the Trade Wings 2,500 concept is primarily suitable for short-sea shipping or feeder operations. They note that it is a versatile design that could be adapted to operations in Europe, Central America, the Caribbean Islands, and China. They however also said that the Trade Wings 2,500 could also operate on transatlantic trades and be tailored to meet the client's requirements and volumes.
The concept design is for a 646-foot vessel with a beam of 105 feet. The vessel would be 32,500 dwt and have a capacity of 2,500 TEU. The six wing sails would be installed on a vertical sliding mechanism to partially retract while in port to minimize the impact on cargo operations. Each sail would have an area of approximately 363 square meters and give the vessel an air draft of just over 200 feet.
Propulsion would follow a hybrid model with the initial concept being for an LNG-fueled power plant. Among the elements proposed in the design is the use of a pure gas 4-stroke genset, although the designers note that it is a flexible platform that could be adapted to future fuels such as methanol, ammonia, or hydrogen. BV also highlights that by using power pods the vessel would gain additional maneuverability to minimize port time and that a hatchless design further speeds cargo operations.
On a typical transatlantic route of 4,000 nautical miles, it is estimated that the Trade Wings 2,500 will save on average 35 percent CO2-equivalent emissions compared to a conventional design, with a 2-stroke engine, single shaft and without wing sails, operating at the same speed. The 35 percent savings would consist of 57 percent from the wings and 43 percent from the optimized LNG thermal propulsion.
Louis Dreyfus says the new alliance aligns with their goals to accelerate shipping's decarbonization. They believe that wind-propulsion systems and alternative fuels will contribute to achieving the shipping industry's goals.
Source – THE MARITIME EXECUTIVE