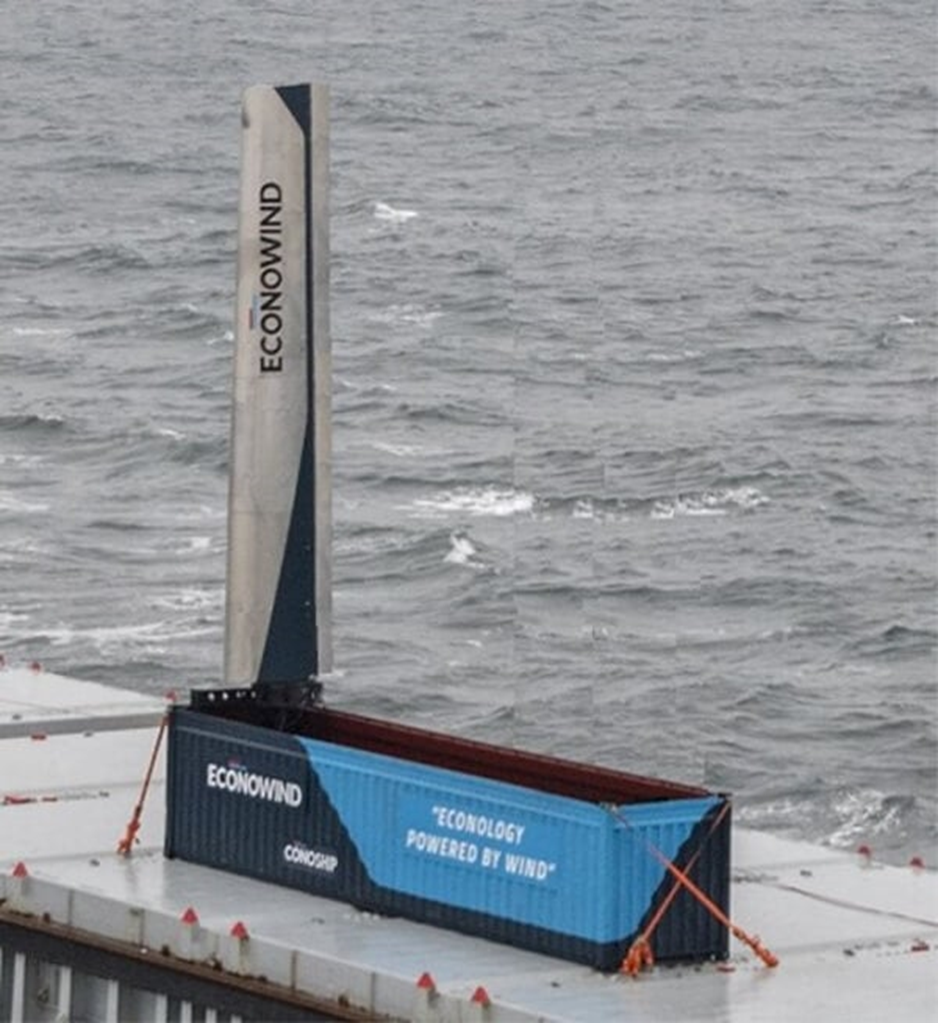 Ocean Network Express (ONE) plans to test a containerized wind foil system aboard one of its feeder ships. The system, which was developed by Netherlands-based Econowind, offers the advantage that it can be folded away and also is moveable to permit the vessel's normal container operations.
The system will be employed aboard the Kalamazoo, a 12,600 dwt containership built in 2013 and owned by Norse Shipholding of Singapore. The vessel is operating for ONE on a feeder route currently sailing between China and Korea. The ship is 469 feet long with a carrying capacity of 1,036 TEU.
Before the end of 2023, the Kalamazoo will be fitted with two containerized units which are the same size as a standard 40-foot container. The advantage is that it is a fully autonomous unit that contains all the equipment, including hydraulics, automation, and ventilation integrated into the containerized unit. The only support needed from the vessel is a power connection. Being in a container it is also fully moveable.
Econowind developed the containerized solution as an alternative for retrofitting its VentoFoil, a wing-shaped rigid sail, to in-service vessels. According to the company, the design incorporates a smart suction system that controls the airflow around the wing-shaped element. The foil measures approximately 34 feet by 9 feet and will be able to generate thrust to save up to 400 kW of engine power. In unfavorable conditions, the foil units can be stored in the container.
Takashi Kase, Senior Vice President of ONE said the first wind assist system utilization will be a milestone for the company in its goal to achieve net-zero emissions by 2050. ONE plan on testing different technologies as part of its optimization project.
After conducting land tests, Econowind ran its first full-size tests on the unit in November 2018 aboard a general cargo ship the Lady Christina (5,375 dwt) in the North Sea and Baltic. During that test, the ship's operator reported a fuel savings of approximately 10 percent per day in keeping with Econowind's projections of a 7 to 11 percent savings.
"We are delighted to add ONE to our customer base as the first Asian partner," said Frank Nieuwenhuis, CEO of Econowind. "The more installations we can retrofit, the more data we can attain and learn from. This provides us with solid proof of how wind-assisted ship propulsion is reducing emissions per nautical mile and with vessels improving their EEXI / EEDI."
In addition to the containerized units, Econowind is also developed larger, fixed Ventofoils that can be employed to newbuilds or retrofitted to existing ships. Using the same principles of aerodynamics, the fixed versions are not limited by the size of the container offering the potential for greater power. They can be built to fold down during bad weather or to increase clearances for the vessel during maneuvering or in port for cargo operations. The fixed units also rotate around their axis.
Source – THE MARITIME EXECUTIVE