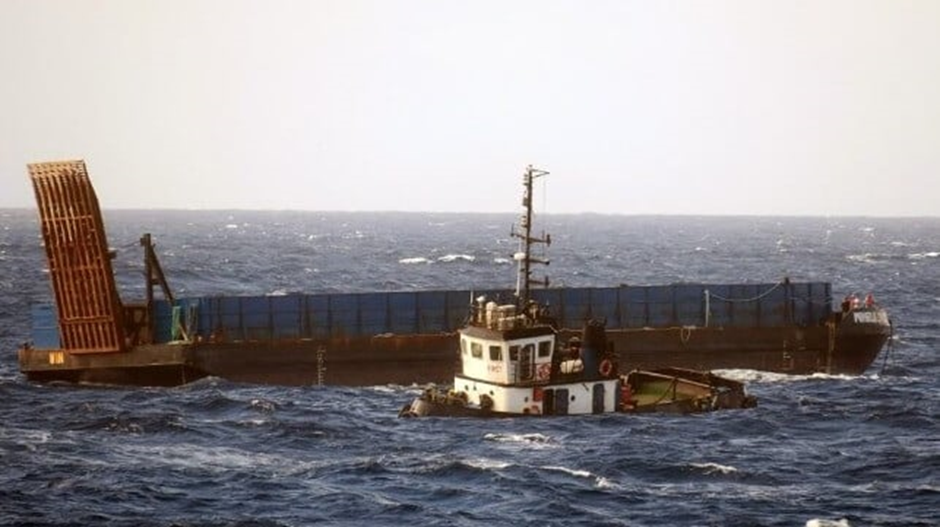 On Friday afternoon, a Royal Navy patrol vessel rescued five crewmembers from a sinking tug off the coast of Sint Maarten, braving high winds to bring the survivors to safety.
Patrol vessel HMS Medway was underway Friday near the British Overseas Territory of Anguilla when she received a request for assistance from a coastwise tug. The towing vessel had begun to take on water, and when its engines failed, the crew sent out a distress call. The five crewmembers then abandoned ship and transferred safely over to their tow, a sand barge.
The vessel's watchstanders coordinated with the Martinique Rescue Coordination Centre and got under way to the distressed vessel's position, some 20 nm to the west of Sint Maarten. The distance between the vessels was about 12 nm, and the speedy patrol ship arrived on scene about 20 minutes after receiving the call.
On arrival, Medway deployed a boat crew to retrieve the survivors from the drifting barge. The weather was warm but rough, with gusts to 30 knots and heavy rainshowers. Surface conditions were relatively mild with seas of about five feet, but the wind was a challenge for Medway's small launch.
Medway boatswain Petty Officer Sarah Griffiths was the first person to reach the barge. "Whilst we were cautious as we made our approach to the barge and tug we were able to reassure the crew and transfer them clear of the barge safely. They were hugely grateful," she said.
The crewmemers were shaken up but unharmed, and the boat crew transferred them safely back to HMS Medway. After a checkover, they were passed over to a SAR boat crew from Anguilla, which arrived at about the same time that the rescue was completed.
Though the tug was low in the water when Medway left the area, it had not yet fully sunk.
Medway is deployed to the Caribbean and the Atlantic year-round to support the British Overseas Territories. She performs multiple roles, including humanitarian relief, search and rescue, anti-trafficking and maritime security. In the fall, Medway responded to communities in need after Hurricanes Fiona and Ian, and she helped the U.S. Coast Guard interdict a $29 million shipment of cocaine.
Source – THE MARITIME EXECUTIVE