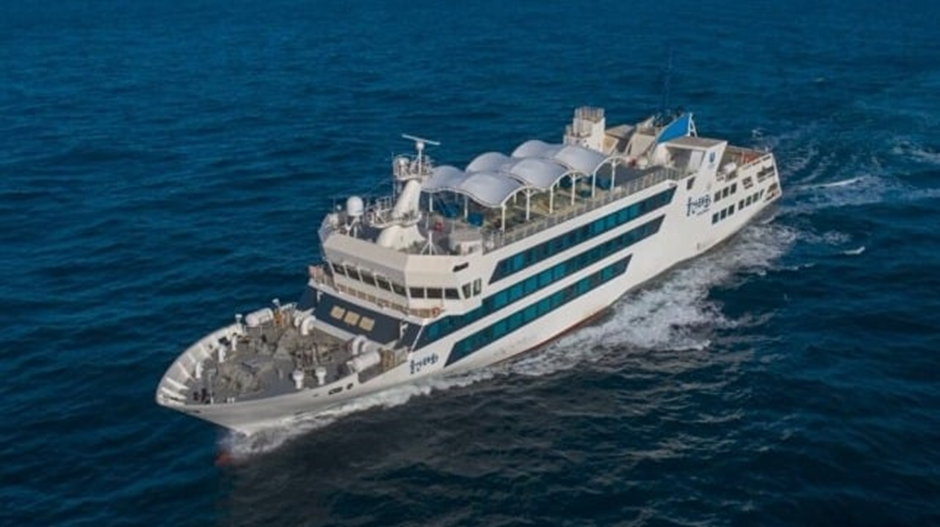 Hyundai Heavy Industries recently commissioned South Korea's first large next-generation electric propulsion ship which incorporates smart technology. The unique vessel is dual-powered with the ability to operate either fully from its battery or an LNG-fueled engine or a hybrid mode with the battery supplementing the engines. The vessel will operate as a demonstration ship and undertake tourist voyages from the city of Ulsan along the Korean coast.
Construction on the 1,400 gross ton vessel began in October 2021 at the Hyundai Mipo Shipyard. Named Ulsan Taehwa, the vessel features an electric propulsion system developed by Korean Shipbuilding & Marine Engineering that includes an energy storage system that enables selective operation of the DC Grid-based LNG and marine diesel oil power plant. The dual-fuel engine is capable of driving the vessel which is 292 feet long with a beam of 42 feet at speeds up to 16 knots. It has a capacity of 300 passengers.
During sea trials conducted in August and October, the vessel reduced CO2 emissions by 40 percent compared to conventional marine diesel engines. Hyundai also reports that fuel efficiency was improved by six percent through optimal engine controls. The system also manages operations using the battery with electricity developed from a power generator that drives an electric motor or using its dual-fuel engines or a boosting mode in which both the engines and electric power system are operated. The systems incorporate variable speed engine controls and energy optimization. This system, Hyundai's electric propulsion solution, won the CES 2023 Innovation Award from the Consumer Technology Association.
In addition to the hybrid power plant, the vessel also employs a variety of other smart technologies. The technology permits the power generation to be adjusted in 1/1000 of a second, which Hyundai reports is about 100 times faster than existing engines. Among the other smart ship functions is a maintenance operation that self-diagnoses the operating equipment.
The Ulsan Taehwa was built as part of electric propulsion smart ship construction and demonstration project designed to support the advancement of battery-powered shipping. The vessel cost approximately $34 million to build with approximately $18 million in government funding supported by the Ulsan City Government.
During December they conducted additional operation tests in Ulsan. Starting in 2023, the plan is to operate the ship for demonstration of the hybrid power system, educational, and tourism purposes.
The ship is also part of HD Hyundai's recently announced strategy which calls for a shift in focus on next generation technologies. Speaking at a press event before last week's Consumer Electronics Show (CES) in Las Vegas, the company detailed its efforts to reframe its approaches with a focus on sustainability by developing green tech.
Source – THE MARITIME EXECUTIVE