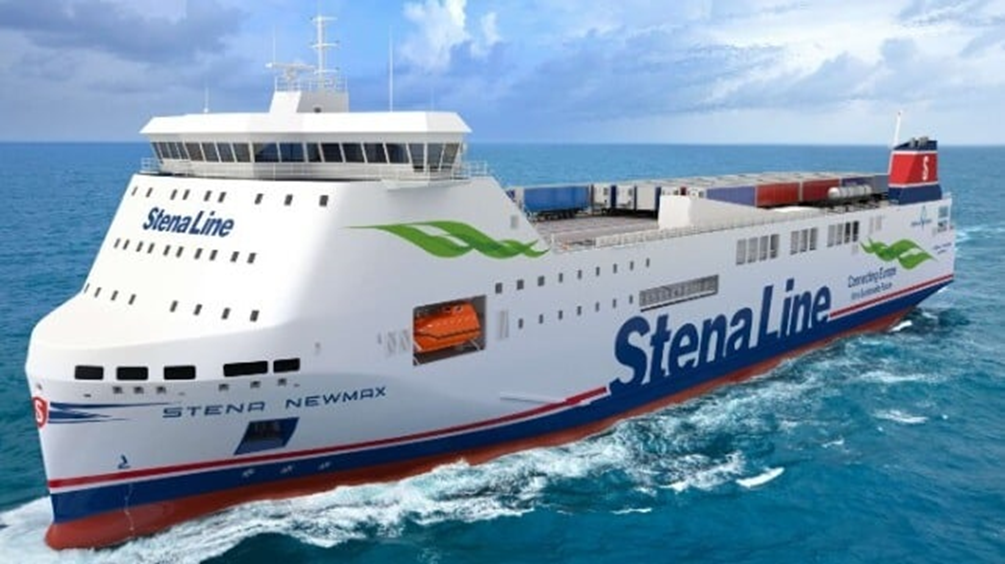 Stena Line, which reports it is already the largest ferry operator on the Irish Sea, is building two new hybrid ferries that will be used to address capacity constraints and future-proof the company's operations. The design incorporates both a hybrid propulsion plant as well as features to deal with the challenging weather sea conditions on the route while also greatly expanding overall capacity.
"The NewMax vessels will be able to operate on methanol fuel," Stena announced reporting that construction will begin shortly in China. "Future-proofing the new vessels for electrification has been another priority during construction providing in-built technologies that can take advantage of both battery propulsion and shore power, where this is available."
Stena has ordered two RoRo vessels that will be built at China Merchant's shipyard in Weihai, China. The project will be managed by Stena RoRo and both ships are expected to enter service in the fall of 2025. They will be operating between Belfast, Northern Ireland and Heysham, a port on the west coast of England.
"This investment shows our dedication to sustainability and our strategy of moving towards new sustainable fuels," says Niclas Mårtensson, CEO of Stena Line. "The NewMax vessels will also meet the growing demand from customers, adding significant capacity to allow logistics operators to grow their business in the region."
Stena reports that its service from Belfast is currently constrained by capacity. The new vessels will increase capacity by 80 percent on the route. Each of the freight vessels will be 482 feet in length and has been designed to maximize freight volumes. They will provide 2,800 lane meters of capacity. They will also be equipped to carry 12 passengers and operate with a crew of 26.
The company says that the unique tidal system at Heysham can be challenging and has led to delays in the past. The new vessels will incorporate a technology configuration specially designed to address the challenges at the port. They will each have three bow thrusters to provide optimum maneuverability and reliability. The engine and propeller configuration are also specially designed to enhance berthing capabilities in extreme weather.
Stena highlights that it was the first ferry operator to run a ferry on methanol when the Stena Germanica was converted in 2015. The company reports it is currently working closely with the supply chain of methanol and has secured future volumes of e-methanol to fulfill its goal of shifting to renewable fuels. Stena's goal is to cut its CO2 emissions by 30 percent by 2030.
Belfast to Heysham is a freight-only route for Stena and part of a total of up to 238 weekly sailings between Britain and Ireland. The company is also upgrading its service between Rosslare, Ireland and Cherbourg, France in the summer of 2023 with the Stena Vision. Originally ordered in 1980, she entered service in 1987 as the Stena Germanica and was rebuilt in 2010 as the Stena Vision. She is currently operating in the Baltic between Poland and Sweden.
Source – THE MARITIME EXECUTIVE