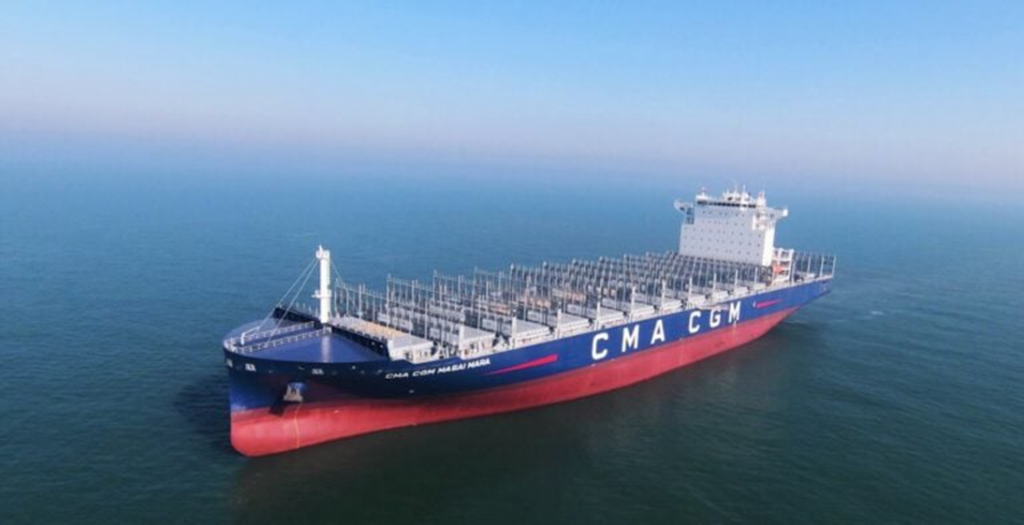 The world's first ammonia-ready containership CMA CGM Masai Mara has celebrated two major milestones in its construction process. Namely, the engineering marvel was christened at a special ceremony hosted by the Chinese shipbuilder Qingdao Shipyard on April 27, before being officially delivered on May 23.
The 5,900 TEU vessel was built for Belgian shipowner CMB and the boxship will be operated by French liner major CMA CGM.
The CMA CGM Masai Mara stretches 240 meters in length, 42.8 meters in width, and has a maximum packing capacity of 6,014 boxes, including 1,150 refrigerated containers. Its advanced features include a high level of automation and an innovative ammonia/diesel dual-fuel propulsion system.
The shipbuilder said that the vessel has low energy consumption and that its design features allow for compliance with all the latest regulations of the International Maritime Organization.
The vessel belongs to a new generation of medium-sized containerships optimized for regional container transportation and can be deployed on various non-polar global routes, offering flexibility in their utilization.
The naming ceremony also served as an occasion for the launching of Masai Mara's sister ship, CV5900-02 to be named CMA CGM Khao Sok.
As informed, the two vessels form part of a deal for a total of six vessels.
These particular vessels represent the largest container ship currently under construction in Shandong Province. The deal between CMB and Qingdao builds on the close relationship between the duo forged on the construction of a 206.000 dwt bulk carrier.
Qingdao Shipyard recently inked a significant contract with the renowned shipowner Norwegian Seatankers Group for the construction of 4+4 82,000DWT bulk carriers.
CMB has been a staunch supporter of alternative fuels such as hydrogen and ammonia. The company's subsidiary Bocimar is building up to nine ammonia-powred Newcastlemaxes in China in cooperation with WinGD.
CSSC Qingdao Beihai Shipbuilding launched the construction of CMB's ammonia-ready 210,000 dwt bulk carrier earlier this year.
In addition, CMB and Japanese shipbuilder Tsuneishi have launched a joint venture to develop the hydrogen internal combustion engine (H2ICE) technology for the Japanese industrial and marine market.
CMB's subsidiary CMB.TECH has developed concrete applications with dual fuel and monofuel hydrogen engines.
CMB and Tsuneishi have already been working together, with the development the hydrogen-powered ferry HydroBingo.
Source – https://www.offshore-energy.biz by Jasmina Ovcina Mandra