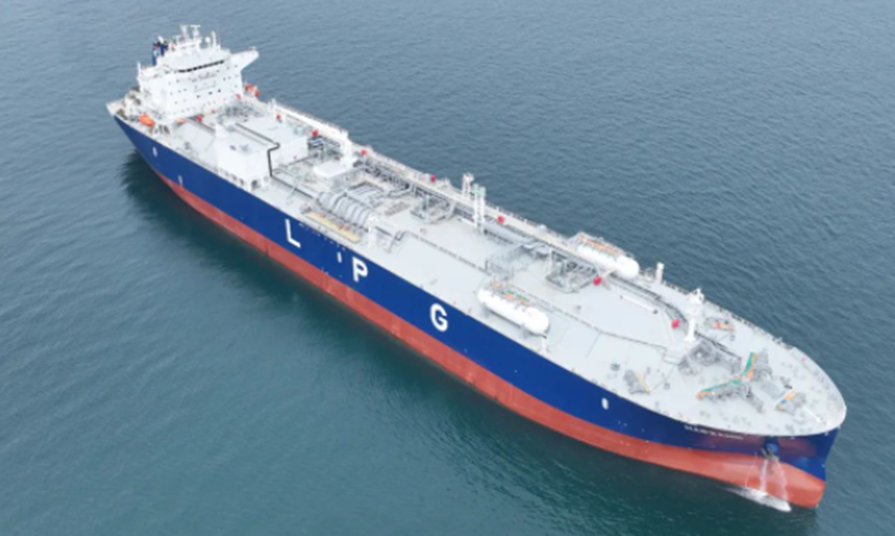 Jiangnan Shipbuilding, a subsidiary of China State Shipbuilding Corporation, has delivered the world's largest Very Large Liquefied Gas Carrier (VLGC) to Singapore-based shipping and trading company Petredec.
This marks a significant milestone for the shipbuilding industry, as the 93,000 cubic meter VLGC is the largest VLGC in the world. The vessel, named Harzand on April 25 and delivered on April 26, is the first of a total of six 93,000 cbm LPG vessels Petredec has on order at the yard.
Petredec has secured a $ 315 million loan from a syndicate of international banks to finance six 93,000 cbm VLGCs with dual fuel LPG propulsion.
The Panda-class 93k cbm dual-fuel LPG vessel belongs to the fourth-generation VLGC model independently developed and designed by Jiangnan Shipbuilding.
The vessel measures 230 meters in length, 36.6 meters in width, and boasts a speed of 16.5 knots.
It adopts the fourth-generation patented line type ( VS-Bow MK-IV ), which can be used under full load, ballast and liquid cargo loading conditions of different specific gravity.
The vessel is fitted with a shaft generator to use LPG to provide auxiliary power at sea.
By bunkering LPG as a marine fuel to MAN ES LGIP engines, Petredec aims to achieve up to 40% reduction in CO2 emissions by 2030.
The fuel range of the ship reaches 23,000 nautical miles, ensuring compliance with the latest NOX and SOX Tier III emission requirements of the International Maritime Organization (IMO). The vessel is classed by DNV.
The ship has been designed with several noteworthy features, including the first application of a rudder ball energy-saving device technology developed by Jiangnan. This technology improves the ship's maneuverability, stability and reduces fuel consumption.
Additionally, it is the first time that national production of low-temperature steel has been realized, which has greatly shortened the procurement cycle, the Chinese shipyard said.
Jiangnan Shipbuilding's latest achievement also marks a historic milestone for the liquefied gas shipbuilding industry. Namely, the company has accomplished the "three-in-one" sea trial, which means that the conventional sea trial, gas sea trial, and gas test were all completed at the same time.
The move was pursued as the shipbuilder aims to accelerate the construction process to meet the annual delivery target of 11 VLGCs.
Jiangnan Shipbuilding said that it has a global market share of 24.7% in the VLGC ships field. Currently, the company's orders for 93,000 cubic meters of ships have reached 14. Since its first order in 2012, the company has secured 52 ship construction contracts including 18 for 93,000 cbm VLGCs.
Source – https://www.offshore-energy.biz by Jasmina Ovcina Mandra