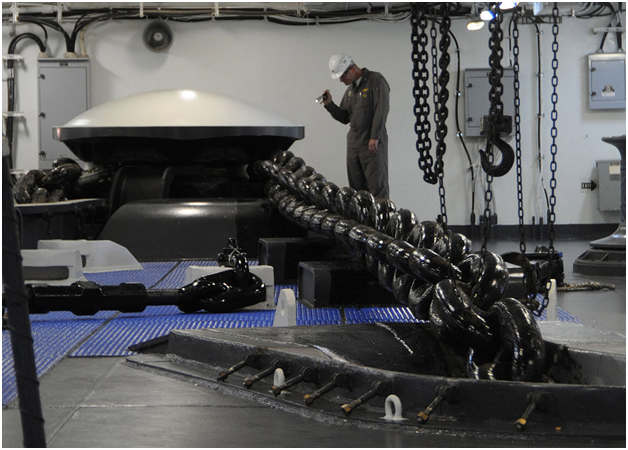 Q. Classification societies are recognized organizations (RO) and play an important role in the implementation of national and international regulations. State the limitations of the RO highlighting them with reasons. List the statutory services undertaken by a classification body on behalf of administration.
Ans-
Classification Society are organization that establish & apply technical standards in relation to design, construction & survey of the marine facilities including ships and offshore structure
Standards are issued by classification societies as published rules
Vessels may be designed and built to appropriate rules of society, may apply for a certificate of classification society
Under article 94, flag state must effectively exercise its jurisdiction and control in administrative, technical and social matters over the ship flying its flag
Many flag state countries in the world don't have adequate expertise and technical manpower to carryout responsibilities of flag state regarding maintaining the standards of ship. So SOLAS and other convention permit flag to delegate the inspection and survey of ship to Recognized Organization (RO)
Requirements of RO
Must have established rules for design, construction and maintenance of ship
Represented by government
Structure must include a representative from flag state nation placed at higher level in organizational hierarchy
Should have sufficient resources financial or personal
Must have internal audit equivalent to the ISO 9001-2000
Must present itself for external audit approved by flag state
Classification Societies fulfilling the above requirements will be given RO status by flag state to do duties on their behalf
Limitations of Classification Society as RO
May not delegate all its authorities to class
Can carry out survey under conventions like SOLAS, but cannot issue certificate
When survey not passed or required repairs not carried out, class do not have power to detain the ship
Certain flags like, India, requires statutory deficiency to be reported by class surveyor and its permission to be taken when issuing outstanding recommendation to vessel for allowing vessel to sail
Certain flag do not allow ISPS survey to class due to security reason
They cannot interpret the flag state regulation on its own
Statutory Services:
Have capability to undertake surveys, maintain records and conduct technical
surveys of various IMO conventions and code based on national standards
Undertake statutory work on behalf of individual IMO member state
RO may inspect and survey design, construction, equipment and technical part
operation of the ship
If delegated class may also, carry out certification of SMS as per ISM code
Q. a) State the circumstances which may lead to Suspension or Withdrawal of Class.
b) Explain the following terms used by classification societies:
i) Period of class.
ii) Anniversary date.
iii) Survey time window/window period for survey.
iv) Memoranda
v) Statutory recommendations.
vi) Condition of class
vii) Additional note
Ans-
The class will be suspended if one of the following occurs:
1. When the ship is not operated in compliance with the rule requirements.
2. When the ship proceeds to sea with freeboard less than assigned
3. When the owner fails to request a survey after having detected defects and damages that affects the class
4. When repairs and alterations affecting the class, are carried out without requesting the attendance of surveyor
The class is automatically suspended
1. When the class survey has not been carried out within its due date or time granted unless the ship is under attendance of the surveyor with a view to completion prior to resuming trading
2. When annual/intermediate survey cot completed within the survey window
3. When recommendation/ or condition of class is not held by their due dates; or the date stipulated by the society taking into account any extensions granted
4. When due to nature of the reported date, class is temporarily suspended until repair/ renewals carried out
5. In other circumstances when the owner fails to submit the ship to a survey in accordance with the special requirements
6. In case of non-payment of fees or expense chargeable for service not rendered
Withdrawal of Class
1. When requested by the owner
2. When class is suspended for more than 6 months
3. When the ship is reported lost
4. When the ship is reported constructive total loss or when the owner does not give intention to repair the ship
5. When the ship will not trade further as declared by owner
1. PERIOD OF CLASS
The period of the class starts either from the date of initial classification or from the credited date of last class renewal or special survey & expires at the due date assigned for the next class renewal or special survey
2. ANNIVERSARY DATE:
Is the day & month given in the certificate of class which corresponds to the date of expiry of the certificate
3. SURVEY TIME WINDOW
Is the fixed period during which the annual or intermediate surveys are to be performed.
4. MEMORANDA:
Other information of the assistance to the surveyor or owner
Notes concerning materials, barred engine speed, construction information
Memoranda also gives a structural condition which though deviating from the technical standards but does not affect the class
5. Statutory Recommendation
Recommendation' & 'Condition of Class' are different terms used by the IACS Societies for the same thing, i.e. requirements to the effect that specific measures, repairs, surveys etc. are to be performed within a specific time limit in order to retain class
6. CONDITION OF CLASS
Possible deficiencies shall normally be rectified before the renewal survey is regarded as completed.
The Society may accept that minor deficiencies, recorded as condition of class, are rectified within a specified time limit, generally not exceeding 3 months after the survey completion date
7. ADDITIONAL NOTE
Each of the Classification Societies has developed a series of notations that may be granted to a vessel to indicate that it is in compliance with some additional voluntary conditions that may be either specific to that vessel type or that are in excess of the standard classification requirements.
Class notations are assigned to vessels in order to determine applicable rule requirements for the assignment & retention of the class
Q. Engine room personnel suffered serious injuries in an unfortunate incident of Main Engine Crank case explosion on your vessel. The main engine was badly damaged. Explain how you will present the vessel for inspections by P&I and H&M insurance companies.
Ans-
In spite of taking all safety measures and following all correct procedures, sometimes unfortunate incidents do occur on board a ship. These result in personal injuries and machinery damage.
After every incidence, investigations take place and insurance claims are raised.
The insurance underwriters appoint damage surveyors who come on board and do their investigation.
In the process of doing it, they ask for all the relevant documents.
Suppose a main engine crankcase explosion has taken place on your ship in which main engine was badly damaged and two engine room personnel suffered serious injuries.
Now, the vessel has to be presented for subsequent inspections by P&I and H&M insurance companies.
Step by step what all should be done after the incidence: –
1. Take care of persons injured: –
Since persons are seriously injured, give them first aid and ask for medical advice from a rescue center.
Give the information to owner and charterer and seek their advice.
If the vessel needs to divert and make an emergency port of call take permission from owner and charterer.
But since main engine is also badly damaged the vessel will need emergency towing.
Give notice to agent and P&I correspondent at the nearest port. They will arrange for the salvage assistance.
Enter in the port. Injured personnel to be transported to hospital and later on they can be repatriated.
All the medical treatment given to the personnel should be chronologically documented in the medical book.
2. Reporting Of Incidence To: –
The incident should be reported to following without delay
a. Administration
b. Owner
c. Class
d. P&I correspondent
e. H&M broker
f. MAS center
3. Record Keeping: –
Time, date, place and cause of injury should be recorded.
The evidence should be preserved and a witness statement should be taken.
Write down all important medical condition and drugs that were given to the person.
The persons injured were wearing PPEs or not.
Take the statement of injured personnel as soon as possible if they are in position of giving one.
The most important report in case of personnel injuries is Master's report.
It is an important evidence to judge whether the injury is work related or not.
Photos of sites and other evidence should be preserved.
Necessary documents and records required to honor only genuine claims
In case of P&I surveyor following documents should be kept ready: –
1. Master statement of fact
2. Witness report
3. Injured person statement
4. Communication with the owners, managers, medical advisors and authorities
5. Deviation report
6. Photos of place of evidence
7. Medical report book relating to important medical condition and all the drugs that were given to personnel
8. Evidence showing personnel wearing PPEs
9. Injured personnel familiarization with machinery form duly signed by him.
10. Safety instructions explained.
In case of H&M surveyor following documents should be kept ready: –
1. Chief engineer log book and official log book entry.
2. Master's and chief engineer's statement
3. Witness statement
4. Engine room crew statements
5. Main engine PMS records
6. Main engine bearings last renewal and evidence showing that only genuine bearings were used.
7. Main engine crankcase lubricating oil report
8. Engine parameters at the time of incidence (from log book or data logger)
9. Records showing last alarms and trips tried out (from alarm logger)
10. Compliance with manufacturer or service letter received recently
All the above documents will be required by the surveyor appointed by H&M underwriter.
After the survey a damage survey report will be made.
Now the main engine will be repaired. And after that claims will be settled. Depending upon the nature of insurance and the clauses inducted repairs can either be carried out by owner and later the claims can be settled or repair tender can be floated by H&M underwriter only and they can carry out the repairs.