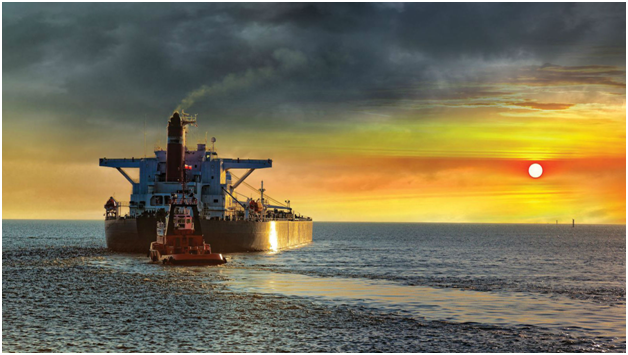 Q. a) Explain the term "Conditions of Assignment" as applied to ships.
b) How does the "conditions of assignment" contribute toward water integrity of ships?
c) Why conditions of assignment need periodic inspection, giving specific instances where they can be found to be less than fully effective.
Ans-
Meaning of the term "conditions of assignment"
The limitations on the draught assigned to a ship to which it may be loaded make a significant contribution to the safety of the vessel.
The reserve buoyancy & the freeboard of a ship should assure adequate stability & avoid stresses on the ship's hull as a result of the overloading. The main purpose of the ILLC is to assure watertight integrity of the ships hull below the freeboard deck. All these assigned load lines are marked on each side of the ship
Assigning of the Freeboard is given on a certain conditions that the opening in the ship's hull provide for the practical use are always maintain watertight & weather tight as per the provisions of this code.
These are called "Conditions of Assignment" for the Freeboard
For tankers the freeboard depended on the subdivision & damage stability calculations.
A. These are the conditions which must be fulfilled before freeboard is assigned to the ship & this enables the load lines & mark to be engraved on the ship. These conditions are as follows
a. Enough structural strength should be possessed.
b. Enough reserve buoyancy should be possessed.
c. Safety & protection of the crew.
d. Prevent entry of the water into the hull.
Ships are to be surveyed annually as per Harmonised System Of Survey & Certification to assure that they fulfil the condition of the assignment.
B. CONTRIBUTION OF THE CONDITION OF ASSIGNMENT TOWARDS WATER TIGHT INTEGRITY OF THE SHIP
Most of the condition of assignment is related to the water tight integrity of the ship.
Hull construction shall fulfill the highest standards laid down by the classification society. This assures protection against flooding of the ship.
Superstructures & bulkhead must be strengthened sufficiently.
Hatchways- coming heights should be as per the SOLAS chapter II -1. Hatch cover construction, thickness of the plating & approved means of securing.
Machinery space opening,
Details of the openings in the freeboard & superstructure decks, ventilators & air pipes on freeboard & superstructure decks, scuppers, inlets & discharges, side scuttles & cargo ports.
All the above parameters assures water tight integrity & protection against flooding of the compartments.
C. NEED FOR PERIODIC INSPECTIONS:
"Condition of Assignments" needs periodic inspection to assure that ships conditions are such that the above mentioned are maintained in good order.
During periodic inspection surveyor shall assure that no material alteration have been made to the hull or superstructure that would affect the calculation determining the position of the load line. This can be found out by reviewing the condition of the assignment. Example of items that may no longer fulfil conditions of the assignments could be in hatch covers, cargo ports, water tight doors, scuttles, & other closing appliances.
Corrosion, reduced resistance or damage of the seals, locking arrangements damaged.
In coaming of the hatches, ventilators, air pipes, specially at the weather deck level. Gangways, rails, bulwarks, damaged or not secured property.
Q. What is the purpose of annual survey? Give the list of items that would be examined by the surveyor during annual survey. Also explain conditions of the Class. What impact condition of class has on a ships commercial/technical aspect?
Ans-
PURPOSE OF ANNUAL SURVEY:
The purpose of annual survey is to do the general inspection of items relating to particular certificate to ensure that they have been maintained and remain satisfactory for the service for which ship is intended.
Annual surveys are to be held within ± 3 months of each anniversary date of initial classification survey or the completion of the last special survey.
It consists of examination for the purpose of ensuring as far as practicable that hull equipment and related piping are maintained in satisfactory condition
An annual survey should enable the Administration to verify that the condition of the ship, its machinery and equipment is being maintained in accordance with the relevant requirements
ITEMS TO BE EXAMINED BY SURVEYOR
Hull Survey – for Cargo Ships
protection of cargo hatch opening: – No unapproved changes have been made to the hatch covers, hatch coamings, their securing and sealing devices
examination of mechanically operated steel covers. This includes hatch covers, stiffeners, gaskets, compression bars, drainage channels of longitudinal, transverse and intermediate cross junctions. Clamping devices, retaining bars, chains, ropes, pulleys, guides, guide rails, tracks, wheels, stoppers, tensioning devices – like gypsies, wires, safety locks. Loading pads/bars and side plate edge, chocks, drainage channels & drain pipes
all mechanically hatch covers should be operating satisfactory
protection of other openings. This includes: –
Hatchways, manholes, and scuttles in freeboard and superstructure decks
m/c casings, funnel annular spaces, skylights
portholes and all openings
ventilation, air pipes, together with flame screens, scuppers
watertight bulkheads, bulkhead penetrations, details in enclosed superstructures
freeing ports
protection of crew: – guard rails, stanchions, life lines, gangways, ladders, deck houses
confirmation of loading guidance and stability data
No alterations have been made to hull or superstructure (relating to load line)
Anchors and chain cables
Confirmation of operation of manual/automatic fire doors
Salt water ballast spaces: – for corrosion and thickness measurement
Hull Survey – For Chemical Tankers
verification of gas and vapour tightness of doors and air ports.
Cargo handling piping to be examined
Ventilation system: – all spaces of cargo area, cargo pump room, cargo control room, closing devices of all air intakes and opening into accommodation service.
Cargo tank liquid level indicators, alarms for cargo tanks.
Environmental control of vapour space in cargo tanks and void spaces surrounding tanks
Pump and pipeline identification.
Electrical bonding
PPE and fire protection
Annual survey of machinery space
machinery and boiler spaces inspection.
Main and auxiliary steering gear
Testing of communication means between bridge, ECR and steering gear
Emergency escape routes
Bilge pumping system and bilge wells.
Boiler pressure vessel and external mountings
Electrical machinery, emergency source of power
Fire extinguishing apparatus – fire hoses, nozzles, applicators
Testing of emergency fire pump
Fire extinguishers, their testing, inspection
Examination of fixed firefighting system and fire smoke detection system.
Annual Audits
Annual surveys include annual audits to maintain validity of 'PMS'.
This includes records of performance test, maintenance records, written details of breakdown and malfunctioning
CONDITION OF CLASS
these are the requirement imposed by the society which will affect the class if not complied with by the assigned due date.
Condition of class is a defect/blemish of hull/machinery/equipment, repair of which cannot be left to the direction of owner.
This is only given to the class items and not to the statutory item
When conducting surveys, any damage, defects, or breakdown is noticed which is of such nature that does not require immediate permanent repair but is sufficiently serious to require rectification by a prescribed date in order to maintain 'class', suitable "condition of class" will be imposed by the surveyor
Where adequate repair facilities are not available, consideration may be given to allow the ship to proceed directly to complete the voyage by imposing this "condition of class
Where 'condition of class' is imposed, a due date will be assigned for completion and ships 'class' will be subject to a suspension procedure if "condition of class" is not dealt with. "condition of class" can be postponed by agreement.
If it is ascertained that the owner has failed to comply with regulation of the 'class' on reported conditions of hull or equipment or machinery of the ship before the due date assigned by audition of 'class' the 'class' will be suspended or withdrawn.
The suspension or withdrawal of the 'class' may be extended to include other ships controlled by same owner, when failure to follow with these requirements of 'class' imposed are sufficiently serious.
A vessel must be in 'class' at all times to be covered for the insurance & employment