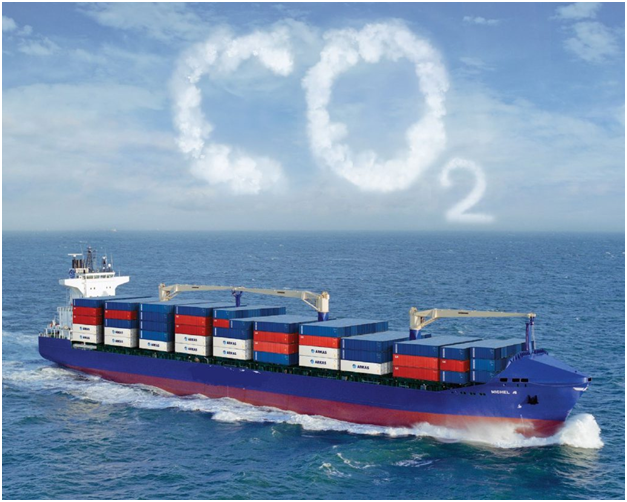 Q. During an external ISM audit of your ship, a Non conformity (NC) was raised by the auditor. The statement of the NC raised was "There is an objective evidence to prove that the established procedures, plans and instructions including checklists for key shipboard operations have not been effectively implemented" & the objective was that the checklist of bunkering operation was not sighted . As a chief engineer on-board ship, describe your actions to close the NC.
Answer:-
As per ISM element 7, shipboard operation. The company should establish procedure, plans & instructions including checklists as appropriate for every shipboard operation regarding the safety of personnel, ship & protection of the environment.
Key operations like bridge and navigational procedures, E/R operational procedure, cargo operations, ship to ship transfer, crude oil washing, bunkering and bunker transfer operation procedures.
During bunkering operation, the bunkering procedure written down in company SMS should be strictly followed by CE and operation incharge. There is a specific checklist which need to be followed and completed.
1. Before bunkering process (checking of valves and internal sounding etc)
2. During bunkering process (taking soundings at regular intervals)
3. After bunkering process (recording final quantity received, taking BDN, issue protest (if any)).
As per ISM element 9 reports and analysis of NC, accidents and hazardous occurrence – the company SMS should include procedures ensuring that NC, accidents and hazardous occurrence are reported to the company, investigators and analyzed with the objective of improving SMS.
Now when situation where objective evidence was that the checklist for bunkering operation was not cited and NC was raised, the auditor will prepare a "NC note" (form NCN) and hand it over to the DPA or the master, together with a blank form for "corrective action plan" (form CAP).
The company is requested to submit the form CAP to the auditor incharge within 2 weeks after completing it and not exceeding 3 months for implementation of the necessary corrective action entry on form. The chief engineer should be aware of this procedure for follow up of this NC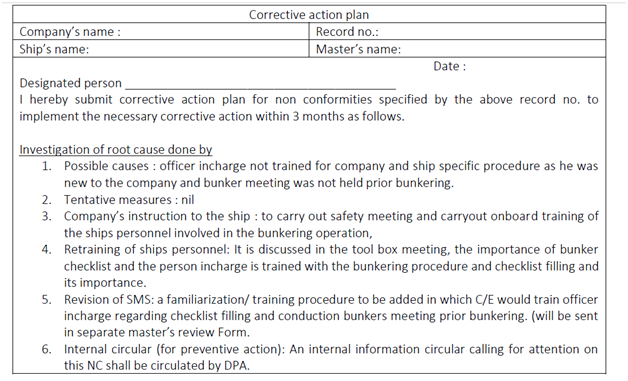 This sheet(s) shall be submitted to the auditor within 2 weeks.