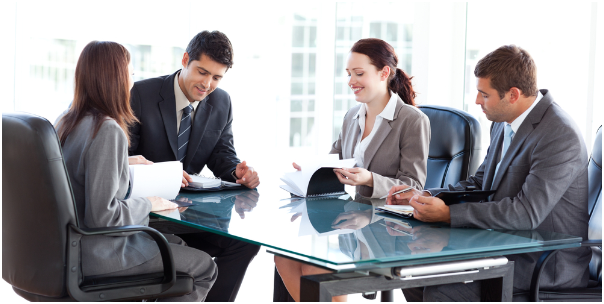 (a) How will you prepare alternators and main switchboard survey?
(b) Describe the method of testing the safety trips and relays.
(a) Preparation for alternators and main switch board survey, Alternators
Clean main and emergency generators, generator stator and rotor winding free of dust, oil and moisture.
Check visually windings for any insulation damage.
Check contact surfaces of commutator or slip-rings for uniform wear and, any signs of pitting and deep grooves.
Maintain carbon brushes correct spring pressure, adequate length
Remove any excess carbon dust around the brush gear and rotor coils.
Air gap between stator and rotor checked to ensure pedestal bearings are in good condition.
Show stable operation during parallel-running with other generators, respond correctly to controls and load changes
Insulation test when machine is still hot after running on load. (New equipment=1.5Ω)
Carry out generator on-load running test to confirm the proper operation of governor and AVR.
Check for correct voltage, frequency, current, governor-droop. response to sudden load changes
Check and test stability of load sharing when parallel running with other generator
Check and test automatic starting function of standby generator when blackout.
All operational tests related to alternators safety devices, checked and tested before to surveyor's visit.
Main switchboards
Clean internal and external of switchboard, section board or distribution board
Check main bus-bar and their connections for tightness, loose connection and overheating signs.
Check bus-bar supports for surface tracking and insulation damage.
All internal wirings securely fixed. Cable entries at switchboard bottom, sealed with a non-flammable material
Main switchboard earth bar securely bonded to both the switchboard's frame and ship's hull.
Hinged panel doors bonded with an earth strap to main switchboard frame.
All operational tests related to main switchboard safety devices, checked and tested before to the surveyor's visit.
(b) Testing of safety trips and relays
1. Over-current relay
tested by injecting calibrated test currents to check current trip levels and time delay settings.
Primary injection: current-injection test machine apply large current through normal load circuit
Secondary injection: small currents (5 ~ 50 A) apply current directly into the overcurrent relay.
This test does not prove the CT performance.
2. An under-voltage (UV) relay – tested by injecting calibrated voltage. variable voltage is directly applied to under-voltage relay to check its function.
3. Reverse Power protection
test operation of RP relay tested during a generator changeover.
Outgoing generator is gradually throttled down reverse power relay to trip its generator circuit-breaker.
(a) Briefly describe the factors which contribute to the deterioration on marine electrical machinery and how these factors are taking into account in the design of the equipment or in its operation.
(a) Factors which contribute to the deterioration on marine electrical machinery are
(1) Weather conditions
(2) Vibration
(3) Continuous motion of ship
(4) Temperature & Conditions of usage
Shore based industries are not suitable for installation in marine environment
Effect of inclination
Main propulsion and auxiliary fitted in ship designed to operate when the ship is
(1) upright
(2) inclined at any angle of list up to 15˚
(3) 22.5˚ under dynamic condition. (rolling)
(4) simultaneously inclined dynamically (pitching) 7.5˚ by bow or stern.
The emergency generator and its prime mover and emergency accumulator battery designed and arranged, function at full rated power when the ship is
(1) upright
(2) inclined at any angle of list up to 22.5˚ (or)
(3) inclined up to 10° fore or aft direction (or)
(4) in any combination of angle within those limits.
One of main factors concerned with these inclinations is lubrication, another is functioning of contactors, switchgear and relays
Any apparatus containing oil, such as transformers or switches and solenoids affected.
Installation and maintenance
During rolling, to reduce end-play and prevent hammering during rolling, machines installed with their axis of rotation, either vertical or in the fore and aft direction.
If unavoidably placed athwart ship, care taken when ship roll to reduce the end-play & prevent hammering and to provide suitable thrust bearings
Special attention give lubrication of ring-lubricated sleeve bearings.
Cause of overheating in electrical joints is loose connection
All screws and nuts effectively locked and checked periodically
Not only to high current circuits but also to control and shunt circuits, if to become slack result in unnormal operation or complete failure.
Temperature requirement
Extreme of temperature affect the performance life of any electrical apparatus.
Coil resistance increases with temperature, with less current, field strength will be reduced, and contactors and relays fail to operate correctly.
When temperature rise, heating effect is always about the same for similar loads.
The total temperature highest at the maximum ambient temperature.
For unrestricted service, cooling air temperature is 45˚C. (IACS)
For restricted service and vessels intended for northern and southern waters outside of tropical belt temperature is 40'C
Q How will you prepare for emergency power and associated equipment and cable survey?
Preparation for emergency power and associated equipment
The following items checked and tested for survey.
1. Start emergency generator, manually or automatically
2. When powered from emergency generator electrical supplies from ESB checked rated voltage, current and frequency.
3. Functioning correctly, emergency lighting, fire pump and other emergency electrical equipment.
4. Checked electrical interlocking arrangements between main and emergency switchboards.
5. Checked and tested auto-start initiation relays.
6. Checked ship's emergency battery installation and its charging rectifier.
7. Checked battery charging equipment for dirt, overheating, loose connections and correct functioning of indicator instruments and alarms.
8. Keep battery environment dry and well ventilated, clean battery tops,
9. Correct value of specific gravity (SG) by checking with hydrometer, electrolyte at proper level.
10. Safety notices and P.P.E (such as gloves, apron and goggles) available in adjacent to the batteries.
11. Checked battery locker ventilation arrangements.
12. Kept battery maintenance records properly.
Preparation for survey of Cables and their installation
The survey of cables and their installation is largely based on
(a) close visual examination and
(b) IR (megger) test on a main cable run
(1) Inspect for any external damage of a cable's outer sheath and wire
(2) Adequately supported cable horizontal and vertical runs by suitable cable clips or ties.
(3) Where cable runs an open deck, have expansion loops, checked for abrasion and wear.
(4) Where cables pass though fire check bulkheads, correctly glanded or pass through stopper boxes that prevent passage of fire between compartments.
(5) Inspected for mechanical damage, flexible cables to light fittings, power tool, etc.
(6) Steel frame of all electrical motors and other equipment bonded to ship's hull with a copper strap or flexible earthing braid/wire.
Q With respect to electrical survey. How will you prepare for emergency power and associated equipment and parts of steering gear survey?
Preparation for parts of Steering Gear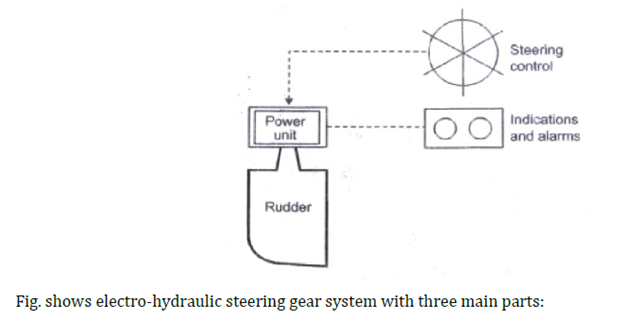 (1) Power unit
(2) Steering control
(3) Indications and alarms
The power unit consists of duplicate electric motors and starters supplied from either side of the main switchboard. On many ships, one of the steering gear motors is supplied from the emergency switchboard as per SOLAS requirements.
The following items must be prepared prior to the surveyor's visit.
1. Rudder control from the bridge consoles and emergency steering from the steering gear room must function correctly.
2. Main and standby power supplies, including any changeover facilities for the steering wheel control and for the auto pilot, must be tested.
3. The steering gear and its control must be functionally tested for its response. The rudder must be moved from 30° (Port) to 35° (Starboard) in 28 seconds.
4. Steering gear status indications must be operating correctly in the steering flat, main control room and on the bridge
5. The rudder position indicators on the bridge and steering gear room should also be checked while testing the steering gear. The bridge indication should be compared with the direct mechanical indicator on the rudder stock in the steering flat.
6. Motor over-current alarms must be tested; it can be initiated by simulating the action of the over current relay. Steering gear motor does not have over current trip protection; the only main circuit protection is back-up fuses which are essential for short-circuit protection.
7. Phase failure alarm should also be tested by simulating the action of the voltage monitoring relay.
8. Hydraulic fluid low level alarms, if fitted, must be checked and tested.
Q How will you prepare for electrical survey for UMS operation?
Preparation of electrical survey for UMS Operation
If ship is classified for the UMS operation, electrical survey extended to include all alarms, fire detection, controls & fail-safe features of such an installation.
Correct operation of all alarms associated with main engine, auxiliary engines and all sensors.
(1) Main engine control
Correctly function and tested from Bridge, Engine control room, and Emergency position
Electrical equipment operation and indication, inspected and tested for best demonstration during the survey.
Electrical equipment and connections inspected for wear and tear, loose connections, overheating.
(2) Standby G/E and Emergency G/E, Switchboard
A standby main generator automatically start on loss of duty generator and supply power to dead bus-bars within 45s
Automatic sequential re-starting of essential auxiliaries for lubrication, cooling, fuel and steering.
Test emergency generator automatic starting function and check for correct voltage, current and frequency.
Tested- correct operation of electrical switchboard safety devices & under voltage by pulling fuses in detection unit.
(3) Comprehensive alarm system for UMS, main & stand-up power supply
Alarms displayed on main console in the engine control room relayed to the bridge alarms panel .
Duty engineer call system operating in accommodation area, allowed 2~3 minutes to respond to a machine alarm.
If engineer not reached control room and accepted alarm within this time,
Dead man alarm sounded in the alleyway adjacent to engineers' accommodation.
Inspected and tested main and standby electric power supply to overall alarm system.
If standby power arrangement has battery back-up, check battery condition and its trickle-charger
(4) Automatic fire detection and alarm system
Inspected and tested fire detection and alarm system.
Correctly function of all smoke sensors, heat and flame sensors
Inspected and tested for correct operation of hand operated fire-alarm switches of the break glass type.
(5) Pumps, Bilge alarm
Essential drives for lubrication, cooling and fuel supply provided in duplicate
Arrange one pump selected on a duty/standby
Loss of pressure at the duty pump automatically start up the standby unit.
Inspected and tested of duplicate bilge level alarms, together with automatic bilge pumping
Q How will you prepare for main circuit breakers, motors and starters survey?
Main Circuit Breakers
The following items and all the operational tests related to the main circuit breakers must be carried out prior to the surveyor's visit.
1. Carry out visual examination of circuit breakers in main, emergency and section boards.
2. Keep all internal wiring in good condition and tight end connections
3. Check Main, Arcing and Auxiliary contacts, all mechanical linkage for signs of wear, misalignment and overheating.
4. Check Fixed and Moving isolator contacts at the rear of the circuit breaker.
5. Clean arc chutes, free of damage and correctly aligned.
6. Check overload current and short-circuit protection settings. within the declared specifications.
7. Check closing and trip operations of a circuit breaker while in its isolated position.
8. Check and test emergency hand charging (if fitted) of the closing spring
9. Check correct operation of the mechanical indicators to show whether breaker is open, closed or isolated.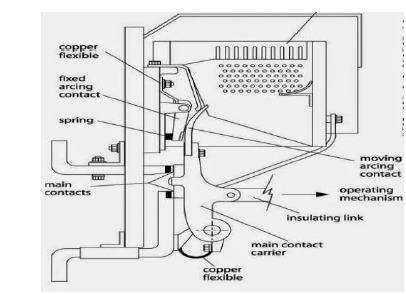 Motors and Starters
The following items and all the tests related to the motors and starters must be carried out prior to the surveyor's visit. This will ensure their correct operation and allows time to resolve any problems that may occur.
1. Carry out IR tests and properly log in an official form.
2. Check motors' frames and terminal boxes for any damaged or missing parts.
3. Clean motors and starters free of dirt, oil or rust.
4. Totally enclosed, fan ventilated (TEFV) induction motors, windings are protected against the external atmosphere.
5. Check motors with drip-proof, weather-proof and deck-watertight enclosures.
6. Check starters and associated control gear, such as remote stop/start buttons, regulating resistors etc., for burned and misaligned contacts.
7. Check starter equipments for loose connections, signs of overheating on coils, transformers and resistors.
8. Dust and weather-proof sealing features on the starters must be in place and in a serviceable condition.
9. Carry out motor-running tests and check for any vibration problems, noise and worn out bearings.
On load, check motor running current against the value indicated on the motor rating plate.
10. Function correctly of indicator lamps showing motor/starter condition. e.g. running, off, tripped, etc
11. Check and test normal operation of starters from their local, remote and emergency control (if applicable) positions.
12. Check over-current trip settings, and compare with the motor full-load current (FLC) rating.
13. Check motor starter back-up fuse size and type against ship's/manufacturer's drawings and the motor rating.