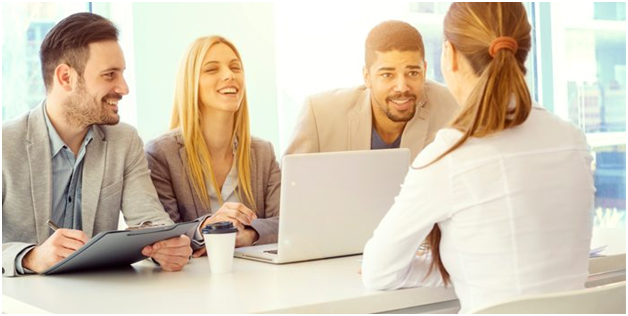 (a) What is meant by the term "pounding"?
(b) Describe, with necessary sketches, how ships are constructed to overcome pounding stresses.
(a) Pounding
When a ship is pitching, her bow lift up and come down heavily to water known as "pounding"
Mostly occurs in full-bowed ships.
Cause damage bottom plating and girder work
Between collision bulkhead and one-quarter of the ship's length from stem.
(b) Ship construction arrangement to overcome pounding stresses
Pounding stresses occur "Pounding Region" where the ship's bottom between points 5% to 25% of length abaft the stem; or 30% in some cases.
Ship strengthened as follows
Thicken outer bottom plating
Connections of shell and inner bottom girder work made stronger.
Fit Extra intercostal side girders not exceed 2.2 meters above.
In transversely-framed bottoms, plate floors fitted at every frame space and connected to outer bottom plating by continuous welds
In longitudinally-framed bottoms, plate floors fitted at alternate frames.
Longitudinal are stronger than normal and
Side girders not more than 2.1 meters apart.
(a) What are the panting of ships?
(b) Sketch and describe the Panting arrangements at the fore end of a vessel.
(a) Panting
Movement of waves along a ship causes fluctuations in water pressure on plating.
Creates in-and-out movement of shell plating, known as panting.
This effect particularly occurs at the bows.
Additional stiffening is provided in the form of panting beams and stringers.
(b) Panting Arrangement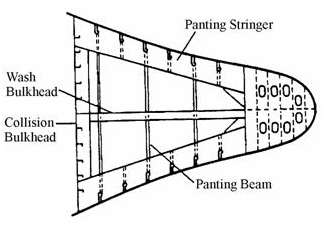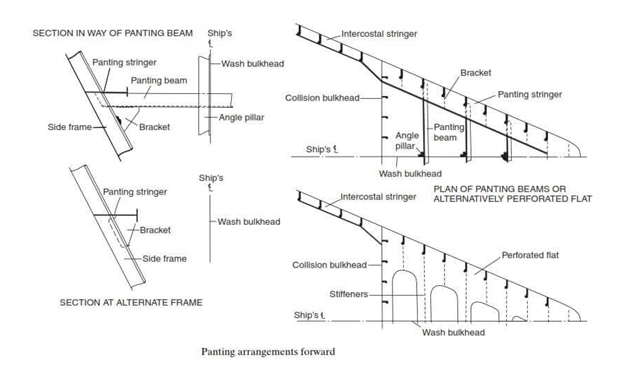 In many ships, horizontal srtinger fit to collision bulkhead in line with each side stringer,
This form ring round tank and support bulkhead stiffeners.
Structure of ship is strengthened from 15% of ship's length from forward to stem.
In fore peak tank, side stringer fit to shell internal of 2m below lowest deck.
Side frames are spaced 610 mm apart. Side stringer meet at fore end.
Channel beams fit at alternate frames in line with stringers and connect to frame by brackets.
Intemediate frame are bracked to stringer.
In fine ship, perforated plates may be fitted instead of beams
Tank top is not in the peak, but solid floors are fitted at each frame.
Partial wash-plate and vertical angle pillars fitted on centerline to further support structure.
Describe, with aid of sketch, the construction of a watertight door given particular attention to:
(a) Compensation for the aperture in the bulkhead and
(b) Alternative means of closing the door in the event of power failure.
(a) Watertight Doors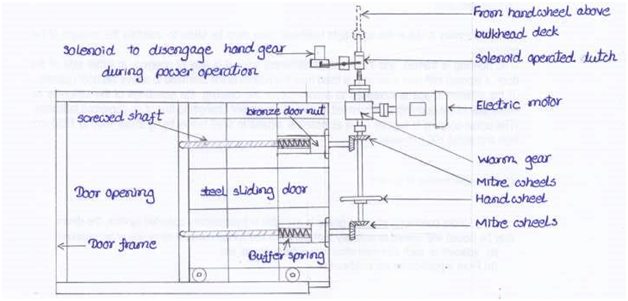 Watertight bulkheads are watertight integrity.,
Special watertight doors fitted bulkheads where openings are necessary.
On cargo ship, with a shaft tunnel, watertight door fitted for tunnel entrance
On passenger ships, large areas of accommodation and access requirements, number of watertight doors fitted.
Door are mild steel, cast steel, and either vertical or horizontal sliding,
When ship is listed 15˚ capable of operation
Closing the doors are positive, not rely on gravity or a dropping weight.
Above bulkhead deck, capable quickly closed from accessible position, operable from vicinity of door
At operating position showing whether door open or close
Door runs in grooves tapered towards end, door having similar taper, tight bearing fit is obtained when door is closed.
If door runs vertically, no groove at bottom of door to collect dirt, prevent the door fully closing.
Brass facing strips fitted to both door and frame.
Compensation
Where doorway is cut in watertight bulkhead, maintain strength of the bulkhead. Opening must be framed,
If vertical stiffeners are cut in way of opening, at either side of the door, a tapered stiffened plate web is fitted from the bottom of the bulkhead to above the door opening.
If stiffener space is increased to accommodate, scantlings of stiffeners on either side of opening are increased equivalent strength
Opening is kept as small as possible
(b) Alternative means of closing the door in the event of power failure
When power failure in hydraulically operated system, doors closed and opened by manually operated pump and control valves at either side of two positions.
(a) Adjacent to each door from either side of the bulkhead,
(b) From a remote position on the bulkhead.
(a) Sketch and describe side door or ramps In fitting through the hull of a ship.
(a) Side Door or ramps
Side door fitted for ro-ro operations and are similar to stern door/ramp installations.
Purpose of side door installations for quayside fork lift operations with palletized, cargo loaded onto a platform at door by quayside forklift and stowed in ship by another forklift truck.
Instead of a loading platform on ships trading to ports with high tidal ranges a ramp onto quayside forklift truck drives fitted.
Elevator platforms fitted immediately inboard of the side door, to service various tween decks and the hold.
Particular type of elevator system developed for transportation of paper products especially newsprint.
Quayside forklift places newsprint rolls, on height-adjustable loading platform, which together with elevator platform is fitted with roller conveyors.
Movement of roller conveyors is automatic, the newsprint rolls transferred, from loading platform to elevator platform, which travels to pre-selected deck
Upward folding doors with hydraulic cylinders, actuating hinge fitted to side opening, loading platform fitted inside door and hinged at bottom of opening, automatically lowered when door is opened.
Where ship is low in water, relative to height of quay, combined side door/hatch covers fitted to provide sufficient head room for forklift truck operation.
Side loader that dispenses with the need for a side door is the MacGregor-Navire
International AB's 'Rotoloader.
(a) Sketch & describe a watertight hatch cover used on sea-going ships.
(b) State how hatch cover tightness is tested.
(c) What is hatch coaming?
(a) Single pull hatch cover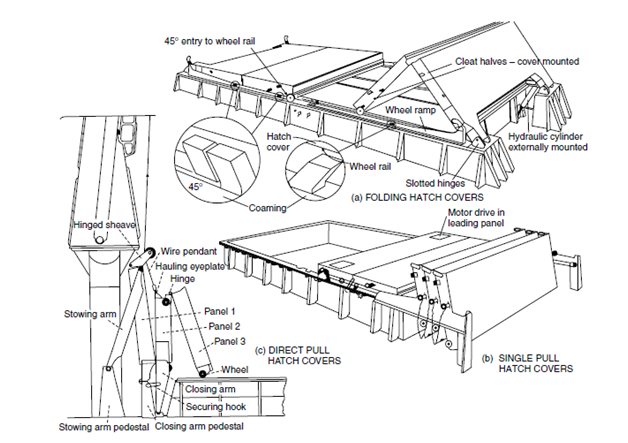 Macgregor hatch covers are very strong and efficient types which do not require separate beams.
Fit with rubber jointing strip on underside of covers in grooves.
Raise & lower by turning eccentric on rollers.
Covers raised for rolling and stowage or lowered for closing, secured and watertight.
Weather deck hatch covers arranged to move on rollers along a track on top of the hatch coaming.
Individual covers link together by chain and ride up and tip onto stowage rack at hatch end
Lower rollers are mounted on eccentric bushes, enable them to raise or lower
Upper rollers engage on a special vertical plate at end of track and tilt the hatch covers into a vertical position for stowage.
Upper rollers join by lengths of chain, pull along track
Hatches made watertight by rubber lining, pulled down by cleats and cross-joint wedges.
Cleats hand-operated or automatically engaged as hatch closes and 2 meter apart, with a minimum of 2 cleats per panel.
Cross joint wedges about 1.5 meter apart.
(b) Testing of hatch cover tightness
Water hose leak-test
Close and secure the hatch covers
Apply water with hose of 20 to 30 mm, from 1 to 1.5 m along the seal joint, at a speed of 1 m per 2 sec.
Chalk test
Not acceptable by external surveyor.
Cover compression bars of coaming and cross joints with chalk.
Close and secure hatch covers and reopen again.
Check chalk mark left on all parts of sealing materials.
Ultrasonic Leak Detection
This test verifies weather tightness of hatch covers, doors and hold access cover seals
Use class approved equipment
Test requires a signal generator to be placed inside hold with hatch covers closed and sensor passed round all compression joints to outside.
Hatch Coaming
Vertical plate structure around hatchway support hatch cover
Coaming support by vertical webs forming deep stiffeners
On weather deck, coaming at minimum height of 600 mm according to load line regulation
To reduce risk of water entry to holds
Discuss the structural fire protection and how the class was divided in temperature range
Structural fire protection
Every passenger ship has fire protection system.
3 basic principle of structure fire protection are
Separation of accommodation space from rest of ship by thermal and structural bulkheads
Containment, extinction or detection of fire in ship space
Protection of escape
All 3 methods based on subdivision of ship into main vertical zones, not more than 40m in length, by A class bulkhead.
(1) 'A' class bulkhead
Constructed of steel or other suitable material
Standard fire test max 927'C for period of one hour.
Increasing temperature on unexposed face more than 140'C above original temperature.
Any insulated point more than 180˚C above the original temperature, within time following
Class A-60, 60 minutes: A-30, 30minutes, etc
(2) 'B' class bulkhead
Constructed non-combustible materials, no need steel
Standard fire test withstands 30 minutes.
Any insulated point more than 225˚C above the original temperature within time follow
Class B-15, 15minutes: B-0, 0minute
(3) 'C' class bulkhead
Constructed non-combustible materials.
Do not need any specified requirements relative to passage of smoke and flame nor temperature rise.
Accommodation at fire require
In accommodation space, fireproof doors fitted at passageways through divisions
Stairways and lifts are steel framed and A class divisions, self-closing doors fitted at all openings.
Control station, such as radio room, bridge, etc surrounded by A class bulkhead.
Skylights in machinery spaces close from outside space.
Dampers fitted in vent trunks and ducts, operate from either side of bulkhead, indication fitted.
Doors A class bulkheads are fire resistant, open from either side by one person.
Fire doors are self-closing, even inclined position of 3.5 degrees.
Insulation
Insulation of A class divisions depend upon steel or aluminum bulkhead.
Aluminum bulkhead require insulation on both side.
If fire potential is high, bulkhead require insulate on both side.
If fire potential is low, not necessary to insulate steel bulkhead.