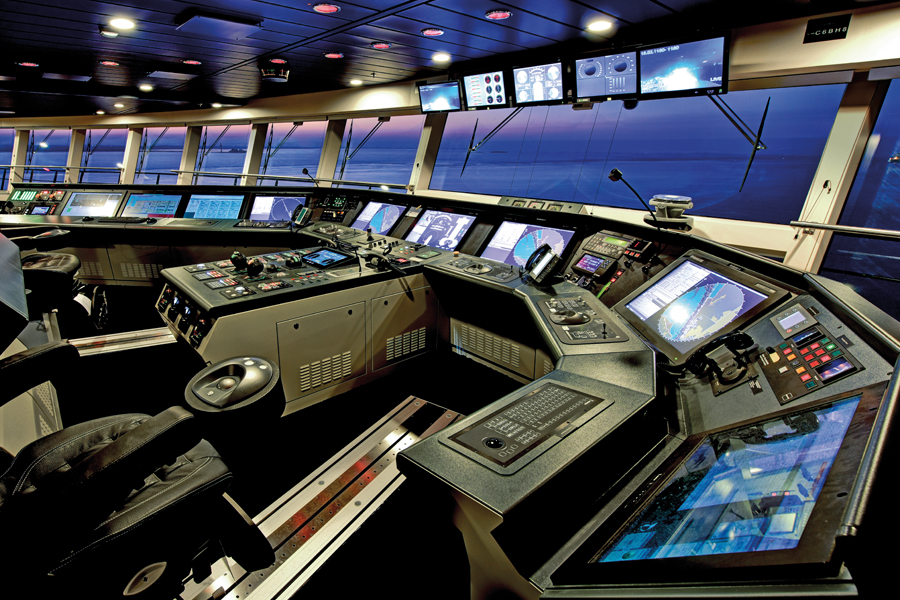 General
These Master's Standing Orders detail clear specific instructions and supplement The Company Bridge Watch Keeping Standing Orders (SFOPS 24) and to all publications as detailed in M004/ 1.1.
All Watchkeeping Officers must familiarize themselves with the contents of SFOPS 24 and it must be signed as read and understood.
The Officer of the watch is the Master's representative and his primary responsibility at all times is the safe navigation of the vessel. Every Deck Officer assigned to Bridge Watch responsibilities must comply with the International Regulations for the Prevention of Collision at Sea at all times.
In addition, so as to cover specific matters related to this vessel, the Watch keeping Officer must read and observe the following Master's Standing Orders before taking over his initial Bridge duties and refer to these standing orders as appropriate.
I will also issue daily orders in the bridge order book which will normally refer to the area being navigated at that time. Where required, supplementary cargo instructions will be issued by the Chief Officer relating to special considerations to be made with respect to cargo operations.
Should you require additional support on the bridge at any time and are unable to contact me for any reason, you should contact the Chief Officer who will act as my deputy until such times as I can respond. In this case the Chief Officer has full authority to act as my deputy pending my availability.
Nothing contained in the following relieves the Officer of the watch from taking immediate and adequate action to protect lives, environment, vessel and her cargo. If in doubt he has to seek advice from Master or his Deputy at once.
I expect all officers to wear uniform on the bridge, when in pilotage waters. In port any working gear must be as smart as possible and at all times off duty clothes must be clean and appropriate.
Familiarization
All officers shall make themselves fully familiar with their duties, operation of bridge equipment, control systems and instruments, known equipment errors and limitations and to be capable of setting up and operating all appropriate bridge equipment. Where appropriate, instruction manuals shall be consulted and advice shall be sought from other officers. Particular attention shall be paid to equipment limitations and errors, where possible errors shall be checked and allowed for.
All watch keepers are to complete SFOPS 40(a) Bridge Checklist "Familiarization with Bridge Equipment" before taking initial bridge duties.
All officers are to familiarize themselves with the operation of the cargo and ballast system including the monitoring and control facilities available on the bridge and in CCR.
Bridge Watch Composition
Unless otherwise instructed by myself, the Bridge shall be manned as minimum required by the Company (refer to: M004 – 2.1.1 – Composition of Bridge Watches). Minimum watch composition will be stated in passage plan (SFOPS 11) for each leg of the voyage.
Watch keeping schedules are displayed in SFSAF 21 – Shipboard Schedule of Duties which shall be followed. The schedule shall allow all watch keepers adequate rest periods in line with national and international requirements.
Requirements and Duties
The presence of the Master on the Bridge does not relieve the Watchkeeping Officer of his responsibilities unless the Master advises OOW, that he is taking over the con. Same stands for handing over the con to OOW by Master, Master will inform Officer that con is to be taken by OOW. OOW will be asked if he is ready to take over. Assuming control of ship by OOW/Master must be recorded in Deck Log Book. You may approach Master at any time to clarify, if in doubt.
The OOW cannot leave the Bridge without being relieved by another Deck Officer or the Master.
The relieving Deck Officer must be in a sufficiently fit and in rested condition to adequately carry out watch, any doubt about the foregoing must be reported to the Master or his Deputy before proceeding to the Bridge or by the officer being relieved prior to any relief taking place.
The OOW is in command of the Bridge for the entire period of his watch. He is responsible to the Master for the management of the same, he must ensure that the ECDIS is in use at all times as ECDIS is primary means of navigation on-board this ship. SFOPS 6 is displayed on Navigational Bridge containing this statement.
OOW to confirm, that ENC's are up to date.
Changing over the Watch
Prior to taking over the Watch he will complete bridge checklist SFOPS 40(l) – Changing Over the Watch and additional checklist, which may be appropriate to the area of navigation or the conditions. If not satisfied with any of the items he should NOT take over the watch and inform the Master.
If an alteration of course or collision avoidance maneuver is being carried out at the time of watch changeover, then the handover should be postponed until the maneuver is completed fully.
The relieving Officer shall read Master's Night Orders and any new Navigational Warnings received for the area being navigated.
OOW is to ensure, that all members are and remain fully capable of carrying out their duties, and that the watch is not to be handed over if there is any reason to believe that the relieving officer is not capable of carrying out his duties effectively. In case of Relieving Officer is incapable of carrying out duties for any reason, Master shall be called immediately and back-up Officer to be requested.
At night, from 2000 hours to 0600 hours of the next day, on completion of his Watch period, the OOW is to perform fire rounds of the accommodation. Findings to be reported to the Officer on the Bridge, who shall make proper notation in the Bridge Log Book. Any anomaly discovered is to be communicated to the Head of the pertinent Department.
Back-up Schedule:
Chief Officer: 0000-0400/ 1200-1600
2nd Officer: 0800-1200/ 2000-2400
3rd Officer: 0400-0800/ 1600-2000
Lookout
The bridge lookout primary duties are: to maintain a visual and audible lookout throughout his duty period and to report to OOW/ Master on the outcome in clear manner.
Where the presence of the Lookout is constantly required on the Bridge, his relief shall be called by using the telephone system and he should not leave the Bridge without being properly relieved.
Where required the number of lookout on the bridge and/or forecastle shall be increased. Where one of the Lookouts is used as quartermaster at any time the OOW should consider the use of additional lookout. The quartermaster should not be considered as a lookout when he is engaged in hand steering. The OOW must monitor the performance of the helmsman continuously when hand steering is in use.
Lookout assigned to the watch may be allotted other duties during daylight hours provided such duties are close to the bridge, contactable by radio and enabling him to be summoned without delay when required.
OOW is required continuously monitor and assess performance of the lookout and the helmsman.
Position fixing
The IMO Performance Standards for ECDIS (Resolution A.817 (19)) states that "ECDIS should reduce the navigational workload compared to using the paper chart. It should help the mariner to execute in a convenient & timely manner all route planning, route monitoring & positioning currently performed on paper charts. It should be capable of continuously plotting the ship's position." By utilizing the required function of continuous position plotting the mariner can focus more on the other aspects of navigational watch keeping.
Method used for continuous plotting be verified periodically to ensure that the accuracy remains constant. Within congested areas and where available, all other sources available to verify the positional accuracy of the continuous position source be utilized on a continuous basis.
These methods can be the use of: Parallel Indexing. Note – Fixed points such as lighthouses and headlands should always be used in preference to floating objects, which should be carefully checked for position before being used for parallel indexing.
RADAR overlay, to check the accuracy of the charted position by comparing the location of the radar target against the charted symbol,
Echo Sounder readings,
Transits and visual verification, when passing navigational marks.
Dead Reckoning
Visual & radar position fixing & monitoring techniques should be used whenever possible
Therefore, the position source is continually verified always throughout. The GPS is backed up with a second GPS feed where the switch over is completed in a smooth and safe manner, as required.
Required frequency of cross checking of the GPS position by an alternative method as minimum:
Coastal, Restricted or Confined Waters – At least every 60 minutes;
Under Pilotage – At least every 30 minutes;
The setting for the Past Track Display should be set to not more than 1 minutes
Open Seas – At least once per watch where an alternative source is available
The setting for the Past Track Display should be no more than 10 minute.
Any cross check completed must be recorded in the Movement Book or Deck Log Book where the method used must be detailed, the position obtained noted and the GPS position obtained at the same time recorded for comparison. Obtained position to be plotted on ECDIS as well, specifying by which method it was obtained.
Remark:
COASTAL, RESTRICTED & CONFINED WATERS (Passages which are less than 12 nautical miles from the coast and/or 50m or less in depth).
OPEN SEAS (Passages which are more than 12 nautical miles from the coast AND 50 m or more in depth).
Celestial navigation
I'm expecting all navigational officers to use sextant to obtain ship's position in open waters and when conditions permit.
Collision avoidance
The "International Regulations for Prevention of Collisions" are to be strictly complied with at all times, except where these regulations are superseded by Local Rules.
Any target detected on the radar must be visually detected as soon as visibility permits. Radar plotting to be started as soon as the target echo can be detected.
All actions taken to avoid collision must be positive so as to leave the approaching vessel in no doubt as to your intentions (imagine how it would look from his vessel and on his radar screen).
In open waters any course alteration must be carried out at a distance of at least 6 nm, though having due regard to the position and movement of other traffic in the vicinity and to the proximity of navigational hazards.
CPA/TCPA for open waters to be set at 2 nm/ 15 min. Coastal, Restricted or Confined Waters – CPA/TCPA not to be set less than 1.0 nm/ 12 min. When above CPA/TCPA cannot be maintained, Master is to be called and who will make a decision on minimums. In restricted waters any course and/or speed alteration should be as early as is prudent, taking into account the prevailing situation.
Bear in mind, that you have full authority to use all vessels' equipment, including, but not limited to all navigational equipment, communications equipment and main engine bridge control, to remedy any emergency condition.
If engines are used in emergency, then inform the duty engineer as soon as situation permits. Timely notice of intended changes to engine speed should be given where possible.
If there is any doubt about the intentions of an approaching vessel, or any intended course alteration is hindered by other traffic, the call me immediately.
OOW should be aware of the handling characteristics of the ship, including its stopping distance, and should appreciate that other ships may have different handling characteristics.
Use of VHF in collision avoidance
Under normal conditions use of VHF should not be necessary, if all parties abide by the rules of the road. Unnecessary use of VHF should be avoided.
Use of AIS in collision avoidance
The potential of AIS as an anti-collision device is recognized and AIS may be recommended as such device in due time.
The OOW should be aware that poorly configured or calibrated ship sensors (position, speed and heading sensors) might lead to incorrect information being transmitted. Incorrect information about one ship displayed on the bridge of another could be dangerously confusing.
Nevertheless AIS information may be used to assist in collision avoidance decision making. When using the AIS in the ship-to-ship mode for collision avoidance purposes, below points should be borne in mind:
AIS is an additional source of information. It doesn't replace, but supports navigational systems such as radar target tracking and VTS;
The use of AIS does not negate responsibility of the OOW to comply at all times with COLREG;
The user should not rely on AIS as the sole information system, but should make use of all safety-relevant information available.
Once a ship is within AIS detection range, it can assist in tracking it as a target. By monitoring the information, which is broadcast by the target, its actions can be monitored. Changes of course and speed are immediately apparent and many problems common to tracking targets by radar, namely clutter, target swap as ships pass close by and target loss following fast maneuver do not affect the AIS.
AIS can be of great help in identifying the targets by name and call sign, as well as its status. Information on target's destination is valuable in prediction of maneuvers as well.
The OOW should know, that poorly configured or calibrated ship's sensors (antenna position, input from heading and speed sensors) can lead to incorrect information being displayed.
The user should not rely on AIS as the sole information system, but should make use of all safety-relevant information available.
Safe Speed
The vessel must always be operated at a safe speed
Rule 6 of the "International regulations for preventing collision at sea" is entitled Safe Speed, this rule details most of the factors to take into account in determining a safe speed. Be fully aware of the factors specified in this rule and consider these against the draft, length, manoeuvring characteristics of this vessel and the engine management control limitations.
Normally safe speed will be determined for each leg of passage plan, but the prevailing circumstances and conditions will be governing in determining safe speed for each particular area.
Calling the Master
In addition to the contents of the "Company Bridge Watch Keeping Standing Orders" (SFOPS 24) and the Publications therein referred, when the vessel is under my command, I wish to be called immediately on the following events either during night or daytime:
If visibility deteriorates below 3 nautical miles;
When in doubt about the vessel's position at any time;
If the traffic or the movement of the other vessels causing concern, concentration of fishing vessels along the track encountered or irregular dangerous traffic;
If the ship meets any hazard to navigation, such as ice or derelict;
On failure to sight land, a navigational mark or to obtain soundings by the expected time;
If either land or navigational mark is sighted unexpectedly or an unexpected reduction in soundings occur;
Malfunction of any of the navigational equipment;
Main Engine, steering or machinery problems affecting the performance of the vessel;
If in any doubt about possible damage due to weather conditions, if the wind increases to BF6 and more;
If sea waves breaking on deck;
In case of unexpected changes in cargo tank pressures;
In case of close lightning storm;
In case of receiving a distress message from positions within two days steaming;
If you suspect own vessel dragging anchor or other vessel in vicinity dragging anchor;
Other vessel too close while at anchor; Another vessel attempting to anchor too close to, or within maximum range circle
If any crew member is reported sick or injured;
If radio/ satellite traffic of an urgent nature received;
Any vessel approaching within required minimum – CPA/TCPA for open waters – 2 nm/ 15 min. Coastal, Restricted or Confined Waters – 1.0 nm/ 12 min. For purpose of determining: Coastal/ Restricted/ Confined Waters – Passages which are less than 12 nautical miles from the coast and/or 50m or less in depth.
In any emergency or situation in which you are in doubt;
At any other time when you are unsure about any situation affecting the vessel;
For any reason not mentioned above that, in the sound judgment of the OOW, requires the presence of the Master on the Bridge.
If I cannot be contacted by telephone, call me by PA system or two short rings on alarm bells.
Do not let the situation to develop in such way, that I am called at the last moment.
Call master immediately if GNSS failure occurs or unexpected reduction in accuracy is observed.
If you are not sure whether to call me – CALL ME
Restricted Visibility
Restricted/ deteriorating visibility means any condition in which visibility is restricted by whatever reason (fog, mist, haze, falling snow, heavy rain, sandstorm, etc.)
Deteriorating visibility – visibility ranging from 5nm down to 3nm.
Restricted visibility – visibility ranging from 3nm and less.
When visibility diminishes to deteriorating, the OOW shall:
Ensure both radars/ ARPA are in operation;
Call helmsman, if not already on bridge;
Inform Duty Engineer;
Switch ON navigational lights, if these were switched off.
When visibility diminishes further to restricted, OOW shall:
Call Master immediately;
Place engines on stand-by and reduce the speed as required for safe navigation;
Update plot on both radars/ ARPA. When Master will take con, the OOW will normally assume radar watch and ship's position plotting;
Call additional personnel for assistance as required as per minimum requirements in M004 – 2.1.1 – Composition of Bridge Watches. Duties shall be assigned for lookout enabling them to perform their duties most effectively. If additional resources will be required, it will be advised by Master;
Post lookouts;
Sound signals as per COLREG;
Change steering to Manual.
Heavy Seas
The OOW must monitor the prevailing wind and sea conditions throughout his watch. In the event of heavy weather being expected or encountered he should complete appropriate bridge checklist. If necessary the course and or speed should be adjusted to avoid damage pending my arrival on the bridge.
I should be notified immediately in the event of any warning of heavy weather being received for the area of vessel operation, bear in mind that it can take some time to take on board heavy weather ballast should this be required, and that any avoiding action will need to be taken in good time to have any chance of being effective.
When the vessel is in ballast or partly loaded condition the chief officer shall maintain a minimum forward draft as required by Intact Stability Booklet provided and the aft draft sufficient to maintain 100% propeller immersion. If this condition cannot be maintained for any reason, the chief officer shall advise me at the earliest opportunity.
Beam seas may lead to heavy rolling that may jeopardize the stability of the vessel and the security of heavy machinery, action should be taken to minimize these effects before damage is caused.
Depending on the conditions heavy weather can lead to Slamming, Racing, Heavy Rolling, Pounding and Shipping Water these may be dangerous occurrences and require special consideration. In the event of any of the above being forecast or experienced, I must be called immediately.
Passage Planning, Execution and Monitoring
2nd Officer is responsible for completing a passage plan from berth of the departure port up to the
Berth of the arrival port. In preparation of the passage plan appropriate all available reference sources for relevant information shall be used.
All navigating officers shall familiarize themselves with passage plan and sign it prior to departure from the first port.
Where it becomes necessary, to amend the passage plan after departure from the first port, 2nd Officer shall consult Master on any required changes and update the passage plan accordingly. The 2nd Officer shall ensure that changes to the passage plan are brought to the attention of all navigating officers and that plan changes are signed as understood by all navigating officers.
2nd Officer is responsible for entering the passage plan waypoints into the ECDIS and GPS units. As far as possible cross track error settings on each of these units shall be in operation. A list of all current voyage waypoint latitude and longitudes shall be attached to the passage plan. The route name or number for the passage plan segment in use and the identification number of all waypoints used in the route shall be clearly stated. The security level for each leg of the voyage should be included in the passage plan
Pilotage
Having a pilot onboard the vessel in no way diminishes the OOW responsibility to plot the vessel's position and monitor the the progress of the vessel. Any deviation from normal must be reported promptly to the Master or his deputy.
If the OOW is unsure of any action taken by the Pilot or the Master, then he shall clarify the action with the Pilot or Master or his deputy immediately.
Operation of Navigation Equipment
The OOW shall ensure that all appropriate navigational equipment is used during his watch. The function of alarms both visual and audible of all equipment must be maintained. No OOW has the authority to mute or acknowledge any alarm indication without checking the reason of the alarm and taking corrective actions. Any alarm indication that is causing unacceptable distraction to the bridge team must be brought to my attention. Acceptance and canceling of operational alarms shall be carried out with caution after checking the cause of the alarm.
OOW has unrestricted access to navigational systems, communication systems and to use of engines at all times.
Course Recorder – always in operation. Check UTC time set every ship's noon.
Echo Sounder/recorder – Normally on at all times. As minimum echo sounder should be switched ON, when soundings are expected and always when the water depth is likely to be less than twice the vessel's draft. Date, time, position started and stopped shall be marked on printer paper or electronically.
Log – always in operation. Distance to be reset to zero at each commencement of new voyage. Log reading to be entered in Bridge Logbook at the each of watch.
GPS – always in operation. Performance to be checked one against the other one and recorded at least every 2 hours. Any difference between two units to be reported to Master. WGS84 datum to be in use at all times. Offset shall be zero.
Gyro and Magnetic Compass – a comparison between the magnetic and gyro headings should be made at each substantial course alteration and once each watch. Details must be recorded in the Deck Log Book.
The error of the gyro and magnetic compass to be determined every watch, if conditions permit. The error should be determined by external observations – celestial bearings, transits etc.
When compass errors cannot be taken it is not necessary to state this in the compass error book, it should be noted in Deck Log Book, stating the reason as to way the error was not determined.
Radars – OOW may use both radars at his discretion, as he deems necessary for safe navigation. However, in some conditions and during night time, both radars MUST be on, these include coastal navigation, restricted visibility, presence of ice, heavy traffic etc.
Switching On and Off of the radar must be recorded in the Radar Log Book and Bridge Log Book.
Speed through water to be used for collision avoidance. In case of speed log failure, speed input shall be updated manually.
Auto Pilot – Auto Pilot is to be used in open seas, when clear of navigational hazards, in limited traffic and good visibility. Steering is to be changed from Auto to Manual well in advance of any arrival at port, anchorage or at transit of narrow channels. The OOW will ensure that every time the steering is changed from manual to auto, the quartermaster remain in position for at least 5 minutes to confirm proper functioning of the equipment.
Use of Autopilot – TCS in US waters: Whilst the vessel is operating in restricted waters within US Jurisdiction, as defined in USCG CFR 33 regulations, the system should not be operated in autopilot or Auto Track Mode.
Navtex Receiver – always on and tuned to appropriate stations within area.
Emergency Steering Changeover – all officers shall become familiar with the changeover procedures
for emergency steering operation.
BWNAS – Always "ON" when at underway at sea or at anchor. "Manual" mode in use. BWNAS to be switched "ON" before clearing the berth on departure and to be switched "OFF" when ship is all fast on arrival.
In case BWNAS Alarm is sounded in living quarters, OOWs must immediately proceed to Bridge and assess the situation. Master will proceed to Bridge as well.
Transmitting Magnetic Compass (TMC) if available should be tested weekly, and record should be maintained in Deck log book.
ECDIS.
ECDIS IS THE PRIMARY MEANS OF NAVIGATION.
All Bridge Watchkeeping Officers are to complete ECDIS Type-Specific Training and have a valid certificate prior to using ECDIS as primary means to navigation, i.e. before taking initial bridge duties;
All Bridge Watchkeeping Officers must read in full and be fully conversant with requirements of Company M004 (Navigation Procedures Manual) – Section 7 – ECDIS Procedures
The following minimum safety parameters should always be in use at all times:
| | | | |
| --- | --- | --- | --- |
| Operating Environment | Pilotage and Confined Waters | Coastal Waters | Deep Water Ocean Passage |
| Look Ahead Time | 3 mins | 12 mins | 30 mins |
| Width of Safety Channel | 0.1 nm | 0.2 nm | 0.5 nm |
Changes to the alarm settings are to be done with the Masters consent. Only the Master is authorized to disable alarms when entering shallow waters to adjust the safety contour etc.
Radio Communications
2nd Officer is designated to primary responsibility for radio communications during distress incidents
3rd Officer as Communications Officer/ Officer having primary responsibility for routine radio communications. He is responsible for the Daily, Weekly and Monthly tests of the Equipment and Radio Batteries.
Bear in mind the following: ITU manual, Chapter XI, Article 54, Paragraph 2 requires that: The ship Station for which the Operator is responsible is used at all times in accordance with these Regulations".
Every OOW or any other person who comes to the knowledge of any incoming or outgoing message, even if heard or seen by chance from third source communication, must consider them Strictly Confidential and the secrecy is to be maintained at all time. No one is allowed to divulge Official messages unless authorized by the Master.
Anchor Watch
OOW to be on Bridge at all times, when the vessel is at anchor. He shall:
Ensure, that correct lights and shapes are exhibited and that the correct sound signals are made in case restricted visibility. Bear in mind, that anchor lights are not provided with the alarm, in case of failure;
Ensure that proper lookout is maintained. If the OOW considers, that the other vessel is anchored too close (6 cables or less), Master is to be informed;
Anchor alarms to be set on GPS & ECDIS. Ship's position to be zoomed in order to monitor ship's movements;
Monitor distances to the other vessels in vicinity, as they can start dragging the anchor.
Course recorder to be monitored as to notice oscillations in case of strong wind;
Check Ship's position at frequent intervals to ensure ship is not dragging the anchor. In addition to GPS position fixing, guard bearings and distances to fixed objects to be set on radar;
Observe wind, sea and tidal conditions. OOW shall be aware of tide change and times of strongest tide and to be particularly vigilant at these times;
To inform the Master, if wind speed increases to 25 kts or when the swell becomes excessive;
If the OOW suspects, that the vessel drags the anchor, he shall:
Call Master;
Put main engines to stand-by;
Call Bosun to stand-by forward;
Continue monitoring ship's position.
During extended periods at anchor the vessel's heading is to be recorded in the deck log book every 4 hours. This is to establish whether the movement of the vessel round the cable (due to wind and/or tide) is either only a repeated arc or full circles. Should the latter be confirmed then the anchor cable will have a tendency to become twisted/knotted and fouled. Under these circumstances the anchor should be weighed every 5 days, or less if deemed necessary, and sighted to be clear of twists before re-anchoring. Checking that the anchor can be weighed without problems at an early stage prior to berthing will avoid possible delays due to fouling of the cable.
UMS Periods
Refer to:
SFOPS 24 – The Company Bridge Watch Keeping Standing Orders;
SFOPS 59 – The Company Engine Room Unmanned Operation Standing Orders;
Ship-specific UMS procedure.
Stand-by and Mooring Operations
When engines will be required to be at Stand-by, Duty Engineer to be informed in advance. Normally this will be detailed in Passage Plan and marked on the ECDIS, however prevailing circumstances and conditions may require Engines to be put in Stand-by mode.
Mooring arrangement for Deck Officers will be as follows, unless specifically informed of other arrangements: Chief Officer – Bridge; 2nd Officer – Fwd; 3rd Officer – Aft, Gas Eng. – Manifolds.
Order for mooring crew standby will normally be given 15 minutes before required time of proceeding to mooring stations.
I expect all orders given by radio to be repeated to confirm proper understanding.
When working with engines, special care to be taken to ensure mooring ropes/ wires do not become fouled on the propeller. Deck Officer in charge of the aft station to report immediately, if such potential threat exists.
Do not work with number of ropes/wires that cannot be safely handled at the same time.
Deck Officer must not be involved physically in task. His primary responsibility is overall command and ensuring safe mooring procedures followed.
Log Book Entries
Each watch officer shall keep the deck log book up to date for the period for which he is responsible. Log book entries must be completed by the end of the watch and may not be deferred to a later time. Logbook entries must be neat and legible, if an error is made, corrections may be made by placing a single line through the wrong entry, this line must be initialed by the person making the correction, and the corrected entry must be made legibly. The use of correcting fluid is forbidden.
Remember, that it is SOLAS V/28 requirement to keep a record of navigational activities and incidents, which are of importance to safety of navigation and which must contain sufficient detail to restore a complete record of the voyage.
Note: Information which should be recorded includes that concerning position, course and speed, the times and positions when passing waypoints, land or sea marks, weather and sea conditions and incidents and events including pilot embarkation/disembarkation, times of attendance and connection and disconnection of tugs, times of berthing and un-berthing, hazardous occurrences and accidents.
Deck Log Book all pertinent times and events as required by M004, Section 2.3-2.6, including the complement of the watch
The OOW must ensure that all pertinent details are recorded in the Movement Book and Deck Log Book, this shall include as a minimum:
Pilot name and times of boarding and disembarking;
Names of any tugs used names with times of their attendance; securing and letting go;
Record of vessel's position at frequent intervals;
Testing of hand steering;
Change of steering mode (Auto/Manual), including position;
Search & Rescue operations;
Sighting of pollution, including the position and source;
Master/ OOW con change;
Pre-departure details, including: drafts, displacement, GM, cargo details;
Results of fire, safety & security rounds;
Record of any significant events that occur whilst the vessel is maneuvering;
Times of anchoring and picking up the anchor;
Details of any launches attending the vessel with a short description of purpose of attendance;
Details of all engine movements if the bridge telegraph recorder is not operational;
Reporting to VTS;
All navigational and em'cy equipment tests, drills, inspections, change of ship's time, cargo, ballast and bunker operations details
Times of EOSP and FAOP;
Times of berthing, making fast, details of moorings;
Hazardous occurrences and accidents.
Defects relating to the manoeuvrability of the vessel.
2ndOfficer shall maintain the noon information section of the log book. He shall liaise with the engine room at the beginning of each voyage and ensure that the deck and engine logs show the same ports of departure and arrival. He shall advise the engine room of any required changes to the destination port during the voyage.
Chief Officer shall maintain the cargo and draft sections and sign the bottom section daily after confirming that all required entries have been made.
2nd Officer shall maintain the GMDSS log book.
In Port, Cargo Operations Watchkeeping – General Guidelines
Please see – Chief Officer's "Standing Orders in Port" for port and safe cargo operations watch keeping procedures, however as general:
Chief Officer in charge of all cargo operations, however I expect to be called at any time, if problems of any nature are experienced;
There should be Duty Officer on duty at all times and two ratings on deck, one of them shall be responsible for security duties and the other one for cargo related matters;
All visitors to be checked for proper ID and escorted. Interaction with shore representatives is important, please be firm, but polite;
In case of weather deteriorating, do not hesitate to inform me;
SSSCL to be completed before cargo operations commenced and items requiring rechecking to be followed on agreed interval;
It is of paramount importance of fully detailed record of cargo, ballast operations carried out;
No inhibitors to be added to cargo without Master's permission;
Please note, that vessel is not authorized to discharge her cargo (if no original B/L(s) onboard) until Letter of Indemnity is received from Owners;
Please remember, that OOW duties are not limited only to CCR, wherever possible, rounds on cargo deck to be carried out and any abnormalities to be reported to Chief Officer;
Do not hesitate to stop cargo operations, if you suspect something is going wrong and inform Master and Chief Officer;
Watchmen have to be aware of ESD buttons location and they are authorized to use them in case of emergency.
OOW should know the details of safe cargo operations – including cargo system alarm procedures
Sparks/ Abnormal Smoke Emissions from the Vessel
If sparks or abnormal smoke emissions noticed from funnel, the Duty Engineer to be informed immediately. The following information to be given:
the reason, i.e. smoke or sparks;
in case of smoke, its colour;
part of the funnel, the smoke is coming from.
If the emissions are considerable or haven't been dealt with for some period – inform Master.
It should be borne in mind, that in many countries excessive smoke emissions can lead to prosecution of the vessel due to air pollution.
Environmental Protection
The Chief Officer and Chief Engineer shall ensure that the vessel operates at all times within the requirements of MARPOL. The Chief Engineer shall ensure that the oil record book is maintained up to date. The Chief Officer shall maintain Garbage Record book.
OOW plays an important role in environmental protection. Please maintain a good look out, report to Master and record into the Deck Logbook any discovery of oil at sea.
MAIN ENGINE / HFO FUEL USAGE
Please note that for HYUNDAI –MAN B&W 2-STROKE engines additional recommendations exist to prevent fuel pimps plunger/barrel assemblies to get struck from overheated HFO impurities deposits:
Changeover of M/E to MGO shall be carried out in advance if port stay with duration of 5 days or more is expected.
3 Monthly Changeover of M/E to MGO on passage for 6 hours duration
Slowing down from Full Sea Passage Speed to Full Maneuvering Speed to be done gradually
Additonally please be informed regarding
Global Navigation Satellite Systems (GNSS)
High standards of navigational accuracy are fundamental to the safety of vessels, crew, cargo and the protection of the environment. Therefore, it should always be confirmed that the position reference datum agrees with the chart in use. Where datum uncertainties exist due to old or incomplete chart coverage, extra caution should be exercised.
Whenever possible, positions should be regularly cross checked against other methods of position fixing.
Threats to GNSS
Growing threats to GNSS have been identified that can affect how they are used for navigation.
GNSS signals have low power, which means that a weak interference source can cause the receiver to fail or to produce hazardously misleading information.
Jamming, Spoofing and Meaconing are all forms of disruption to GNSS, details can be found in INTERTANKO and IMCA briefing notes on the subject.
Guidance for Deck Officers
Actions to detect GPS spoofing and jamming should include the use of radar and Electronic Chart Display and Information System (ECDIS) interlay (overlay or underlay), which are by far the best methods to identify jamming and spoofing when land is visible on the radar.
Position verification at appropriate intervals as laid out in the Guide to Safe Navigation, including ECDIS (INTERTANKO 2017).
Observing significant difference between DR position (position arrived with Gyro Course steered and distance by speed log) and GNSS fix.
Observing and verifying by using an echo sounder to compare the depths when sailing in suitable depth areas.
Actions if jamming or spoofing is detected
Immediate actions:
Manually select a secondary position sensor.
Select other GNSS input if provided and use a "GNSS divergence" alarm to check any marginal difference between positioning sources.
If a secondary sensor is unable to provide a vessel's position and no other means are available to input position fixing, the navigator should select the DR or EP mode.
Start to manually plot ship's position if near enough to shore and seek greater sea room if possible.
The Automatic Identification System (AIS) is also likely be affected by a jamming or spoofing attack as well and should be used with extreme care (this refers to the other ships' positions that are likely to be affected by an attack, not the VHF AIS signal). Note: AIS virtual navigation aid position will be correct, since the position transmitted is a true static position and is not derived from GNSS signals.
Use the parallel indexing method during coastal navigation to keep safe distances and determine turning waypoints.
If unable to ascertain vessel position relative to navigational hazards then stop the vessel.
Subsequent actions:
Check the vessel GNSS position frequently to detect when the service is available again.
Report GNSS disruptions or anomalies to the authorities listed in 'Appendix A: Reporting of jamming and spoofing events' as M004 Navigation Procedure Manual
Take note of critical information such as the actual location (latitude/longitude), date/time, and the duration of the outage or disruption.
When possible, provide photos or screenshots of equipment failures during a disruption to assist analysts with identifying a potential cause.
A number of organisations administer reporting systems to assist international efforts in detecting and reporting jamming and spoofing attacks. In the event of a suspected attack advice should be sought from the Fleet Group as to the most appropriate reporting organisation.
ECDIS Failure drills should incorporate GNSS failure scenarios to maintain familiarity with dealing with these kinds of events. The aim of the drill is to develop competency in detection of GNSS jamming or spoofing and safe navigation practices that are independent of GNSS.