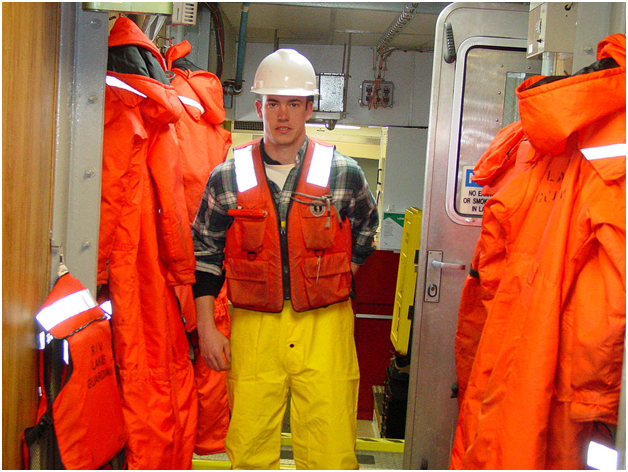 ENGINE ROOM CRANE BRAKE SAFETIES
Measure distance between magnet & armature, clearance should be 0.5 mm around the armature (Refer manual for exact value).
If the gap is more or less than the exact value adjust the braking power not to reach the required gap.
If any overhauling is carried out supply the current to the magnetic coil only to confirm that running shaft is operating without any resistance.
The electromagnetic brake is operated by the brake lining. Check for the moisture on the surface of the lining to avoid slippage.
Check the signs of the overheating and mechanical damage.
Check the tension of the spring which carries the brake during overheating of brake assembly.
CRANE SAFETIES
Hoisting upper limit switch.
Hoisting lower limit switch.
Lifting upper limit switch 82″.55″
Lifting lower limit switch 25″.
Anti-collision limit switch or differential switch – it is for avoiding the collision between hoisting block of jib.
Hoist wire rope black switch.
Joystick should be neutral.
Oil tank level.
High temperature for main motor.
Emergency stop .
Load limiter.
BOILER SAFETIES
High steam pressure – alrm/trip.
Low steam pressure – Alarm
High/Low water level – Alarm.
Low low water level -Trip.
F.O. high temperature – Trip.
Combustion at low pressure – Trip.
Motor overload FD fan – Trip.
Flame failure – Trip.
Wind box high temperature – Trip.
Controll air low pressure – Alrm/Trip.
Funnel door safety – Trip.
Smoke density high – Alarm.
Emergency stop.
Atomizing air pressure low – Alarm.
Safety valves.
water level indicators.
Pressure gauge.
Low fuel oil prerssure – Alarm.
Low F.O. temperature – Alarm.
Air vent.
STEERING GEAR SAFETIES
Overload alarm.
200% insulation in motor.
High temperature alarm.
Self starting after power failure.
Phase failure alarm.
Hydraulic lock alarm.
L.O. low level alarm.
L.O. level low low trip.
Short circuit trip.
Filter clogged.
MAIN ENGINE ALARM
Emergency stop.
shut down.
Slow down cancelling.
Shut down cancelling.
Critical speed.
Pickup sensor failure.
Wrong way alarm.
MAIN ENGINE SHUTDOWN
Overspeed trip.
L.O. low prressure trip.
Thrust pad bearing temperature high.
Emergency stop.
Turbo charger L.O. low pressure.
Camshaft L.O. Low pressure.
MAIN ENGINE SLOWDOWN
L.O. low pressure.
P.C.O. inlet L.O. low pressure.
P.C.O. Low flow.
P.C.O. non flow.
Jacket water inlet pressure low.
Jacket water outlet temperature high.
Main L.O. inlet temperature high.
Camshaft L.O. inlet temperature high.
Scavenge air temperature high.
Exhaust gas temperature high.
Oil mist in crankcase high.
Control air pressure low
Alpha lubricator failure.
AIR CIRCUIT BREAKER(ACB) SAFETIES.
UV coil set at 100% of rated voltage,
Over current
LTD 105-120% of FLC 10-120 sec.
STD 200-600% of FLC 0.1-1 sec.
Instant 100% of FLC instant.
Arching contact.
Arc runner.
Reverse power.
Preferential trip.
Simultaneous closing of all 3 contacts.
Arching contact make first and break after main contact.
LIFEBOAT SAFETIES
Centrifugal brake.
Two starting mode.
Drain plug.
Internal light.
oil flash point should not be less than 45°C.
Emergency filler.
Dead man handle.
Limit switch.