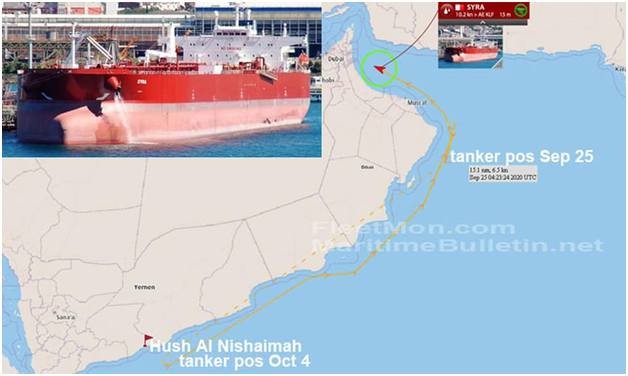 Explosion occurred at Hush Al Nishaimah oil terminal, Yemen, Gulf of Aden, at 2000 UTC Oct 3, at the time when Aframax tanker SYRA was loading crude oil, reported UKMTO. It is thought to be an act of sabotage, mine or bomb explosion, set off by one of Yemen's conflicting parties. Tanker was said to suffer damages, she left terminal early Oct 4 and sailed to Khor Fakkan, UAE, Gulf of Oman, to "estimate damages". ETA Khor Fakkan Oct 9. Interestingly, tanker AIS records have a gap during Sep 25 – Oct 4 period. Tanker went off radar on Sep 25 sailing in Gulf of Oman off Oman coast, and reappeared on Oct 4, shortly after leaving oil terminal.
FleetMon Vessel Risk Rating:
Posted in Maritime Security by Mikhail Voytenko on Oct 09, 2020 at 09:57.