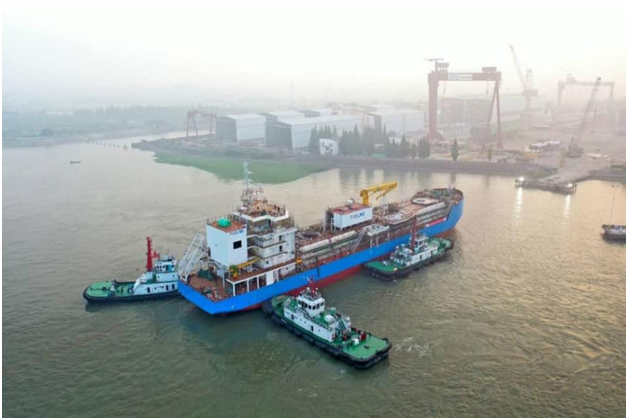 -Bill Gates, one of the richest men in the world, has turned his attention to getting ships powered by nuclear energy.
-He announced a new venture with Mikal Bøe's CORE POWER, French nuclear materials handling specialist Orano and American utilities firm Southern Company.
-The four companies plan to develop molten salt reactor (MSR) atomic technology in the United States.
-The use of nuclear energy in shipping has thus far largely been restricted to military vessels and Russian icebreakers.
A ship and bunker news report mentions that former IMO Emissions chief highlights the importance of Nuclear-powered ships. Also, Sam Chambers, writes for Splash 247 mentioning that Bill Gates joins nuclear-powered shipping push.
Outstanding partners
"We're pleased to work with such outstanding partners in developing game-changing technology to help transport and industry transition to a clean energy future," said Mikal Bøe, CEO of London-based CORE POWER, which has been making headlines in recent months for its atomic batteries aimed at the marine market.
Four companies apply
The four companies have submitted an application to the US Department of Energy to take part in cost-share risk reduction awards under the Advanced Reactor Demonstration Programme to build a prototype MSR, as a proof-of-concept for a medium-scale commercial-grade reactor.
"The implications of the MSR for transport and industry could be transformational, as we seek to build scale-appropriate technology and broad acceptance of modern and durable liquid-fuelled atomic power to shape the future of how we deal with climate change," Bøe commented today.
A technology based on thorium
The CORE POWER units are based on marine molten salt reactors (m-MSRs), a technology using thorium that dates back to the 1960s and is capable of powering the largest ships afloat today.
In the m-MSR atomic battery, the fuel is the coolant and the coolant is the fuel, so coolant cannot be lost. Thorium is a weakly radioactive metallic chemical element found most commonly in India and is a substance that Gates' TerraPower has been studying closely of late.
Former IMO Emissions official
A key former IMO official who helped draft the UN body's initial strategy on greenhouse gases has said the shipping industry should consider nuclear energy as it seeks to eliminate its carbon emissions, arguing that supply infrastructure for ammonia and hydrogen bunkers may not arrive soon enough.
"Those proposing alternative fuels such as ammonia and hydrogen may not acknowledge it, but if we are to see zero-carbon ships enter the market in the 2030s, then those alternative fuels may not be the most appropriate route to that goal, not least when considering the supply infrastructure conundrum".
"Furthermore, those calling for zero carbon emissions from shipping by 2050 (not even by the end of the century) need to consider how the largest machines on the planet are going to be powered", he added.
Technology is not cheap
Admitting the technology would not be cheap to install on ships, Bøe has proposed a leasing model for his batteries, similar to those deployed for aircraft engines.
Bøe's atomic battery invention (pictured below) has been much discussed in the shipping industry in recent months.
Bjørn Højgaard, the CEO of Hong Kong shipmanager Anglo-Eastern told sister title Splash Extra in September: "I think that in 50 years nuclear molten-salt-reactors will be par for the course in the shipping industry, and we will look back at the current time and wonder why we dabbled in alternative pathways for greenhouse gas-free propulsion."
Bøe's extensive shipping career
Bøe's extensive shipping career has seen him work as chief risk officer to well-known shipowners in the past decade, developing what he claims was the first internet venture for the shipping industry back in the 1990s and establishing Cleartrade Exchange in Singapore 10 years ago.
Source: Splash 247 & Ship and Bunker