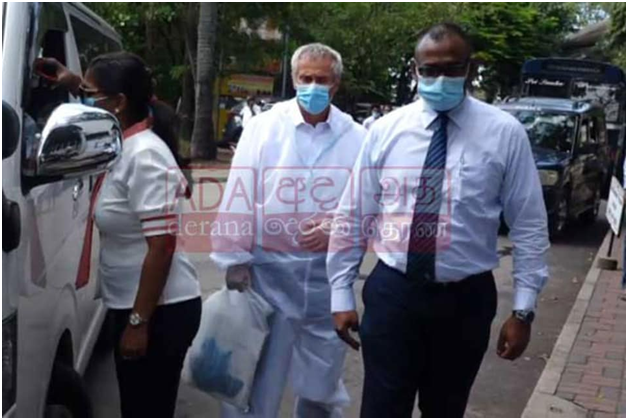 Colombo Chief Magistrate has imposed a travel ban on the Captain of the oil tanker 'MT New Diamond', reports Adaderana.
The Captain had been issued notices to appear before the court and according he arrived at the court on the 28th.
Travel ban for the captain
Colombo Chief Magistrate Mohamed Mihar rejected the request of the Attorney General to remand the Captain of the tanker when the case was taken up.
Instead, the Chief Magistrate ordered the Controller General of Immigration and Emigration to ban foreign travel of the Captain.
Further, the Magistrate ordered the Captain to provide full assistance to the investigations and to inform the court if the place of residence is changed.
Plaintiff statement
Representing the plaintiff, Deputy Solicitor General of the State Dileepa Peiris charged that the captain had failed to take necessary measures to douse the fire when it erupted on the ship.
The Deputy Solicitor General informed the court that the investigations reveal that the captain had not acted to control the fire, had not alerted the relevant authorities, and had concealed information regarding the fire.
Such acts are a criminal offense under sections 23, 25, 32, and 53 of the Marine Pollution Prevention Act, Peiris pointed out.
The crew did not follow basic prevention measures
Further, a committee of 14 experts, including professors from the University of Moratuwa, has already confirmed that the fuel stored in the ship had leaked into the sea due to the captain and the sailors not following the basic measures to prevent the incident, the Deputy Solicitor General said.
He added that a layer of oil with a thickness of two millimeters had spread over the seawater within an area of two nautical miles from the place where the ship had caught on fire, due to the fuel leak.
Request for remand rejected
Stating that the Attorney General intends to file a case against the Captain, Peiris requested the court to remand the suspect to ensure that he would appear at the court when the case is filed.
However, Attorney-at-Law Nipuna Wimalasekera, appearing on behalf of the suspect, stated that the Magistrate's Court had no jurisdiction to remand the suspect as requested by the plaintiff.
Accordingly, the request made to remand the Captain was rejected and a travel ban was imposed on him instead.
Source: Adaderana