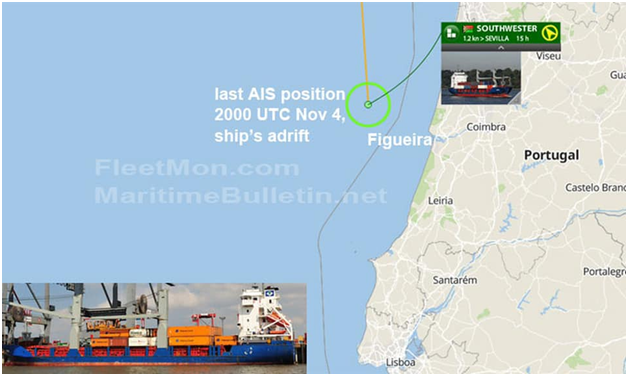 1245 UTC UPDATE: The ship is probably, still afloat. There was water ingress, engine room is reportedly, flooded.The ship issued distress signal at around 0030 UTC, reporting flooding, danger of capsizing, sinking.
Container ship SOUTHWESTER reportedly sank some 30 nm off Figueira da Foz, Portugal, at around 0400 UTC Nov 5, while en route from Bretagne France to Seville Spain, all 14 crew were rescued by nearby cargo ship. Ship's sinking not yet confirmed, no other details available at the moment.
FleetMon Vessel Risk Rating:
Posted in Accidents by Mikhail Voytenko on Nov 05, 2020 at 11:31.