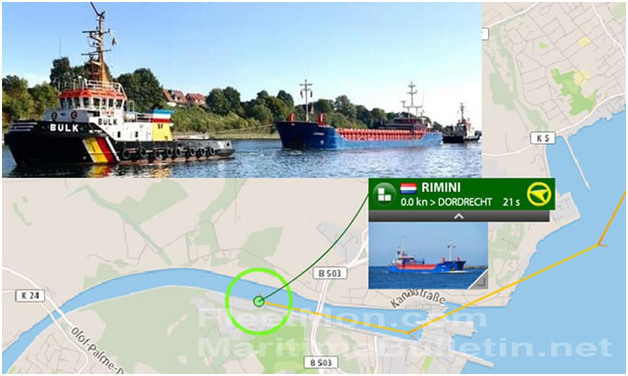 General cargo ship RIMINI reportedly contacted Lock's wall in Kiel, while entering Kiel Canal, in the morning Sep 21. The ship is said to sustain damages, she passed Lock and was berthed alongside Canal pier or embankment, not far from the Lock, at around 0900 UTC Sep 21. As of 1310 UTC, she was still berthed. It is not the first time RIMINI contacted Lock in Kiel Canal, on May 17 this year she damaged gate and sustained bow damages, in Brunsbuettel Lock. She's en route from Klaipeda Lithuania to Dordrecht Netherlands.
FleetMon Vessel Risk Rating:
Posted in Accidents by Mikhail Voytenko on Sep 21, 2020 at 13:21.