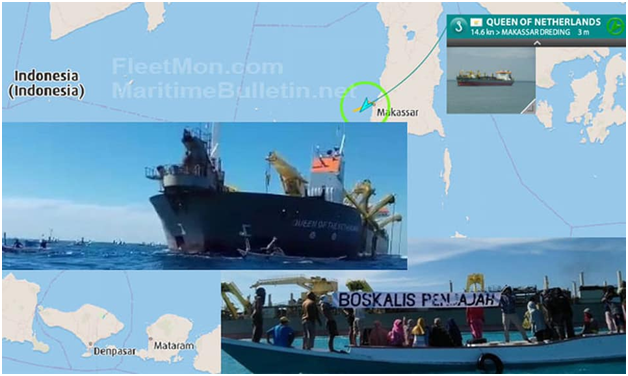 Hopper dredger QUEEN OF NETHERLANDS, owned by BOSKALIS WESTMINSTER SHIPPING B.V. and operated by BOSKALIS Indonesia, was attacked by boats with hundreds of fishermen and "activists" on Sep 12 off Makassar Port, South Sulawesi, Indonesia, when the ship was sailing to her new dredging or sand-mining site in waters of Takalar Regency, southernmost Sulawesi. The ship was shelled with stones and Molotov cocktails, which ignited several fires on board. Protesters also cut several pneumatic cables. QUEEN OF NETHERLANDS had to return back to Makassar Port, water police meanwhile, intervened and arrested 12 protesters. "Activists" are members of Indonesian Forum for the Environment WALHI, Indonesian branch of NGO Friends of the Earth. Fishermen probably, were used as a cover in a staged "protest".
FleetMon Vessel Risk Rating:
Posted in Maritime Security by Mikhail Voytenko on Sep 13, 2020 at 06:53.