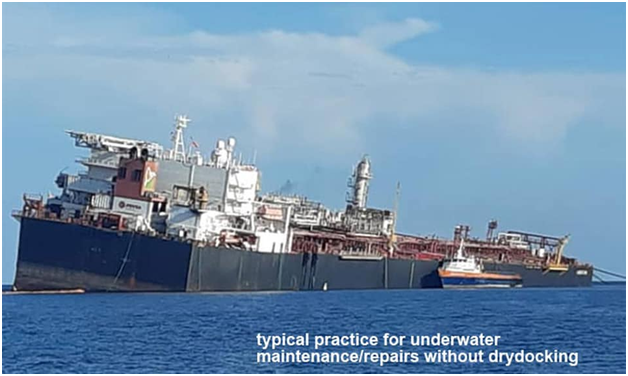 I've been quite amused by media campaign on "unfolding ecological disaster" in the Caribbean, where Venezuelan oil storage unit FSO NABARIMA allegedly, was on the verge of capsizing, with visible heavy starboard side list and fore tilt. The whole story was based on one source only, on photos and video, tweeted by one Eudis Girot, Executive Director of the Unitary Federation of Petroleum Workers of Venezuela (FUTPV). Venezuela tried to explain, that the "dramatic" photos and video are month-old, but who was to listen to them? The truth finally, came out, thanks to Trinidad and Tobago honest investigation and report:
…
A damaged Venezuelan oil tanker recently tilting to one side in the Caribbean after taking on water poses no significant risk of spilling and causing an environmental catastrophe, Minister of Energy of Trinidad & Tobago Franklin Khan said on Oct 22, after a team of experts from his country inspected the FSO Nabarima.
Khan said a Trinidadian technical team did an aerial inspection from a Venezuelan helicopter showing that the tanker was floating upright with no tilt. Upon landing, they found no water inside and the double hulls were sound, Khan said. "The team confirm that major maintenance is ongoing," Khan said. "Pumps and electrical motors are being repaired and replaced as needed."
The outcome of campaign was obvious for anyone knowing anything about ships, shipping and tankers. Tankers, especially big ones, aren't bulk carriers, they aren't in a habit of capsizing while in full load. The first, September, NABARIMA news reported water ingress in engine room – superstructure compartments, not in fore compartments. Latest photos (month-old according to Venezuela, hours-old according to Eudis Girot) show intentionally listed and tilted tanker – with the purposes of maintenance and repairs. Faulty valves were fixed or replaced, water was pumped out, tanker as of now, is dry and sound. Intentional tilting and listing of the ship with the purpose of carrying out repairs of otherwise inaccessible, underwater parts, is a usual practice in shipping. And yes, Venezuela said, that photos were taken while the ship was undergoing repairs. So the whole story, brought to our attention by Eudis Girot and inflated by media, is a fake.
Posted in General by Mikhail Voytenko on Oct 23, 2020 at 07:35.