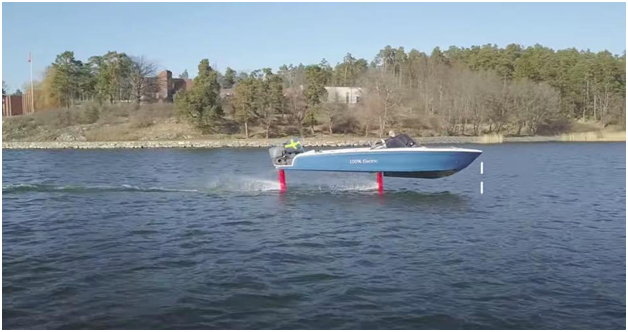 We've seen super-fast bullet trains that literally fly above rails. Now, it's time for 'flying' speed boats. Yes, you heard that right.
Initially aimed at cutting energy costs and reducing sea-sickness, Swiss lakes were the first to witness live trials of the world's first electric-powered hydrofoil speedboat.
With a top speed of around 55kmph, the manufacturers of The Candela Seven say that it travels further and smoother than all other electric boats.
Due to the foils lifting out of the water during the process, water-resistance gets drastically reduced. Similarly, waves can't slam directly into the boat during its operation, thereby cutting energy consumption by 80% in comparison to normal diesel-powered boats. All these factors combined extend the craft's range to 90 km/h.
Additionally, this incredible speedboat, made out of carbon fibre, also carries an on-board computer that adjusts the foil positions 100 times per second automatically, thereby countering rolling and sea-sickness.
Since waves don't hit the speedboat, the ride is unusually smooth.
Electric boats have been long known to sacrifice either speed or range owing to the battery capacity. However, things are soon going to change, thanks to the Candela Seven.
Candela Speed Boat hopes to drum up a new business with a European tour. Since last year, the company has delivered around 16 boats.
However, all these come with a hefty price tag. It is estimated that the boat will cost around 250,000 euros ($296,000).
Speed boat "Candela 7"
Posted in Ship Building and Technology by Tanja Lohrmann on Sep 07, 2020 at 06:45.