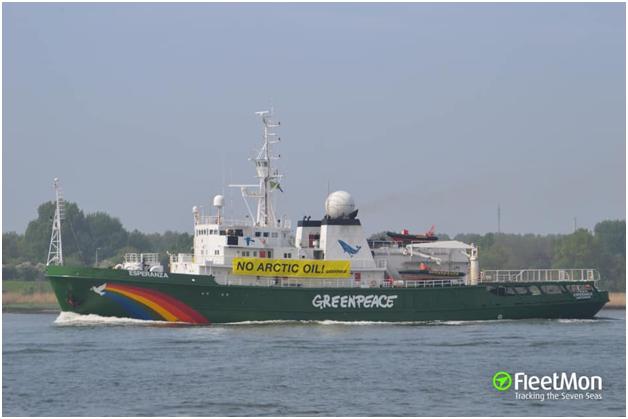 Greenpeace activists drop boulders into the North Sea to stop illegal fishing
The group alleged that the trawlers that frequent the area are hiding destructive fishing by illegally switching off their automatic tracking systems.
Trawling is a method of fishing that involves pulling a fishing net through the water behind one or more boats. Trawl gear affects the environment in both direct and indirect ways. Direct effects include scraping and ploughing of the substrate, sediment resuspension, destruction of benthos, and dumping of processing waste. Indirect effects include post‐fishing mortality and long‐term trawl‐induced changes to the benthos.
The group has increasingly asserted that the almost three-tonne granite rocks that the environmental group has been dropping into the waters are meant only to thwart off incoming trawlers and would not harm the biodiversity of the region.
Any bottom trawlers trying to fish over the boulders will get their gear snagged and ruined on the rocks, though passing marine traffic will not be affected.
Fishing leaders responded angrily and even went to great lengths to accuse the group of putting fishermen at risk and doing more damage to marine habitats than their trawlers do.
Greenpeace has said that they used their flagship ESPERANZAfor this purpose, assuring that the governmental bodies had been informed firsthand of the drop zones so that trawlers voluntarily avoided it.
View the historical track of sailing ship ESPERANZA in the North Sea area. Sign up to FleetMon.com to use our huge vessel tracking database for even more maritime insights.
Even though it is legal to fish in the conservation zone, called the Dogger Bank located about 100km off the east coast of England, Greenpeace said that the government had failed to protect the environment from fishing trawlers who voluntarily switch off their tracking devices whilst in the region.
As a result, an underwater barrier that closes almost 50 square miles of Dogger Bank from bottom trawling has been created by the environmental group.
However, this tactic of dropping granite boulders into the ocean floor is not new to Greenpeace. In August this year, the group had followed the same process into the Adlergrund Marine Reserve, east of Rügen, an island in the German Baltic Sea to stop illegal fishing. The group had claimed that the German government had not protected the area from fishing activity, leading the Baltic ecosystem to systemic destruction.
Posted in General by Ankur Kundu on Sep 29, 2020 at 06:15.