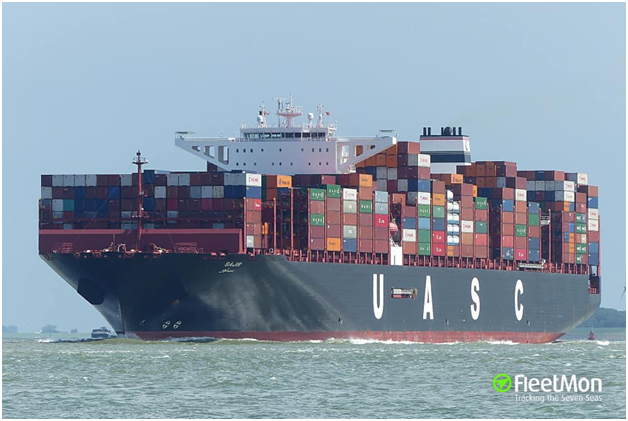 Hapag-Lloyd's ultra-large containership SAJIR has completed an upgrade by China's Huarun Dadong yard to use LNG as fuel, a move which has been deemed to be the world's first such conversion.
Hapag-Lloyd has reported that it completed 'another milestone' in the conversion of its SAJIR after 1,300-tonne LNG tank was hoisted on board the containership end of September.
Over the last three weeks, work was ongoing in the Chinese yard to prepare the ship's hold for the same. The tank is currently undergoing intensive wielding to make up for the change. On the other hand, the main engine and the auxiliary diesel engines will be converted to dual-fuel operation for LNG and low-sulphur fuel oil.
Hapag-Lloyd said it is 'the first shipping company in the world to convert a container ship of this size to LNG'.
The German container shipping giant had tapped in CSSC's Hudong-Zhonghua for the much-publicised conversion last year. Initial plans were to begin the retrofitting works in May itself, but COVID-19 delayed the initial plans.
The conversion comes at a price tag of a whopping $30 million.
This pilot project will help Hapag-Lloyd to decide on future LNG conversions but also paves the way for other boxship owners looking to slash emissions and comply with more stringent IMO rules.
More interesting is how Hapag-Lloyd took charge of the SAJIR. In 2017, the German shipping behemoth and United Arab Shipping Company (UASC) merged, a move that took place in Hamburg. With this move, Hapag-Lloyd became the fifth-largest liner shipping company in the world. SAJIR was a part of the UASC fleet that Hapag-Lloyd inherited from the purchase.
Besides new tanks, the ship's fuel system and its existing heavy fuel oil-burning MAN engine will switch to dual-fuel power. This includes LNG and low-sulphur fuel oil as a backup.
The SAJIR is one of the 17 vessels in Hapag-Lloyd's fleet that were originally designed to be LNG-ready. Its 16 sister ships are also technically prepared for retrofitting. With the conversion of the SAJIR, Hapag-Lloyd will be implementing a technological option to reduce the environmental impact of large vessels.
2020 has been a power-packed year when it comes to ships using LNG as a primary fuel. As previously reported by FleetMon, CMA CGM's 23,000 TEU Jacques Saade has already been delivered to the French company.
Using LNG in the shipping industry could potentially reduce CO2 emissions by 15 to 30 percent and sulphur dioxide and particulate matter by more than 90 percent.
Posted in General by Ankur Kundu on Oct 05, 2020 at 06:51.