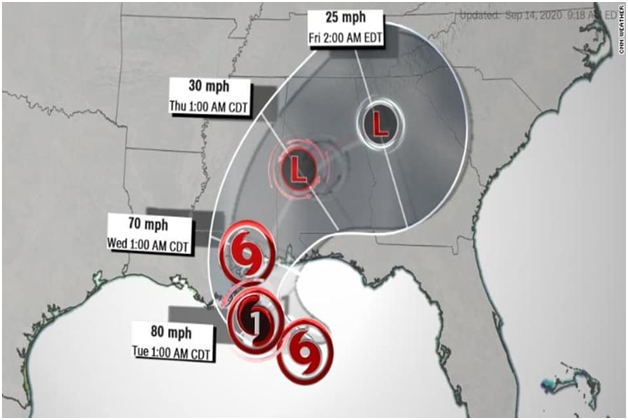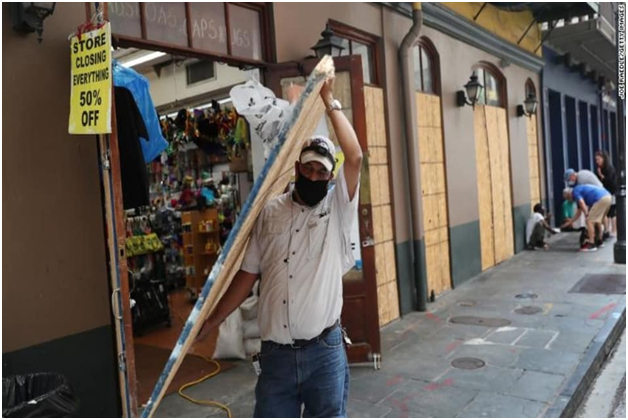 -Hurricane Sally strengthens into a Category 2 storm on Monday.
-There's a chance it will make landfall in southeastern Louisiana, a state still recovering from the aftermath of Hurricane Laura.
-According to the National Hurricane Center, the center of Sally is expected to move near the southeastern Louisiana coast Monday night.
-It is to make a landfall on the Gulf Coast late on Tuesday, possibly as a Category 3 hurricane.
-The storm appeared to shift east early Monday, placing Mississippi's and Alabama's entire coasts under a hurricane warning.
Hurricane Sally strengthens to Category 2 as it moves toward the US Gulf Coast, write Eliott C. McLaughlin, Amir Vera and Hollie Silverman for CNN.
Forecasters warn of storm surge and flash flooding
Further strengthening is expected in the next 24 hours before the storm makes landfall, the NHC said.
"Sally could approach major hurricane strength," the NHC said, adding that the storm's wind speeds have increased by at least 40 mph in just a 12-hour period, a process called intensification.
A Monday evening update showed the storm about 135 miles southeast of Biloxi, Mississippi.
Emergency declaration for Louisiana and Mississippi
"Since Sally is forecast to be moving very slowly around the time of landfall, a slower rate of weakening is indicated since a large portion of the circulation will remain over water for some time," the National Weather Service said.
-President Donald Trump approved emergency declarations for Louisiana and Mississippi, the White House said.
-This means Trump authorized the Department of Homeland Security and Federal Emergency Management Agency (FEMA) to assist with all disaster relief efforts in the two states.
Mississippi officials are working to make decisions on possible mandatory evacuations, Gov. Tate Reeves said.
During a briefing, the governor said he feared his state would bear the brunt of Sally's rain and storm surge, and he urged residents to prepare for prolonged power outages. Shelters are opening for evacuees, he said.
Alabama and Mississippi get ready
-Officials were handing out sandbags in Saraland, Alabama, north of Mobile.
-While residents on Dauphin Island, a barrier isle on the Alabama coast, were also preparing for flooding.
Gov. Kay Ivey issued a state of emergency for Alabama and closed all beaches as of 3 p.m. (4 p.m. ET) Monday. She further recommended evacuation, especially for nonresidents and those in low-lying or flood-prone areas.
Shelters prepared
Shelters are also preparing for the incoming storm, but are keeping Covid-19 in mind.
The Mississippi State Medical Needs Shelter opened Monday, but will only be operating at half capacity, with socially distanced medical-grade cots, the state's health department announced.
Only one caregiver will be allowed to accompany a resident inside the shelter and residents are asked to bring a mask.
Landfall on Wednesday
Mississippi Governor Tate Reeves said Hurricane Sally was expected to make landfall around Biloxi at 2:00 am (0600 GMT) on Wednesday.
"The storm surge projections continue to be worrisome with anywhere from five to eight feet (1.5 to 2.4 meters) of coastal surge," Reeves said.
"We are continuing to be very concerned about the amount of rainfall," he said, adding that some areas could be drenched in as much as 20 inches (50 cm) of rain.
Tropical cyclones
Sally is one of five active tropical cyclones in the Atlantic Ocean.
The others are Hurricane Paulette, tropical storms Teddy and Vicky and tropical depression Rene.
According to meteorologists, the only other time there were five active tropical cyclones in the Atlantic at the same time was in September 1971.
Hurricane Paulette, a Category 2 storm, pounded the island of Bermuda on Monday with strong winds and heavy rains, according to the NHC.
Source: Times Now & CNN