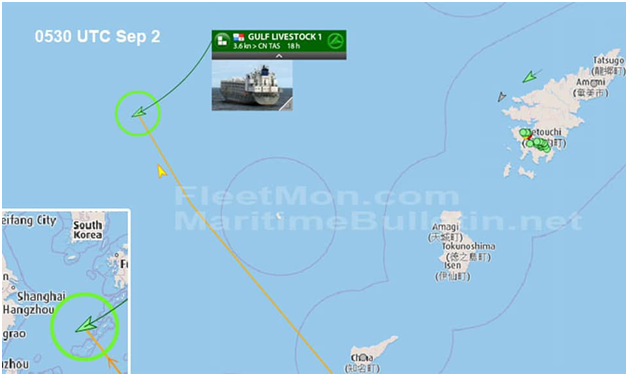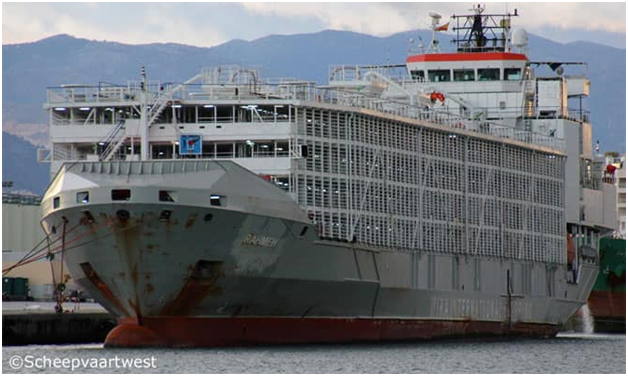 There were 5,800 cattle on board.
It is hard to believe, that Master missed typhoon on converging track with ship's route, or disregarded typhoon as a threat. Maybe Master miscalculated typhoon trajectory, or maybe he hoped the ship will overtake it. Whatever were the reasons, the ship sailed straight into the typhoon.
Patrol plane at around 1900 Tokyo time spotted a lifeboat, but no people in it, and a man in lifejacket nearby, not clear dead or alive. SAR suspended until tomorrow daylight.
Sep 2: Livestock carrier GULF LIVESTOCK 1 issued distress signal at 0145 Tokyo time Sep 2 in East China sea, some 100 nm west of Amami Archipelago, part of the Ryukyu Islands southwest of Kyushu. The ship with 43 crew on board is en route from New Zealand to China, i.e. she should be carrying livestock. Patrol plane searched the area, but didn't find the ship. Search continues, as of 1500 Tokyo time, Japan Coast Guard ship HAYATO was in the area. Last ship's AIS position dated 1230 UTC Sep 1, ship adrift.
Crew includes 39 Filipino, 2 New Zealand, 1 Australian and 1 Singaporean nationalities.
The ship, judging from ship's track and track of typhoon MAYSAK, may be caught in a center of typhoon and fall victim to its' fury, with wind up to 130 kt in gusts.
FleetMon Vessel Risk Rating:
Posted in Accidents by Mikhail Voytenko on Sep 02, 2020 at 06:38.