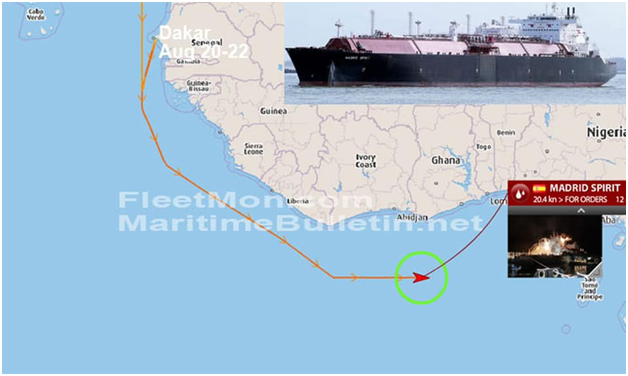 One of the crew of LNG tanker MADRID SPIRIT went amok and attacked another crew with the knife, stabbing him in the back, head and thorax, on Aug 20, inflicting heavy injures, which required emergency surgery. Tanker en route from Bilbao Spain to Nigeria, interrupted her voyage and steamed to nearest port, Dakar, Senegal, reaching the port in the afternoon Aug 20. crew managed to disarm and immobilize perpetrator, locking him in cabin or service compartment. On arrival to Dakar, wounded seaman was transferred to hospital, perpetrator was arrested and taken to custody. Tanker left Dakar on Aug 22, and resumed her voyage.
IMRRA, FleetMon's official Vessel Risk Rating Partner.
Posted in Maritime Security by Mikhail Voytenko on Aug 25, 2020 at 13:39.