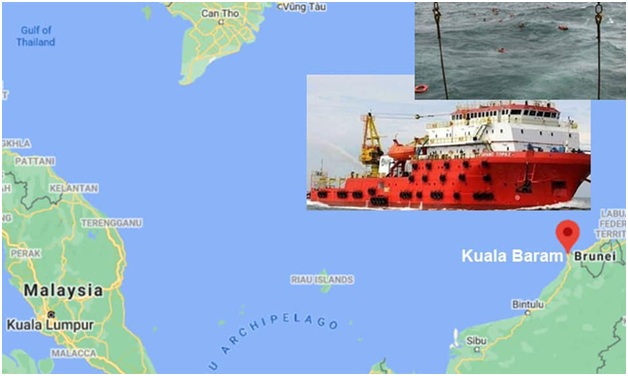 0430 UTC Oct 27 UPDATE: The ship dragged anchor in stormy weather and drifted onto oil platform. It is highly likely, that the ship is still afloat. All sources mention 62 crew remaining on board and 125 jumping the ship. One more thing – collision just doesn't look all that disastrous, considering the type of the ship – offshore support ship, highly resilient and compartmented. Understood on one of videos work deck of DAYANG TOPAZ after collision. 4 missing crew found, rescued, they're safe.
0300 UTC Oct 27: Offshore support ship DAYANG TOPAZ sank off Kuala Baram, Sarawak, Malaysia, northern Borneo, in the early hours of Oct 27, reportedly after collision with oil platform. Understood there were 125 people on board, crew and offshore personnel. 121 people were rescued, 1 died, 4 remain missing, search is ongoing. From the looks of the ship, she was offshore support ship and probably, flotel or personnel transfer ship, that's why there were so many people on board.
FleetMon Vessel Risk Rating:
Posted in Accidents by Mikhail Voytenko on Oct 27, 2020 at 03:09.