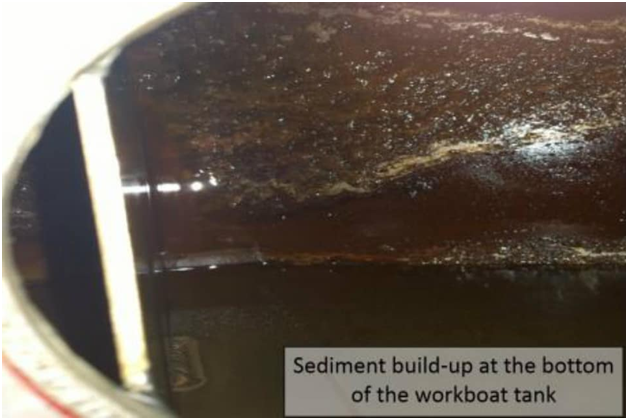 Summary
During a crew transfer operation by workboat, a problem occurred causing the workboat's engine to cut out. The crew's Engineer made several attempts to restart the engine however this was unsuccessful.
The Coxswain made contact with the Master and advised him of the situation. The vessel proceeded to attend and the workboat was safely recovered to the mother vessel.
Cause
Once on-board, the vessel's Engineers conducted an investigation / fault finding on the work boat. During the investigation, the Engineers discovered that the fuel in the tank was contaminated due to water condensation causing a bacteria buildup.
-Source of Contamination: Water / moisture in tank was due to condensation in the tank head space; this resulting in a buildup of bacteria turning into sediment. The sediment caused the fuel oil fine filter to clog preventing the engine from starting.
-Planned Maintenance System (PMS): The instructions within the PMS regarding inspection and maintenance were clear, however had not been followed as per the requirements.
-Spare Filters: The vessel did not hold spare filters on-board
Recommendations
-Check fuel and tank quality through planned maintenance inspections, treat and / or clean as applicable
-Ensure workboat fuel tank levels are maintained to prevent condensation / water building up
-Ensure a stock of essential fuel filters are held as stock on-board
Source: Marine Safety Forum