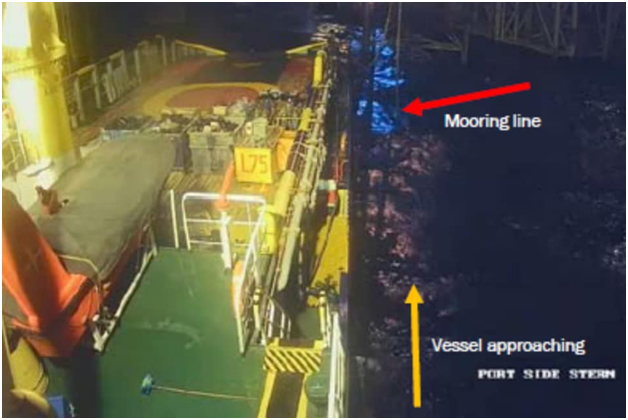 Summary
A platform supply vessel (PSV) started mooring operations whilst stern to a platform, without anchoring, in order to conduct a snatch lift. The platform crane operator started to lower a mooring rope of 20 cm diameter to the port side of the vessel's stern quarter bollard area. The deck crew then fixed the end of the mooring rope to the bollard.
At this time, part of mooring rope was lowered to the water. There was a miscommunication between the crane operator and the deck crew, and as a result the rope was fouled on the port side propeller resulting in a subsequent port side engine shut down and partial loss of vessel propulsion.
Problem Cause
-There was a lack of proper planning and risk assessment during the mooring operation;
-There was inadequate communication between the platform crane operator and the mooring crew on deck, which resulted in the mooring line being dropped in the water;
-The deck crew did not notify the bridge in a timely manner when the rope was lowered into the water, and thus the propeller was fouled by the rope.
Actions taken
-There needs to be adequate means of communication between crane operator, deck mooring team and bridge officer on watch (OOW);
-Proper attention should be paid to the job in hand during mooring operations to ensure a timely reaction to any unforeseen events;
-More detailed risk assessment required for this task where the vessel takes a mooring rope from a platform or rig;
-Stop work authority should be exercised when in doubt.
Source: IMCA