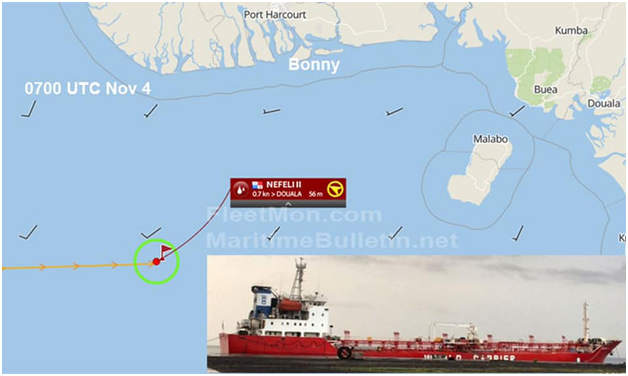 UPDATE 1430 UTC: Confirmed attacked ship is tanker NEFELI II, she's under way since 1030 UTC, crew reportedly safe, understood they managed to hide in citadel when pirates boarded tanker. Understood pirates looted the ship, and fled.
Merchant ship was attacked in Gulf of Guinea at around 0600 UTC Nov 4 some 120 nm south of Bonny Nigeria. Understood it's product tanker NEFELI II (IMO 9291638, dwt 9999), en route from Lagos to Douala Cameroon. The ship stopped at roughly the same time and position attack occurred, and as of 0700 UTC was still adrift, AIS seems to be working. Highly likely she was boarded. Awaiting ship's ID confirmation and more details.
FleetMon Vessel Risk Rating:
Posted in Maritime Security by Mikhail Voytenko on Nov 04, 2020 at 08:22.