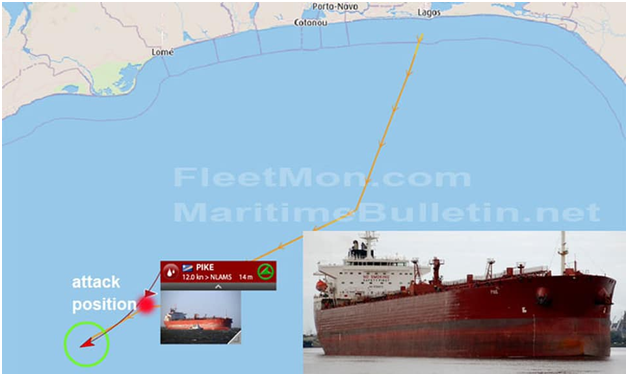 UPDATE: Confirmed PIKE was attacked, attack thwarted.
Cargo ship was reportedly attacked in the morning Aug 28 in Gulf of Guinea, SW of Lagos Nigeria. According to tracks of ships in the area, it is most probably, tanker PIKE, en route from Lagos to Rotterdam. If PIKE is the ship which was attacked, it doesn't seem like she was boarded, she didn't reduce speed or stop, and as of 0730 UTC is continuing voyage. Probably, attack was thwarted.
Information is not yet confirmed, no other details are available.
IMRRA, FleetMon's official Vessel Risk Rating Partner.
Posted in Maritime Security by Mikhail Voytenko on Aug 28, 2020 at 07:47.