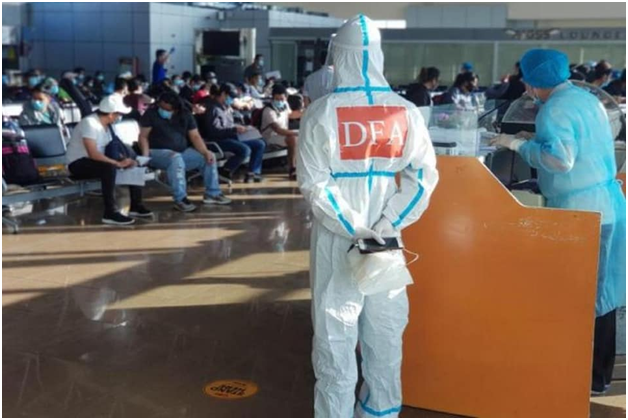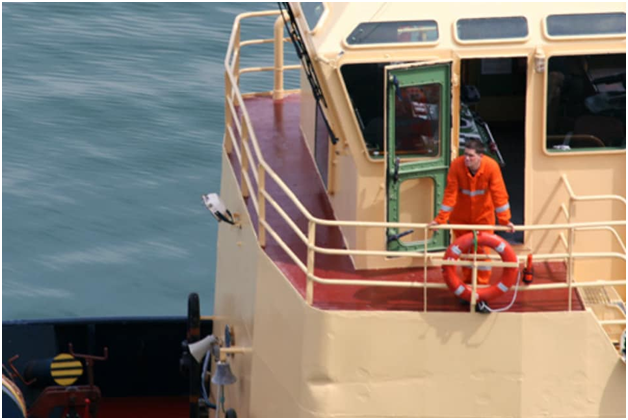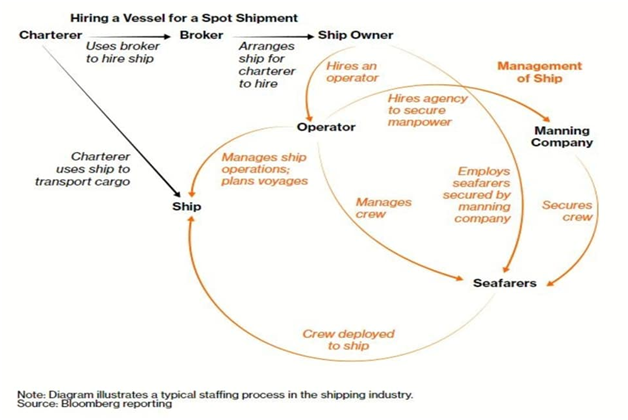 -300,000 workers stranded on merchant ships, dozens of labor violations threaten seafarers' safety, as well as the global supply chain.
-A deeper look into the matter of fact would let us realize how stranded seafarers on ships for months face the physical and mental stress of lurching in sea.
-They need proper care and treatment, they are the real heroes who keep the supply chain alive.
-The ongoing pandemic has shattered the norms of this highly fragmented industry.
-Countries wary of relaxing port and border restrictions, violations of worker protections have become common.
Worst Shipping Crisis in Decades Puts Lives and Trade at Risk, write K. Oanh Ha, Jack Wittels, Khine Lin Kyaw and Krystal Chia for Bloomberg.
What are the problems the real heroes at sea face? How does it affect them mentally and physcially? Let us get deep into the details.
The sad things seafarers face
Most haven't left their ships in months after coronavirus outbreaks tied to cruise liners and merchant ships put an end to shore leave.
mounting health problems
-Seafarers with abscessed teeth haven't been able to get dental care.
-Others say they've received stitches from crewmates in lieu of off-shore medical attention.
-On one ship, the captain died of a heart attack, and the crew stored his corpse in the freezer for nearly two weeks before it found a port that would repatriate the body.
-On CMA CGM's APL Pusan, a crew member gashed his head and required stitches.
-On a ship carrying coal, a sailor suffered an eye accident with pressurized oil; he said he wasn't allowed on shore to see a doctor for another two months.
-Mentally, seafarers told Bloomberg, they're suffering.
Is covid 19 an excuse to violate labor laws?
The past-due contracts and unpaid overtime are especially troubling.
The industry says the options are limited. Changing immigration rules and limited air travel have made swapping workers more difficult and more expensive, said Esben Poulsson, chair of the International Chamber of Shipping, the industry's principal trade group.
Still 300,000 seafarers stranded
Many companies have rerouted ships and chartered flights to facilitate crew changes.
And still some 300,000 seafarers are overdue for relief—a number that grows as the pandemic drags on.
If it isn't resolved soon, analysts say, it threatens to ripple up the supply chain, affecting commodities companies like Cargill Inc. and Glencore Plc. and retailers like Dick's Sporting Goods Inc., just in time for the holiday shopping season.
"This is the most dire situation with vessels and crew that I've seen in many decades," said Andrew Kinsey, a New York-based senior marine risk consultant at Allianz Global Corporate & Specialty.
Recruiting seafarers from poor countries
The shipping industry typically recruits from poor countries where wages are low and complaining is discouraged.
Shipping lines and staffing agencies determine when and how workers will get home, down to holding their passports, and seafarers who spoke to Bloomberg asked to be anonymous because they feared speaking out would hurt future job prospects.
More than 120 countries and territories have stopped or limited access to ships for seafarer crew changes to prevent the spread of coronavirus.
CMA CGM double standards
Last month, French shipping behemoth CMA CGM sent one of its ships from Marseille to Beirut on a humanitarian mission to deliver medical supplies and goods to Lebanon after the deadly port explosion there.
"Many companies in the world are making crew changes. But our CMA CGM, such a big company, can't do a relief flight," said one seafarer. "We are forgotten lives in the sea."
The ship has even stopped several times in Singapore, a port that helps facilitate crew changes, and no one was swapped out, two seafarers on the ship said. Their original employment contracts expired months ago. If the company can undertake a humanitarian mission, they wondered, why couldn't it let them go home?
Employers are responsible for seafarer's safety
In most ports, employers—usually the operator or the owner—are legally responsible for seafarers' safety, health and welfare.
"But everyone along the supply chain has a responsibility," said the ITF's National Coordinator in Australia, Dean Summers. "Traditionally industry stands in a circle and points to the bloke to the left and no one takes the blame."
Sufferings of seafarers on tanker
In a seven-page letter, GasLog Chief Operating Officer Paolo Enoizi wrote that they'd been trying since June to rotate the crew on a tanker at the Sembawang Shipyard for repairs.
The letter describes a Kafkaesque bureaucratic process of applications filed, lost, filed again, partially denied, only to have the rules and regulations change, requiring a whole new set of applications.
At one point, the letter says port authorities would allow the crew to leave, but no new seafarers could embark.
"As you will appreciate, for reasons of safety, an oil tanker cannot be left unmanned," the GasLog COO wrote in his letter. "Permission to release four crew members but not allow their reliefs to join does not improve the situation."
Meantime, the crew hadn't been allowed off the vessel, not even to walk around the shipyard, according to the letter. After four months of de facto quarantine, there wasn't a single case of Covid-19 on board. "We are concerned that no adequate measures have been taken to preserve the human rights of our crew," Enoizi wrote, citing international marine law.
The Maritime and Port Authority of Singapore said "a total of 16 sign-ons and 32 sign-offs were carried out between May and September on the GasLog Savannah and the ship departed Sept. 7. In spite of the ongoing Covid-19 pandemic, Singapore has been facilitating crew changes under a set of 'safe corridor' procedures," the MPA said in a statement.
Taipei-based Evergreen Line
Accolades the Shipping line has received are as follows
-Commands one of the world's biggest container fleets.
-It's received awards for environmental stewardship from the ports of Vancouver and Los Angeles.
-Its customer service and 'maintenance of schedule integrity' earned it an industry award for 'Best Shipping Line—Asia-Africa.'
Evergreen-chartered Triton
But seafarers on the Evergreen-chartered Triton, a container ship so big it often makes local news when it comes into port, say they've been on the ship for more than a year, with gaps in their employment agreements, according to a worker who asked not to be named. The ship was put in drydock in China for two months before facilitating a crew change; the seafarers weren't allowed off while the ship was being repaired.
Hidden Humanitarian crisis
The chartering companies have come together in the past to push for changes in the industry, particularly with respect to climate change and green energy practices, said Meade, the Lloyd's List editor. "They will get involved in things that make them look good, like decarbonization," a spokesperson for Evergreen said. "But they don't want to be involved in the hidden humanitarian crisis affecting hundreds of thousand crew stuck on ships. It doesn't have the same P.R. ring, does it?"
Hong Kong
National governments are cautious. Hong Kong, one of Asia's biggest cargo ports, had permitted unrestricted crew changes until this summer when a fresh wave of cases swept the city.
Now only ships bringing cargo to the city can enter the port and change crews. Incoming seafarers must test negative for coronavirus; those leaving are confined to their ship until they head for the airport and are forbidden to use public transportation.
As for workers who aren't swapping out, they have to stay on ship the whole time.
Australian Maritime Safety Authority
Starting July 1, any ship in an Australian port must have satisfactory repatriation plans for workers onboard for more than 11 months. Seafarers who are no longer working under valid contracts must be repatriated immediately, and if that means the ship falls below its minimum crewing requirements, so be it.
Seafarer quits job
Indian seafarer Alroyd Fernandes quit his job on an oil tanker when his six-month contract expired in mid-August; he's stopped working but his company has yet to let him off the boat. "My wife is in poor health and needs me — she's managing three kids on her own, including an infant," Fernandes wrote in his resignation letter. "I don't want to jeopardize the safety of the vessel and on-board crew … due to stress and my present mental state."
Crew swap
Relief, for now, is piecemeal and somewhat arbitrary. The Philippines' Department of Foreign Affairs says it's currently working to bring home 127 Filipino seafarers.
The seven Burmese ship workers from the Unison Jasper sought the help of their union and, after much negotiation, have been repatriated.
Crew members on the APL Pusan said that the company finally orchestrated their release after representatives from CMA CGM visited the vessel in Singapore.
The company confirmed the successful crew swap even though, it said, "the country lockdown and flight ban were blocking all initiatives."
Source: Bloomberg