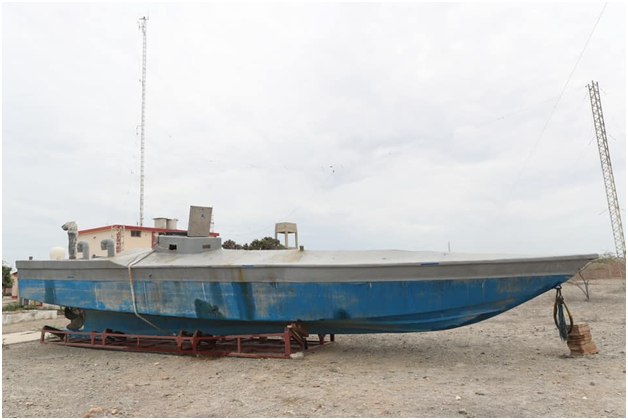 Ever since Pablo Escobar started shipping cocaine to the USA, innovation has been on the top of the list for drug cartels. Decades of busts and successive inventions have led to a regular sort of story where black-market businessmen have formulated new ways to get drugs to their customers. First came the planes, then the speed boats, then tunnels, and now, submarines, as it is evident from this recent announcement by the Colombian authorities.
The vessel was intercepted about 35 miles off the port of Cartagena. The operation combined forces from the Tumaco Coast Guard Station and the Coast Guard ARC Punta Soldado, with the support of an Air Naval Platform, in the interception of the vessel.
Navy officials found three men and two tons of cocaine inside. Their search turned up 119 sacks that contained rectangular packages with narcotics and communication and geolocation equipment.
The men were Ecuadorian, Colombian, and Mexican nationals, and the shipment was believed to be en route to Mexico.
Preliminary identification tests on the substances revealed that the sacks contained 2,045 kilograms of hydrochloride cocaine worth an estimated $67 million.
Colombian intelligence officials understand the baggage belonged to the Residual Organised Armed Group or the "United Guerillas of the Pacific and was expected to arrive in Mexico in a matter of days.
Semi-submersible crafts have become one of the favoured tools of the drug cartels because of the vessel's low profile. As such, it makes it more difficult to detect and capture these crafts.
Believe it or it, narco submarines have been around for quite some time now. Concerns have also been raised that such vessels could be utilised for purposes of terrorism. The capabilities of these crafts has noticeably increased, with some now being capable of crossing the Atlantic Ocean.
Newer narco-submarines are nearly fully submersible, designed specifically to be difficult to detect visually or by radar, sonar and infrared systems.
Till date, the Columbian forces operating on the Pacific report that they have seized 132 tons of cocaine and 35 tons of marijuana with a value of more than $4.5 billion.
Photo of a narco-submarine captured by the Peruvian Navy in December 2019, Photo credits: Ministerio de Defensa del Perú, Luis Enrique Saldan
Posted in Maritime Security by Ankur Kundu on Nov 03, 2020 at 08:28.