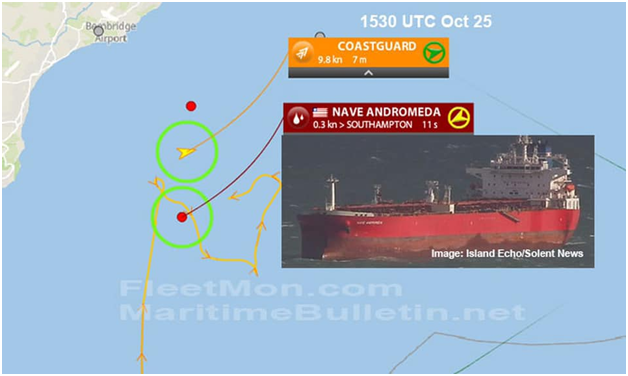 Crude oil tanker NAVE ANDROMEDA is reportedly hijacked by a gang of stowaways in the morning Oct 25, off Isle of Wight, while approaching her port of destination, Southampton UK. Tanker arrived from Lagos Nigeria. Crew said to shelter in citadel or cabins or anyplace to be safe from hijackers. There were already incidents like this one before, during recent years.
Not clear if tanker was anchored, but as of 1530 UTC, she was under way, moving at a slow speed without apparent direction, and escorted by CG ship, tug and probably, Navy ship or ships. Helicopter or helicopters are hovering over tanker. Talks under way, or preparations to storm tanker and immobilize hijackers?
Interestingly, I mentioned possible piracy threat in European waters, just several days ago,
FleetMon Vessel Risk Rating:
Posted in Maritime Security by Mikhail Voytenko on Oct 25, 2020 at 16:07.