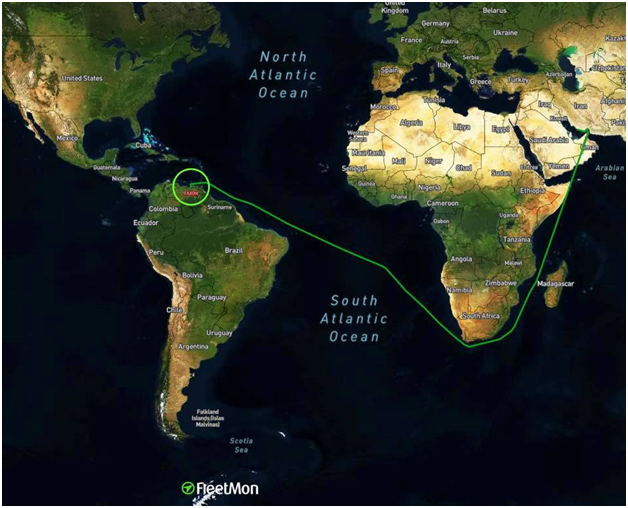 As per reports from the Associated Press, three tankers carrying Iranian crude oil bearing the flag of Iran have reached Venezuela against sanctions imposed by the United States of America.
The arrival of Iranian tankers constitutes a success for the two nations sanctioned by the United States following an August seizure of such fuel.
The FOREST was the first Iranian ship to reach Venezuela. It was followed by the Iranian tanker FORTUNE. As per reports, vessel FOREST brought 275,000 barrels of gasoline for the sanction-hit South-American country.
The FAXON became the third Iranian ship to arrive in Venezuela. Together, around 815,000 barrels of fuel have been ferried by those oil tankers.
As per our AIS traffic reports, the FOREST is located near Puerto Cabello. FAXON is stationed in Puerto La Cruz, Venezuela. Tanker FORTUNE moored in the port of Amuay (Punto Fijo, VE).
The United States sanctions both Iran and Venezuela and vocally opposes their relations. As a result, Iran and Venezuela are close both politically as well as economically.
In August, four tankers were seized by US authorities, alleging that the ships were carrying fuel to Venezuela. FleetMon reported on the incident. The owners of the fuel subsequently challenged the move in a US court, and the cargo, also reported to be gasoline, is apparently still at sea in a legal limbo.
Venezuela has the largest oil reserves of any country in the world, with more than 300 billion barrels of proven reserves. Despite these huge reserves, the Venezuelan government's lack of cash to import gasoline combined with U.S. sanctions targeting the oil sector have led to chronic fuel shortages in Venezuela.
The sanctions on Venezuela were in response to repression during the 2014 Venezuelan protests and the 2017 Venezuelan protests, and activities during the 2017 Venezuelan Constituent Assembly election and the 2018 Venezuelan presidential election.
Posted in Tanker and Oil Industry by Ankur Kundu on Oct 06, 2020 at 08:32.