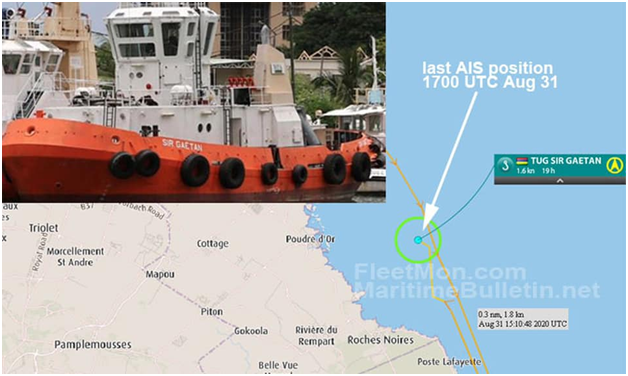 Port TUG SIR GAETAN collided with barge she was towing in stormy weather conditions in the evening Aug 31, off Mauritius northeast coast near Poudre d'Or. Tug sustained hull breaches and sank, of 8 crew on board, 4 escaped on a life raft (media are saying crew escaped on a lifeboat, but there's no place for a lifeboat on a small port tug) and were later rescued, 2 were recovered dead, 2 went missing. Tug was towing an oil barge, said by all media to be loaded with oil residues from bulk carrier WAKASHIO wreck, so expectedly, media already went amok.
23.6-meter long barge is empty, she was kept in a standby mode near WAKASHI wreck site as a precaution, to collect possible residue, but was towed away as unnecessary. Understood she drifted aground, and doesn't pose any "ecological" threat. Cool down, everybody, especially journalists. No sensations here.
It's an accident, with tragic consequences, with deaths, but still, it is not "Wakashio disaster takes another tragic turn with sinking of a tug", because WAKASHIO disaster has nothing to do with towage accident.
FleetMon Vessel Risk Rating: