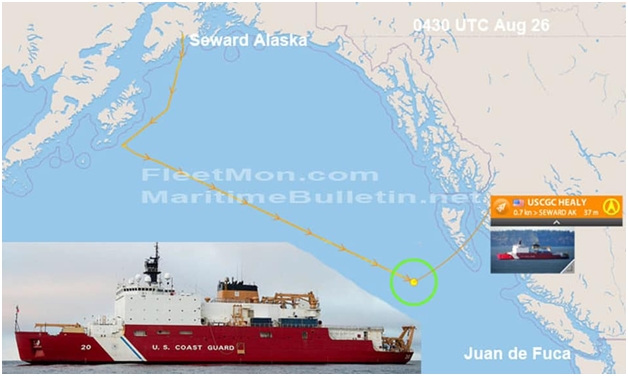 Icebreaker USCGC HEALY (WAGB-20) suffered fire in the evening Aug 18, in one of the two of propulsion electric motors, in Gulf of Alaska, shortly after leaving Seward, Kenai Peninsula, Alaska. Fire was extinguished in a short time, no injures reported, but the ship lost her stb propulsion, and had to interrupt planned voyage to Arctic waters. She sailed to homeport of Seattle at a reduced speed, for repairs. At 0430 UTC Aug 26 she was some 500 nm due west of Juan De Fuca Strait entrance, having apparently, some problems along the way, because she stops from time to time, moving at some 6-7 knots speed, while under way.
FleetMon Vessel Risk Rating:
Posted in Accidents by Mikhail Voytenko on 26, 2020 at 05:13.