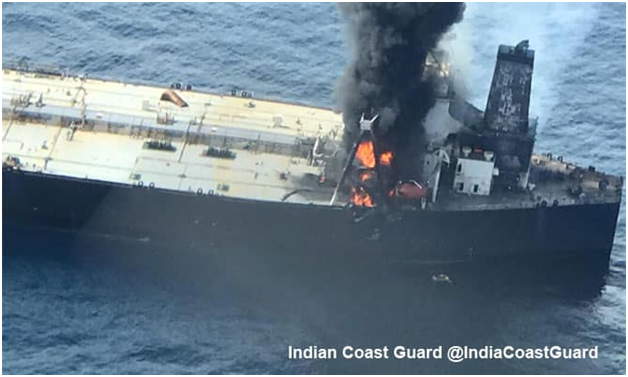 Sep 3 1840 UTC UPDATE: Latest photos from Indian CG, fire still not under control, but didn't get through cofferdam or cargo deck to cargo tanks, hopefully firefighters will manage to beat it off, and protect cargo tanks from fire.
Sep 3 1510 UTC UPDATE: Judging from latest Indian CG aerial photo, fire broke through into superstructure and superstructure now is engulfed in blaze.
Sep 3 1330 UTC UPDATE: According to latest official information from Sri Lanka and India authorities, all crew left the ship, including Captain and 2 crew who remained on board after majority of the crew, 19 seamen, left tanker earlier. 1 crew is said to be missing, 1 injured. Understood fire was thought to be under control, but blazed out again, and judging from photo, is spreading from engine room to superstructure. AIS seems to be off. Navy and CG ships and planes, both Sri Lankan and Indian, are responding.
Sep 3 0940 UTC UPDATE: Situation maybe isn't all that dramatic and critical, after all, judging from some secondary sources information. AIS is on, tanker doesn't require assistance any more.
Sep 3 0815 UTC UPDATE: Reportedly, non-essential crew left tanker and went on board of passing cargo ship, understood it's product tanker HELEN M (IMO 9308223). Captain and several other crew remain on board, continuing firefighting, according to latest available info. Sri Lanka officials said Navy and CG ships and boats responded to fire, but non are seen yet in the vicinity of drifting NEW DIAMOND. Last AIS dated 0620 UTC Sep 3.
Very Large Crude Carrier NEW DIAMOND issued distress signal early in the morning Sep 3, reporting fire in engine room, in Bay of Bengal some 40 nm east of southeast Sri Lanka coast. The ship is disabled, drifting since around 0200 UTC. Sri Lankan authorities said crew will be evacuated, though probably, there's no need in evacuation, if crew managed to extinguish fire by own means. Tanker in load is en route from Basra Iraq to Paradip India. AIS seems to be working. No other details available at the moment.
FleetMon Vessel Risk Rating:
Posted in Accidents by Mikhail Voytenko on Sep 03, 2020 at 06:45.