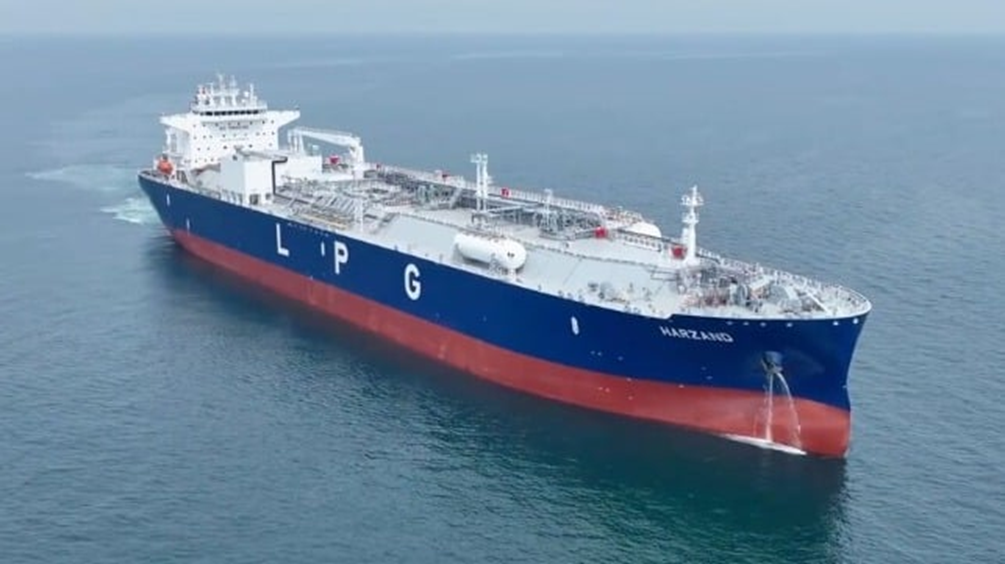 Chinese officials celebrated the delivery today, April 26, for what they are reporting is the world's largest dual-fuel LPG carrier while highlighting the advanced design feature of the new generation of the ships. The naming ceremony for the Harzand (60,000 dwt) was conducted yesterday at the Jiangnan Shipyard in Shanghai.
The vessel is part of what the China State Shipbuilding Corporation (CSSC) is calling a fourth-generation design that improves fuel efficiency versus the yard's earlier designs as well as increasing carrying capacity. The Harzand is 754 feet in length with a carry capacity of 93,000 cubic meters of LPG. Ordered in 2020 by Petredec of Singapore, the original order was for three vessels due for delivery in 2023 along with an option that was later exercised for three additional vessels.
The ship is fitted with MAN ES LGIP engines and a shaft generator to utilize LPG to provide auxiliary power at sea. The hull design developed by Jiangnan incorporates a new bow shape and rudder energy saving device to improve hull efficiency and lower fuel consumption. The shipyard reports the vessel using low sulfur fuel oil (LSFO) will emit 30 percent less CO2 than the previous generation of 84,000 cbm vessels. The Harzand is designed for an operating speed of 16.5 knots with a fuel range of 23,000 nautical miles. The design was balanced to ensure maximum efficiency when the vessel is sailing fully loaded, with ballast, or liquid cargo.
Other innovations were used during the construction to speed the vessel's assembly including the first application of domestically produced cryogenic steel. A new approach to testing and trials was also used combining the sea trials, gas test and trials into a simultaneous process to speed the delivery of the ship.
Petredec previously took delivery on four of the shipyard's 84,000 cbm LPG carriers in 2020. The company has been working with the shipyard since 2007 and has ordered a total of 19 LPG and ethylene carriers from Jiangnan.
CSSC is also highlighting the introduction of the new class as they latest step for the shipyard which has emerged as a leader in the sector. They noted that Jiangnan received its first order for a VLGC in 2012 and since has received orders for 52 vessels, including 14 of its latest 93,000 cbm vessels. CSSC reports the shipyard has caught up to its peers and become a leader in building VLGC ships.
Source – THE MARITIME EXECUTIVE