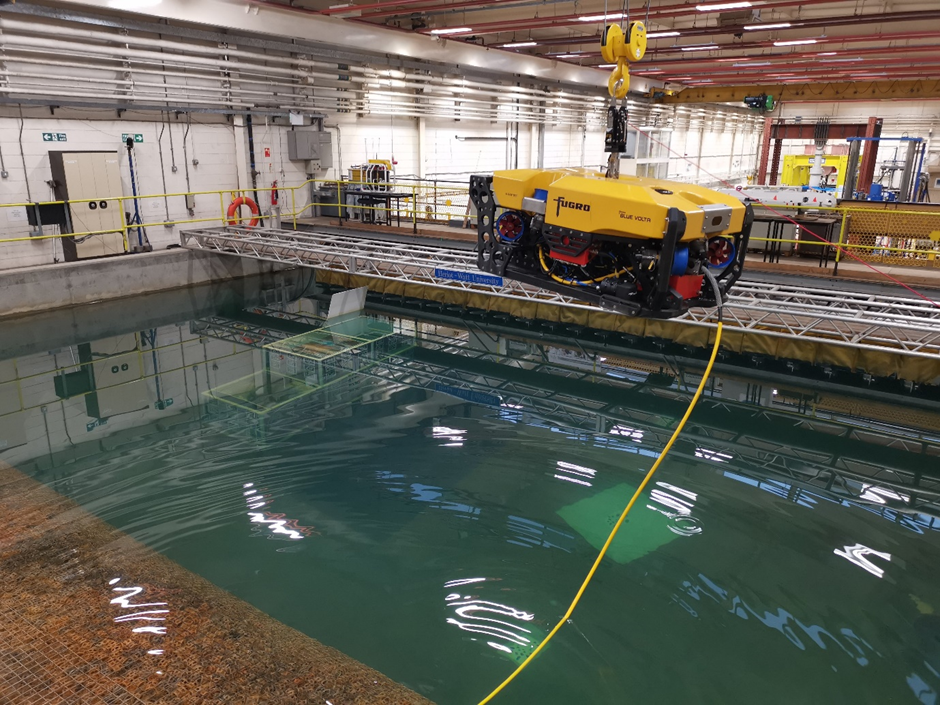 Netherlands-headquartered Fugro has revealed plans to carry out a remotely operated autonomous offshore wind farm inspection, said to be an industry first.
Fugro will use its Blue Essence uncrewed surface vessel (USV) equipped with the Blue Volta fully electric remotely operated vehicle (ROV) to conduct the inspection early this year.
The plan is to control the assets from the company's remote operations center in Aberdeen while collecting real-time data from the offshore wind farm.
In addition, the Dutch company said it had expanded its cooperation with the UK's National Robotarium. The two partners began working together back in 2020 and in May last year, National Robotarium engineers brought their autonomy camera over to Fugro's innovation facility at Nootdorp, the Netherlands, in order to see if it would 'plug and play' with the system.
According to Fugro, a five-day target and a high bar were set and after setup, analyzing, and monitoring the data for two days, both teams agreed that the machines were integrated and compatibility was confirmed.
"Having identified the National Robotarium as a potential research and development partner, in January 2020 we sent one of our innovation engineers to Edinburgh to find out more. It quickly became evident that there were many synergies between the National Robotarium team's vision and roadmap and our own," Fugro stated.
"For example, we both were developing a smart subsea camera, but for different purposes: autonomy (National Robotarium) and high-accuracy data acquisition (Fugro). This was clearly a very well-matched opportunity for us as the National Robotarium was building something that we would use to differentiate our products in the subsea autonomy and inspection arena."
Fugro despatched one of its Blue Volta ROVs from Singapore in time for the opening of the National Robotarium's Heriot-Watt facility on 28 September 2022, after which the vehicle was moved to the Robotarium's wave tank.
The following day the National Robotarium's camera was fitted onto Blue Volta. Two months of rigorous testing were completed by the end of November.
"Our partnership with the National Robotarium allows us to leverage our combined technical expertise, extensive network, project funding and large-scale, cutting-edge facilities to help accelerate the development of ground-breaking autonomous underwater solutions that deliver added value to our clients," Fugro said.
"We're also able to collaborate with many of the National Robotarium's existing contacts – not just other universities, but also start-ups whose area of expertise differs from our own. We'll be tapping into their specialist knowledge and creativity, and in return we'll direct and guide initiatives to make sure they address real-world sector challenges."
Source – https://www.offshore-energy.biz by Nadja Skopljak