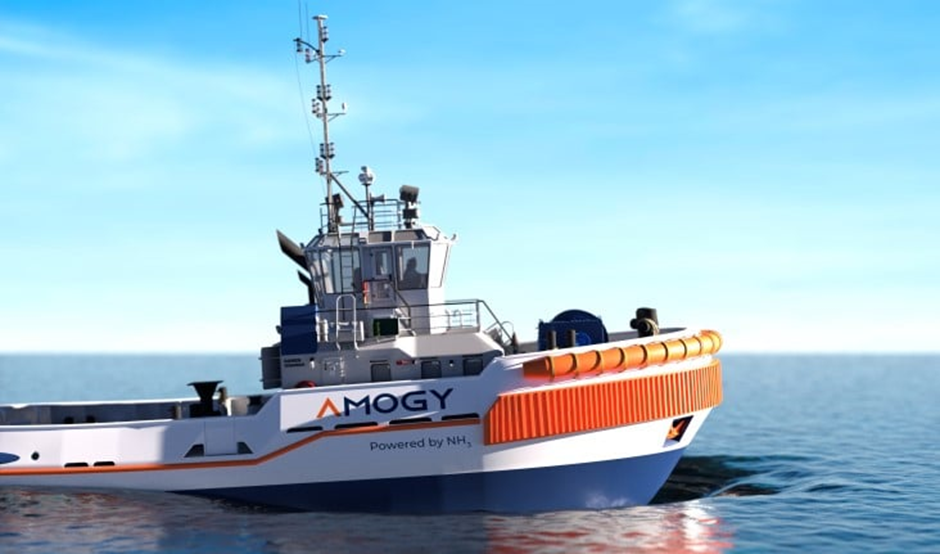 Brooklyn-based technology startup Amogy Inc. is retrofitting a tugboat to run on its ammonia-to-power system and is planning to present the vessel in late 2023.
Namely, Amogy intends to sail the tugboat later in 2023 in upstate New York, pending further safety testing and regulatory discussions. The company revealed the plans today at CERAWeek® 2023.
"Getting the first ammonia-powered vessel on the water signals a huge milestone in the journey to zero-emissions shipping, as ammonia is predicted to become the leading fuel source for the world's giant cargo ships by 2050," the company said.
Amogy is using a tugboat that was originally built in 1957 for the project. The tugboat is powered by diesel generators and electric motors, and it will be outfitted with a 1-megawatt version of the company's ammonia-to-power system. It will be three times larger than what has been field-tested on Amogy's ammonia-fueled semi-truck earlier this year.
The ammonia-to-power technology feeds liquid ammonia through its cracking modules integrated into a hybrid fuel cell system, which powers the electric motors for zero-carbon shipping.
"We're incredibly proud of unveiling the first ammonia-powered vessel later this year — especially because of the hope, promise and anticipation that ammonia has built as a zero-emission fuel in the heavy transportation industry — specifically in regards to maritime shipping," said Seonghoon Woo, CEO of Amogy.
"This is the first milestone of many you will see from Amogy in accelerating the accessibility and scalability of clean energy in the global maritime industry. With successful demonstrations of our ammonia-powered drone, tractor and semi-truck under our belts, we look forward to presenting the first ammonia-powered ship in 2023, with a target to fully commercialize in 2024."
Ammonia producer Yara Clean Ammonia (YCA) will be providing green ammonia for the demonstration.
"We are excited to be a part of Amogy's tugboat project and to deliver green ammonia as a fuel for the world's first vessel powered by ammonia. Yara Clean Ammonia plans to launch the world's first Ammonia Bunker Network in Scandinavia, which is expected to expand YCA's capacity to produce and ship ammonia globally," Magnus Ankarstrand, President of YCA, said.
Other partners that are collaborating on the project include Seam, Amogy's electrical systems integrator, C-Job Naval Architects, the independent ship design company integrating the ammonia system, and Feeney Shipyard, from whom Amogy sourced the tugboat, who will lead retrofitting construction, engine removal and more under supervision of C-Job Naval Architects.
Additionally, Amogy is working with Unique Technical Solutions (UTS), its electrical and systems integrator from prior demonstrations, for the electrical and systems work involved in scaling up the powerpack for pre-commercial use.
The project is being implemented in close cooperation with the United States Coast Guard and DNV classification society to ensure close alignment with all maritime safety standards.
"DNV has been working with Amogy since December 2021, focusing on the safety aspects of the development of their ammonia system," says DNV's Senior Consultant in Maritime Environmental Technology, Hans-Christian Wintervoll.
"A high-level feasibility study was executed in early 2022, and Amogy has shown great momentum in development from that point, through the HAZID workshop in June the same year, to the HAZOP workshop in January this year."
To date, Amogy has raised $70M in funding from strategic investors such as Amazon, Saudi Aramco, SK Innovation, AP Ventures and DCVC.
Source – https://www.offshore-energy.biz by Jasmina Ovcina Mandra