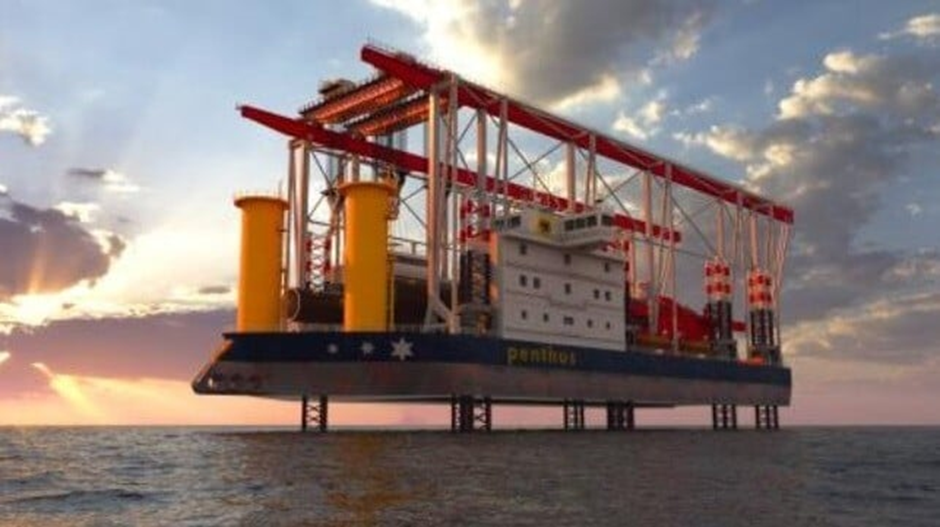 Texas-based startup Bleutec Industries Offshore Wind Services continues to make progress to commercialize its new concept for the vessels to support the wind installation process and designed to meet the unique challenges of the U.S. market. The system which is known as the Binary Marine Installation Solution (BMIS) received Approval in Principle (AiP) from the American Bureau of Shipping.
Bleutec previewed its concept less than a year ago saying that it had a new approach to wind installation that would be lower cost and more efficient while being Jones Act compliant. The company's intent is to provide an alternative to the very expensive installation vessels, and it is specifically designed for markets where the cost of shipbuilding is elevated due to cabotage.
"Along with our strategic partners, we hope to transform the offshore wind industry through our BMIS with the mission of becoming the premier provider of Jones Act transportation and installation for this market," said Robin Bodtmann, Bleutec's President & CEO. Addressing receipt of the AiP, he said it was the latest milestone for the system. Last year, they received a significant financial investment from EnCap Investments, an investment company focused on the U.S. energy industry. Wärtsilä also joined the project to serve as system integrator and propulsion supplier for the vessels, which will run on a new methanol-fueled version of the Wärtsilä 32 engine platform.
Instead of employing a costly to build wind turbine installation vessel, Bleutec's BMIS is comprised of a Pile Installation Vessel (PIV) and a Wind Turbine Installation Vessel Light (WTIVL), and Service Operations Vessels (SOVs). The concept utilizes innovative heavy lifting solutions, energy efficiency technologies, and a state-of-the-art dynamic positioning system to enable the safe and cost-efficient transportation and installation of offshore wind developments.
The first of the components in this approach is the PIV which would feature a gantry crane, capable of lifting up to 4,500 metric tons, a hydraulic hammer, and deck space for the piles. Paired with it would be the WTIVL which will install wind turbines of up to approximately 22 megawatts on the foundations previously installed by the PIV. The SOVs will provide the necessary accommodation and crew support services while working at locations with depths up to approximately 200 feet. The vessels are designed in a modular configuration to facilitate construction in U.S. shipyards.
"This solution uses as its basis an American-made model incorporating simple design techniques from similar vessels already built and operating in the U.S.," said Jan Flores, Vice President of NETSCo, Bleutec's appointed naval architect and marine engineer. "This is a significant development for offshore wind as it paves the way for the use of safe, efficient, cost-effective Jones Act vessel solutions to this emergent industry."
The company previously said its goal is to deploy the new installation concept during the early part of 2026.
Source – THE MARITIME EXECUTIVE